Trending Rights Tweets of 2020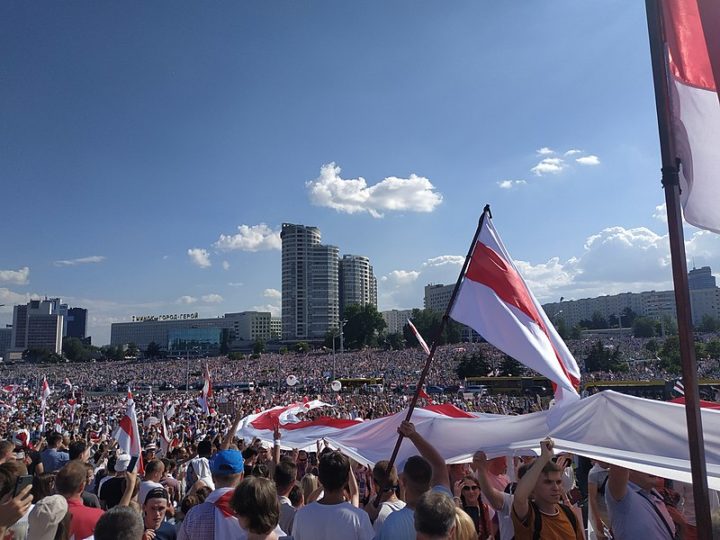 Helicopters in the United States. Bullets in Nigeria. Security forces in Belarus. Water cannon in Thailand.
Countries around the world sought to quash peaceful protest in 2020, before and after the pandemic, but people seeking freedom and demanding change took to the streets to defend their rights. #BlackLivesMatter trended across the globe. Despite the regime's ruthless crackdown, women in Belarus kept up the call for free elections. Journalists in China reported on the coronavirus from Wuhan, at grave personal risk.
These stories and more in the year's trending human rights tweets.
The Swedish clothing giant H&M cuts all ties with its Chinese supplier in Xinjiang due to alleged use of the forced labor of Uighur Muslims–a serious threat for any company operating from Xinjiang. H&M won't source any more cotton from Xinjiang. https://t.co/B0UdGQp1x6 pic.twitter.com/wdNd91S7Cl

— Kenneth Roth (@KenRoth) September 16, 2020
Arrest of @joshuawongcf is an indictment not of him but of #Hongkong legal, political systems. Charges shd b immediately + unconditionally dropped! @hrw @hrw_chinese #HongKong opposition activist Joshua Wong arrested over illegal assembly https://t.co/hlFDC3I6Oi via @scmpnews

— Sophie Richardson (@SophieHRW) September 24, 2020
Folks in the west, it's scary to see the epidemic coming & your politicians aren't prepared, but pls refrain from concluding that govts like China are doing a better job because they are authoritarian. 1/5

— Maya Wang 王松莲 (@wang_maya) March 13, 2020
Zhang Zhan is being punished for doing exactly what the world desperately needed: reporting on the coronavirus from Wuhan. The detention of Zhang only reveals how confident Beijing actually is about its "success" in containing Covid-19. https://t.co/HX2WubeS6i

— Yaqiu Wang 王亚秋 (@Yaqiu) November 16, 2020
Mexico: López Obrador Misinforms Public on the Health Risks of the Pandemic https://t.co/bDiQ6frBN5 pic.twitter.com/5ybAPSbRi7

— Human Rights Watch (@hrw) March 26, 2020
URGENT! Police disperse democracy protest in front of Bangkok's Siam Paragon using water cannon to break protesters's line and pushing through with shields. Protesters defend themselves with umbrellas. @HRW #WhatsHappeningInThailand #16ตุลาไปแยกปทุมวัน #หยุดคุกคามประชาชน pic.twitter.com/GEGlkHFL2o

— Sunai (@sunaibkk) October 16, 2020
This is rare 1920s footage of Greenwood, an African-American enclave in Tulsa, Oklahoma. Greenwood's abundance of Black-owned businesses and its prosperity earned it the nickname "Black Wall Street." But 99 years ago, angry white mobs burned it to the ground. #TulsaRaceMassacre pic.twitter.com/W06LiuZFun

— Human Rights Watch (@hrw) May 28, 2020
New York City police carried out a plan to trap, assault, and arrest over 250 peaceful protesters in the South Bronx on June 4.

Complete video here: https://t.co/ME4ZdNizbn pic.twitter.com/YhOw8nrAOm

— Human Rights Watch (@hrw) September 30, 2020
Reckless Use of US Helicopters to Intimidate Protesters

Hovering low over protesters and using rotor wash to disperse them is dangerous.

On June 1, DC's National Guard even used a helicopter with the Red Cross emblem. https://t.co/4ST2BVuHwL pic.twitter.com/ZlBUcr5Bo9

— Human Rights Watch (@hrw) June 7, 2020
Poland's president has said that LGBT people are not human beings.

The opposition showed they disagree… 🏳️‍🌈 https://t.co/9SYEDNOuO9 pic.twitter.com/dMjtdLfXaI

— Andrew Stroehlein (@astroehlein) August 7, 2020
#Ethiopian military spokesman threatens residents in #Tigray's capital w/ artillery fire if they don't "save themselves" first. Treating a whole city as a military target would not only unlawful, it could also be considered a form of collective punishment https://t.co/LEVRTgKNPf

— Laetitia Bader (@LaetitiaBader) November 22, 2020
Armenia street last night and just now. The clean up effort on our street has been amazing. #LebanonExplosion #Beirut pic.twitter.com/ipIKjMrlaN

— Nadia Hardman (@Nadia_Hardman) August 5, 2020
Today @hrw released its most significant piece of research on rights abuses inside Israel in years, looking at discriminatory land policies that treat Palestinian & Jewish communities in starkly unequal terms. A thread with some highlights 1/11 pic.twitter.com/NxoRZ2rUYu

— Omar Shakir (@OmarSShakir) May 12, 2020
48+ lawyers in Ankara arrested in terror probe for acting on behalf of clients accused of Gulenist ("FETÖ") links. Interrogation focuses on their professional activities. Some have reported on abuses such as disappearances & torture the govt covers up #SavunmaTehditAltında pic.twitter.com/kNxLAUJTIn

— Emma Sinclair-Webb (@esinclairwebb) September 13, 2020
Violent Protests Erupt in Colombia After a Man Dies in Police Custody. https://t.co/imNVVjOrqN

— José Miguel Vivanco (@JMVivancoHRW) September 10, 2020
Indian govt claims to improve Kashmiri lives ring hollow a year after revocation of #Kashmir's constitutional status, says @hrw. Authorities instead have maintained stifling restraints on Kashmiris in violation of their basic rights. https://t.co/1qBx32gQn1 pic.twitter.com/yCdX3fj04q

— Jayshree Bajoria (@jayshreebajoria) August 4, 2020
Israeli drones hovering over our heads is a constant reminder that they can kill anyone, anytime. Now we get 4 hrs of elect per day since the power plant had to shut down after Israel halted the entry of fuel. It's all dark and hot here. Turn our lights back on…Open up Gaza.

— Abier-Almasri (@abier_i) August 18, 2020
New report by @hrw researchers "Deported to Danger" identifies cases of 138 Salvadorans who, since 2013, were killed after deportation from the United States, and more than 70 others who were beaten, sexually assaulted, extorted, or tortured. https://t.co/9Zr3wPeJVm pic.twitter.com/g6kb1G75iT

— Alison Leal Parker (@alisonHRW) February 5, 2020
Breaking – #GoldenDawn leader Nikolaos Michaloliakos has been sentenced to 13 years in jail! #GDtrial pic.twitter.com/02iPS6CtN3

— Eva Cossé (@Eva_Cosse) October 14, 2020
because this is how she would like to be remembered. All the power to the oppressed. #RaiseTheFlagForSarah pic.twitter.com/loe6odG75x

— Amr Magdi (@ganobi) June 15, 2020
#Nigeria: After soldiers opened fire at a crowd of protesters in Lagos last night, the authorities should immediately withdraw the military from the streets+identify and prosecute officers responsible for or complicit in any excessive use of force against peaceful protesters @hrw pic.twitter.com/dUiEMn0hoX

— Ida Sawyer (@ida_sawyer) October 21, 2020
Since Saturday, over 2,000 people arrived on a beach in Pemba, from villages across Cabo Delgado, where insurgents are killing people, torching homes, chasing villagers away. Many used their own clothes to pay for the boat ride -they had no money. This beach is all they have now. pic.twitter.com/i918ccysYT

— Zenaida Machado (@zenaidamz) October 21, 2020
Saudi Arabia implicated in recruitment of child soldiers as young as 12 in Yemen. New UN report says boys offered salaries in Saudi currency, taken to Saudi Arabia for training, and deployed to fight against Houthis. Some died in combat. https://t.co/UmIqjYMUKa pic.twitter.com/7fCy4nGaUj

— Jo Becker (@jobeckerhrw) September 29, 2020
US asylum laws are so narrow that since 2013 the authorities have deported at least 138 Salvadorans to their death & at least 70 to face torture, sexual assault, beatings & extortion by gangs & Salvadorian security forces @HRW https://t.co/7zgbYmWv23 pic.twitter.com/YdDlitwBoh

— Gerry Simpson (@GerrySimpsonHRW) February 5, 2020
Azerbaijan: Cluster Munitions Used in Nagorno-Karabakh https://t.co/MbCymxA2XF

— Human Rights Watch (@hrw) October 23, 2020
The fearmongers were wrong. Five years since Merkel admitted 1M refugees, they have largely been a success story, judging by their employment, mastery of the language, university attendance, and integration. The predicted violence came from the far right. https://t.co/UKQMuAoBOt pic.twitter.com/wTQV4JO9pw

— Kenneth Roth (@KenRoth) September 5, 2020
Today, #Iran authorities executed Navid Afkari, who confessed to crimes under torture, without even abiding by domestic law. This cruel act, in defiance of international outcry for a fair retrial, shows authorities utter disregard for the most fundamental human rights norms. pic.twitter.com/XoGyGcV1p5

— Tara Sepehri Far (تارا سپهری‌فر) 😷 (@sepehrifar) September 12, 2020
Lukashenko's security forces are no match for the women of Belarus… pic.twitter.com/74hZEzdAGC

— Andrew Stroehlein (@astroehlein) September 1, 2020
Dijon Kizzee 8/31/20
Terron Jammal Boone 6/17/20
Andres Guardado 6/18/20
Michael Thomas 6/11/20
Jarrid Hurst 6/7/ 20
Robert Colvin 5/29/20
Robert Avitia 5/26/20

These are all people shot and killed by Los Angeles County Sheriff's Deputies since George Floyd was killed.

— John Raphling (@JRaphling) September 2, 2020
BREAKING: United States sanctions ICC prosecutor Fatou Bensouda and another court official giving effect to a sweeping executive order issued in June by Trump. Marks a shameful new low for US commitments to justice for victims of the worst crimes. https://t.co/FLQkTzOC1y pic.twitter.com/RSUpVNF3Ek

— Balkees Jarrah (@balkeesjarrah) September 2, 2020
An Indonesian doctor was grieving for her husband, also a doctor, in one of the world's worst coronavirus death rates for healthcare workers. Dr Titus Taba was the 94th doctor to die battling the #coronavirus outbreak in Indonesia https://t.co/1XL1DpYkaN pic.twitter.com/SkUl4ccK7G

— Andreas Harsono (@andreasharsono) August 28, 2020
Zimbabwe authorities tendency to arrest & harass lawyers together with their clients is worrying. @lawsocietyofzim @ZLHRLawyers @DougColtart @PacheduZW @Wamagaisa @WeArePindula @zhrc365 @ZimRightsLIVE @dzikamaibere pic.twitter.com/4d2RAWqZMG

— Dewa Mavhinga (@dewamavhinga) August 24, 2020
'Under water or under a knee, we can't breathe'

Europe's indifference – at best – to deaths in the Mediterranean must be part of the conversation around race and racism in Europe

My piece in @POLITICOEurope https://t.co/2qs0RUBqyo

(illustration by eneko + vero) pic.twitter.com/vYAToIPbYE

— Judith Sunderland (@sunderland_jude) June 11, 2020
What hurts the most, 25 years later, is denial & lack of accountability. #Srebrenica25YearsOn pic.twitter.com/j2FSiQyicd

— Emina Ćerimović (@EminaCerimovic) July 11, 2020
"Social distancing is a privilege. There is a hashtag trending: #StayHome. They can't do that. They don't have a home to stay in."

More than 70 million internally displaced and #refugees in crowded camps, await the arrival of the #coronavirus pandemic. https://t.co/vDwKrss8kB

— Lotte Leicht (@LotteLeicht1) March 23, 2020
About 50% of women & 95% of girls in Afghanistan's prisons are there due to so-called "moral crimes" such as sex outside marriage. They should never have been arrested. They should be released immediately & all moral crimes arrests should halt. #covid19 https://t.co/5Y8HmklRi7

— Heather Barr (@heatherbarr1) April 23, 2020
Breaking: International Court of Justice #ICJ orders #Myanmar to halt acts of #genocide against #Rohingya ! The UN's highest court has recognized their suffering. This abused and persecuted people finally have a first taste of justice. pic.twitter.com/mtxOtFkd0c

— Reed Brody 🧣♟ (@ReedBrody) January 23, 2020