Progressives Push Back as Trump, Pentagon, and ICE 'Hijack' MLK's Message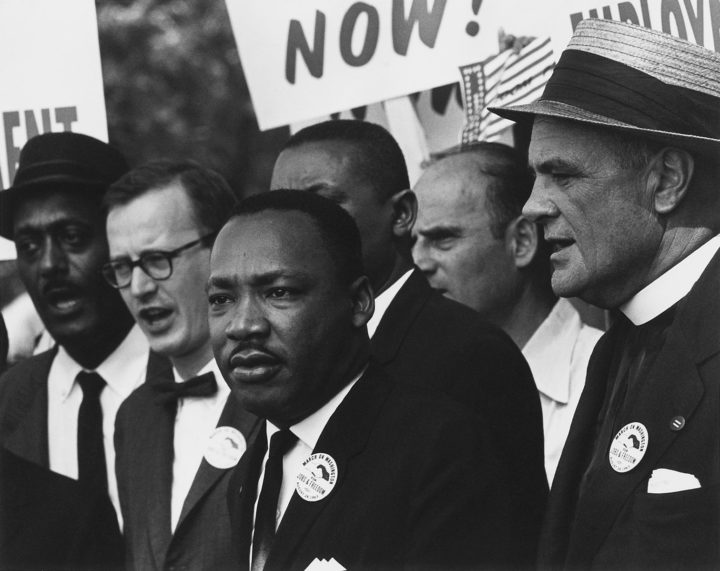 "Dr. King was an anti-war, anti-capitalist justice seeker who rejected poverty, racism, militarism, and the death penalty," Rep. Ayanna Pressley reminded those who would co-opt the slain human rights leader's words.
By Brett Wilkins
Progressives are pushing back against President Donald Trump and federal agencies including U.S. Immigration and Customs Enforcement and the Pentagon that attempted to co-opt Martin Luther King Jr.'s messages Monday, saying they are in fact perpetrators of the "evil triplets of racism, materialism, and militarism" the slain civil rights leader fought against.
"We honor [MLK] by not hijacking his words and twisting them to fit a white supremacist agenda."
—Prof. Carol Anderson
Acting Defense Secretary Chris Miller tweeted a three-minute tribute video that focused entirely on King's nonviolent struggle for racial equality, and the Defense Department's efforts to make the U.S. military more inclusive.
"Here at the Department of Defense we are committed to ensuring equal opportunity for all, and to building a force that reflects the diverse society we serve and protect," said Miller. In 2017, Trump enacted a ban on transgender people serving in the military.
A/SD Chris Miller speaks about Dr. Martin Luther King Jr. and how the DOD continues to build an environment honoring his legacy. #MartinLutherKingJrDay pic.twitter.com/WuWKHLDGw7

— Department of Defense 🇺🇸 (@DeptofDefense) January 18, 2021
Miller's tribute did not include any mention of the anti-war activism that increasingly characterized King's speeches and writing starting in 1967, the year in which he called the U.S. government "the greatest purveyor of violence in the world today" in his Beyond Vietnam: A Time to Break Silence address. At the time, U.S. forces were killing hundreds of thousands of Vietnamese and Laotian civilians. Today, U.S. forces are still waging a global anti-terrorism war that has raged for nearly the entire century and has also killed at least hundreds of thousands of civilians in at least seven countries.
Also tweeting homage to King on Monday was the Department of Immigration and Customs Enforcement (ICE), which hailed his "message of hope, justice, and equality."
Rep. Alexandria Ocasio-Cortez (D-N.Y.)—a fierce critic of ICE deportations, concentration camps, seizure of children from their parents, forced sterilizations, and other human rights crimes and abuses committed by the Trump administration—reiterated her call for the agency's abolition:
Abolish ICE. https://t.co/h4zIbesjRe

— Alexandria Ocasio-Cortez (@AOC) January 18, 2021
Trump also issued his annual proclamation honoring King. This year, the president praised King's "resistance to the injustices of his era," including "the denial of the right to vote," a statement that flies in the face of widespread Republican voter suppression efforts and his own attempts to subvert the 2020 presidential election.
Days after the Department of Justice finished executing 13 people at Trump's direction, Rep. Ayanna Pressley (D-Mass.) set the record straight:
Good afternoon.

Dr. King was an anti-war, anti-capitalist justice seeker who rejected poverty, racism, militarism and the death penalty. pic.twitter.com/3Ds1TCOJag

— Ayanna Pressley (@AyannaPressley) January 18, 2021
Without identifying Trump or anyone else by name, Bernice King, a minister and King's youngest daughter, reminded the world that her father was "one of the most hated men in America," and that "many who quote him now and evoke him to deter justice today would likely hate, and may already hate, the authentic King."
Please don't act like everyone loved my father. He was assassinated. A 1967 poll reflected that he was one of the most hated men in America. Most hated. Many who quote him now and evoke him to deter justice today would likely hate, and may already hate, the authentic King. #MLK pic.twitter.com/yGdQXL5MJ3

— Be A King (@BerniceKing) January 18, 2021
Author and historian Carol Anderson, a professor of African American studies at Emory University in Atlanta, told Vox that "we must honor MLK by honoring him."
"We honor him by not hijacking his words and twisting them to fit a white supremacist agenda," said Anderson. "We have policies that in fact don't care about character but go after the color of people's skin," she said. "So until we have a system that recognizes that, don't spout the words of Martin Luther King to advance or to provide a fig leaf to cover the white supremacist agenda."