Interview With Bassam Saleh, Palestinian Representative About the Threat of Annexation
This post is also available in: Italian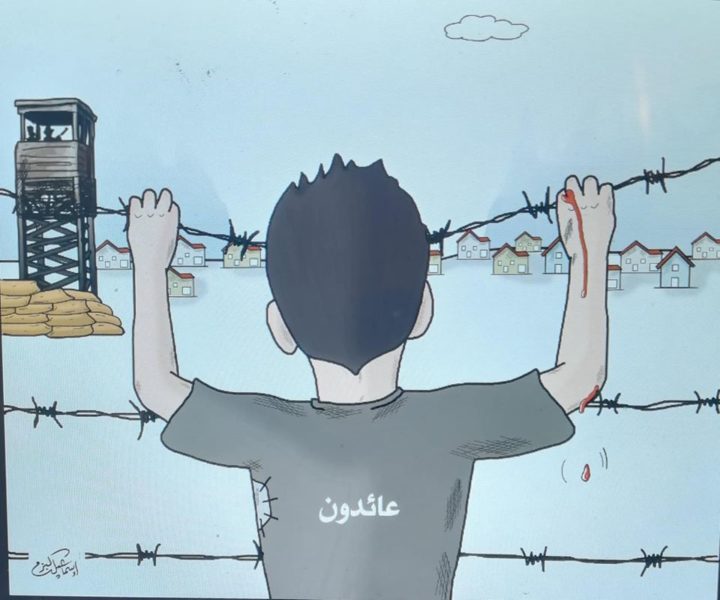 In conjunction with the arrival of the sad recurrence of the Nakba, the Palestinian catastrophe, which coincides with the Israeli celebrations for the birth of the State arisen in several hundred villages and .several thousands of them, the Israeli Jewish journalist Gideon Levy, historical friend of the Palestinian people and obstinate censor of the Illegal, violent and bloody policies of the Netanyahu government, without abandoning his criticism or sympathy for the Palestinians, has published an article that has caused astonishment and deep bewilderment for Palestinians accustomed to considering him a supporter of their constantly violated rights. Besides, the arrival in Israel of the US Secretary of State, Mike Pompeo, to support the illegal Israeli annexation project of illegally occupied Palestinian territories, has led to the prompt reaction of the various Palestinian realities, with open letters, appeals and complaints against the Trump-Netanyahu project. About this, and particularly about the meaning and the expected consequences of Gideon Levy's paper, we asked Bassam Saleh or his opinion. He is a Palestinian activist who has been living in Italy for many years and coordinates Palestinian and Italian associations committed to achieving a just peace in the Middle East.
Well, we are at a crossroads dear Bassam, and quite close to the anniversary of the Nakba, Levy publishes a puzzling article, inviting the Palestinians to accept Israeli annexation as a lesser evil. Would you tell us your opinion about it?
We don't fear annexation and we reject it. This is my straightforward reply to Gideon Levy, the Israeli journalist who I respect and recognize as one of the few supporters of the Palestinians' rights. But in his last paper published four years ago entitled "LET ISRAEL ANNEX THE WEST BANK. IT IS THE LESSER EVIL FOR PALESTINIANS", I must admit I disliked Levy; in fact, the title itself made me mad. Do you see? Levy writes "Why do EU and other countries fear this upcoming event so much? The issue of annexation seems to be a great disaster, but we should not be afraid of it, we should embrace it"?. Then he adds "The annexation seems to be the only way out of the impasse, the only shock that could put an end to the miserable standstill that we are facing and that cannot lead us to a better place" and he even says that we should look at annexation as a gift, because it will clearly disclose the violations of Israeli colonialism.
Yes, I read Levy's article too, but some of his supporters have taken it as a provocation. Do you think it could just be a provocation?
Not really, although it sounds a bit contradictory; here is what he says: "Annexation is an unbearable gift for the occupying on the one hand and a humiliating punishment for the ones under occupation on the other; it allows the most terrible crimes and undermines the most honest dreams. But the workaround is far worse, because it will perpetuate a corrupt reality that has already been perpetuated and establish the reality of apartheid – which exists to stay" because by now "an irreversible situation including East Jerusalem has come about for 700,000 settlers, whom nobody can evict and without this escape, the Palestinians will live in Bantustan, which is not a State, not even the remains of a State"
So Levy takes a fact and, although illegal, he believes it to be irreversible, doesn't he?
Exactly and that's why he wants to persuade us about his point of view, that is annexation is a lesser evil; but he ignores or forget that what matters to Palestinians— it's not which is worse between annexation and apartheid (as if both were not hand in hand!), but the extent of crimes of war against mankind that the Israeli colony State and the outlaw colonists in Palestine, supported by their American allies, commit against my people; because the question is to reject the colonialism and its existence on the earth. That's why annexation is rejected and will be accepted neither by Palestinians, nor by anyone who believes in peace together with justice?.
But Levy, again taking a basic fact, writes about 700,000 Zionist settlers in your territory who cannot be evacuated.
On what basis does he claim that? I would remind him of recent history, when Begin and Sharon governments, as they pleased, have dismantled the settlements of Gush Katif, Yamit, Gaza and the colonies of Egyptian Sinai. Levy doesn't remember that and so nor do those who regards the abuse of the colonies as irreversible! I want to remind them that the actual settlements in the Jordan Valley of Jerusalem and on the West Bank, can and will be dismantled e and there won't be a single settler in Palestine. Those who ignore the Palestinian situation and who are not aware of its changes, don't know what explosions could be in the reservoir of popular discontent and anger over what Israel is doing to us continuously. They don't know it and they are wrong because they see the dominant reality arising from the Palestinian eagerness, which has been lasting too long, to give the umpteenth chance to the international action and to the forces that support a just peace and a two-state solution within the borders of June 4th,1967.
So, do you say that regarding the Palestinian condition as weak, makes you think you can get everything?
Yes, I do. Levy sees only weakness and perhaps the Israeli extremist government and herds of settlers see only our weakness. But it's not. It's not weakness, it's rather wisdom. Palestinians cool their heels until the zero hour: in the event of another failure from U.E., Russian Federation, China, Japan, India, United Nations and the Arab brothers in stopping the Zionist American colonial project, the Palestinian position will have another option because, at that point, nobody will be able to stop the flood and there will be some changes in the mechanisms and methods of struggle and in the whole political issue.
And, regarding Levy's idea about apartheid occurring if you don't accept annexation, what do you think?
I was struck by Levy's assertion about the imposition of apartheid to the Palestinian people.
As if Zionist apartheid did not already exist! Mr. Levy is intellectually honest and he knows better than anyone else that apartheid exists since the birth of the idea of the Zionist colonial project in Palestine; and his first claim "A land without a people for a people without a land" that even denied our people's existence as well as the ethnic cleansing against the native Palestinians, is proof of it. What happened to Mr. Levy? Why did he forget all that? Yet he knows very well that President Donald Trump, relying on the promotion of the western capitalist project, instrumentally using myths and religious or nonreligious mythology, is lately marketing, pushing people of that region and of the world into the hell of wars. Mr. Levy can't ignore this.
Gideon Levy is certainly friend of Palestinians, but he identifies himself in the State of Israeli and would like it to be secular and democratic; perhaps he believes that in that case annexation would be a lesser evil and besides, I feel that he strongly denies your request to achieve an independent and sovereign state, like other Israelis friends of Palestinians do for a long time now. Why is that, according to you?
As Gideon Levy knows well, the colonial state of Israel has long since joined in a fascist phase, so much that people like Bennett and Netanyahu, shameless, resemble and justify the German nazis murderers, as well as the Italian fascists and other murderers and current criminals. You will remember Netanyahu writing about Hitler who used to love Jews but having been ill-advised by Gran Mufti, he decided to kill them! He made himself ridiculous as well as outrageous towards the victims of the Shoah. But our media seems to have quickly forgotten that. His destiny will not be any different from that of his predecessors who chose fascism and State terrorism. He doesn't have a future. This I would reply to Levy and I would reassure him that we don't fear Israeli Zionist colonialism, not its practices, decisions, laws, not the annexation. BUT WE REJECT THEM IN FORM AND CONTENT. Annexation is not a straight road and it will not take place; and a State willing to annex other people's territories, is not and will not ever become a democratic State.
However, nobody has ever stopped Israel up to now and Levy hopelessly admit it. I think he wrote that EU will also drop this in silence, although disapproving it, but doing nothing else.
Of course, he knows quite well that the Israeli leaders will carry on committing crimes, massacres and genocides with the EU and UN closing their eyes, but there will be no peace or security for Israel as long as Palestinians don't have it. They take our rights because they have the power, but they can't take away our dream of living free and the right to fight to realize that dream, on our land. No matter how long it will take and what Levy considers today as our weakness advising us to embrace the illegal project of annexation; he will see it turned into power of struggle and resistance against Israeli Zionist colonialism, that he is supporting, while declaring himself a friend of our people. We want our State to be independently ruled and we want the UN guideline on the right of return to be finally implemented, as it has been lying unapplied for 71 and a half years.
Well, if you had to reply to Levy and to whoever reads the both of you, what would you say?
I would say: dear Mr. Levy, you will see that if you take away any possibilities to claim our rights, what you regard now as our weakness, will turn into something else, until victory is achieved.
Translated from Italian by Roberta Mereu