Dear Julian,
I wish I were in fifth grade. If so, this letter would be easier to write. I think if the judge were in fifth grade too, he would release you. But when we grow up, logic is compromised with personal interests, fear, and arthritis sometimes.
I had read about you sometimes, and I had watched some of your interviews in Democracy Now. Last Saturday, I went to the CUNY Law School to attend a Panel discussion about your case. The room was packed. They are your followers. They believe in you, in what you have achieved. A woman even said that she had watched you in livestream until they took you away.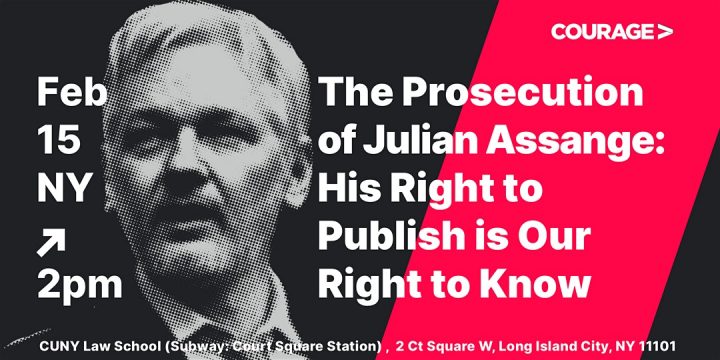 There are many things that I don't understand like a kid from fifth grade. The US government wants to prosecute you because you exposed true information about their wrongdoings during the war. One of the panelists said that those documents, images, and videos changed American perception of the Iraq war. We realized that we're not the saviors of the world but instead the Devil himself.
During the event, I was happy to hear Alice Walker who spoke in your support. "He's a man concerned with facts." I don't want to misquote her, but I think she said that you're "obnoxiously concerned with facts." I'm not. Factual reality doesn't' seem very entertaining to me. As a fiction writer, I pass half of the time daydreaming. Well, if they're after you who work with factual corruption, factual abuses, what would happen to me who works with dreams, with assumptions, basically with lies. Nothing that I write is real, but I could be even more damaging.
But governments or at least this one, the US government now, threatens people and makes them fearful. I wondered about that. What kind of things could I do if I'm fearful all the time?
Spring came earlier to NY this year. Even though the trees are still brownish and naked without leaves, people are walking around enjoying the sunshine and some of them are running in shorts and sleeveless t-shirts. How many of them would be able to publish documents that you had decided to publish? Do I need the courage to do it or only the realization that it's part of my job? Should I ask myself before writing one of my dreams if this wouldn't be allowed or if I need a government's approval? Well, we may live in the age of dream with a pre-approval sanitation label.
The government tries to make us feel fear, and that's what many people translate as 'security.' In the land of the First Amendment, the sacred freedom of expression, the New York Times also was persecuted for trying to publish the Pentagon Papers. This was a reminder by James Goodale. If this our precedent that clearly allowed the publication of documents related to the Vietnam War, what would be the responsibility of the prosecutor who actively looks for your punishment? It seems that in States, prosecutors can act irresponsibly without significant consequences. Well, if they found out of their negligence years later, they probably are going to remove their 'sacred names' from the law school halls, but that's all. Persecution or 'prosecution' is a trend, another face of what some people call 'security.'
After Goodale talked, I kept asking myself why we still have the Espionage Act in books. This is a vague, broad law. Shouldn't we have repealed it since the times of the Pentagon Papers? Is there one of our politicians interested in erasing it or, at the very least, to restrict it? It seems that if the government can disobey a precedent like that, at least Congress is supposed to do something about it. But sadly, neither Republicans nor Democrats are interested in that.
Renata Avila, your lawyer, told us about your life and reminded us that many of the journalists that denigrate you have never met you. I don't know if I need to like you or dislike you to agree that what you have done is your job: Publishing. So why do some people want you in jail because you're in a certain way or in another? Well, you have already been confined for a long time now since the time that you're were not allowed to leave the Ecuadorian embassy. Seven years? People forgot that. The British government was interfering with Ecuador's sovereign decision to grant you asylum. They ignored it. Of course, the current President of Ecuador, Lenin Moreno, revoked your asylum and your citizenship, and the British put you in jail. What do the Ecuadorians think about it? Still, it's difficult to believe that Lenin Moreno was acting out of pure principle. Well, he obviously ignored something called due process.
After all these 'mishaps,' we cannot believe in the British judges either. Mrs. Avila said that the judge would likely not to rule in your favor. They don't want to take the responsibility, so this may go to the court of appeals. How sad. And the British and the Americans accused the third world of not having independent judges.
Well, everything would be clear if we were in fifth grade. If I can tell you, Julian, you didn't anything wrong, drawing the Devil as it is. They shouldn't send you that corner. Besides, who can tell us that we only need to draw little angels?
By for now,
Jhon
If you want to write to Julian Assange, you can do go to writejulianmeets.blogspot.com or https://writejulian.com/ and follow the instructions.
Join to The Global Protest at the UK Consulate in NYC to mark the beginning of Julian Assange's full extradition hearing on February 24th, 11:00AM
British Consulate, 885 Second Ave at 47th St., New York, NY
For more information, contact NYCFreeAssange@gmail.com
---
About the Author: Jhon Sánchez: A Colombian Born, Mr. Sánchez, arrived in NYC seeking political asylum where he is now a lawyer. His short stories are available in Midway Journal, The Meadow, Newfound, Fiction on the Web, among others. The DeDramafi, was published on The Write Launch, and Storylandia will reprint it in issue 36. He was awarded the Horned Dorset Colony for 2018 and the Byrdcliffe Artist Residence Program for 2019. In 2021, New Lit Salon Press will publish his collection Enjoy Pleasurable Death and Other Stories that Will Kill You. For updates, please visit the Facebook page @WriterJhon .