Media strategy? Royal Canadian Mounted Police (RCMP) offered to pull out of Wet'suwet'en Territory
This post is also available in: Spanish, Greek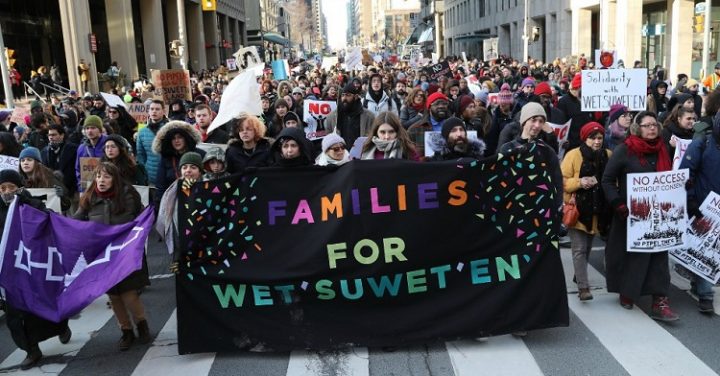 The solidarity movement with the Wet'suwet'en hereditary chiefs is growing everywhere in Canada. We're into a second week of rail blockades and mass protests, and new ones keep popping up in different parts of the country and in United States.
Thursday the RCMP has offered to pull its officers back from the road along a pipeline construction route on Wet'suwet'en territory, a move federal public safety minister Bill Blair says meets the condition for lifting the paralyzing rail blockades elsewhere.
Blair told reporters Today that the RCMP's deputy commissioner in B.C. made the offer in a letter to the Wet'suwet'en hereditary chiefs. He said in doing so the conditions that were set out by the Wet'suwet'en hereditary chiefs and their supporters "have been met."
But according to Molly Wickham it seems like a media strategy "the RCMP(Royal Canadian Mounted Police) have clearly not yet vacated, or officially engaged with our hereditary chiefs and governance. It's suspicious to me that RCMP and government would claim to have met our conditions without talking to our hereditary chiefs."
Molly Wickham is a Gidimt'en Clan member, adopted into the Cas Yikh (Grizzly Bear House), originally from House of Spookw. Molly's father clan is C'ilhts'ëkhyu (Frog Clan). Molly completed her undergraduate degree on Coast Salish territories at the University of Victoria (UVIC) in Sociology and went on to earn a master's degree in Indigenous Governance, also at UVIC. (Wet'suwet'en)
Theses protests and blockages are starting to have direct impact on the Canadian economy. The companies who depend on the more than 40,000 kilometres of rail line-crossing the country to get goods to market say they're getting caught in the crossfire, after Canadian National Rail said Tuesday it had no choice but to shut down "significant" parts of its network if blockades remained. (TheToStar)
According to businesses leaders across Canada the delivery of goods ranging from oil to car parts to various food products were at risk of serious delays as railway blockages and growing protests against the construction of a pipeline in Wet'suwet'en territory in northern B.C.
Prime Minister Justin Trudeau is under increasing pressure to end the blockades, with Conservatives calling for the government to use forced and with Canadians businesses, the Liberal government insists negotiations are the only way to a lasting solution.
The hereditary chiefs demand that the pipeline construction company cease operations because it hasn't obtained the consent to build on traditional territory from the hereditary chiefs. The company has signed benefit agreements with elected band councils along the route however.
The truth about politics in Canada is that when the population is this divided on an issue, there is no resolution to be found in law enforcement. The only way out is to listen to the anger, and make real changes.
First Nations, conversely, are successful in only 19 per cent of cases where they seek an injunction to stop resource development projects on their territory. At its lower levels, our legal system acts a lot like a rubber stamp for the demands of industry and government. Indigenous peoples usually have to go all the way to the Supreme Court to get a more thorough hearing, and when they do they often win. (Ricochet)