Courts Blocked Trump's Public Charge Rule…For Now, But Fear Still Remains
This post is also available in: Spanish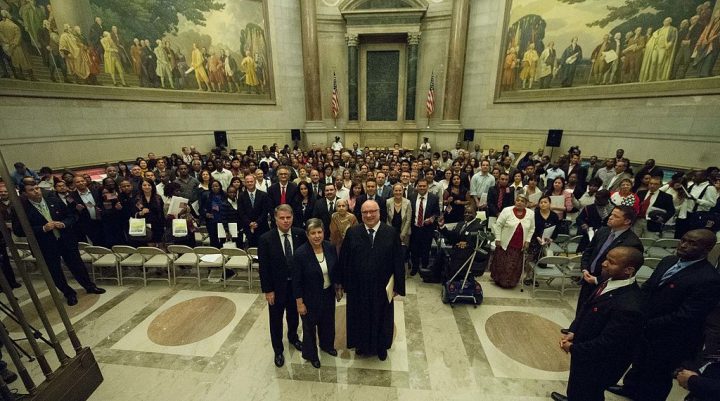 By Jhon Sánchez
Daniel* may be deported even though he had a legal sponsor to stay in the USA. When he arrived in this country, he had a tourist visa, and during that time, his sister petitioned for his green card. He planned to return to Colombia, but he was diagnosed with HIV. The lack of adequate treatment in Colombia persuaded him to stay and wait to adjust his status as a permanent resident.
In New York, Medicaid covers all his medical expenses, and Daniel was grateful to be in a State that would allow him to apply to get his HIV medication. In other States, he would be eligible only for Emergency Medicaid, which means an only-treatment when his t-cells were dangerously low, and he would have pneumonia or kaposi sarcoma and with minimal prospect of recovery. Eventually, he would get his green card, more likely, after a time of waiting that for now has been sixteen years.
He knows the meaning of the legal terms PRUCOL and Deferred Action. PRUCOL means Permanent Resident Under the Color of the Law. Like Daniel, PRUCOL immigrants don't have a green card, but the government doesn't have the intention to deport them. This is because they have the possibility of adjusting their status in the future, Deferred Action, (Daniel's case) or because for other humanitarian reasons. "With PRUCOL, I cannot work. I cannot travel to Colombia at least to visit my mother," he says.
Now that finally, his green card application is going to be processed, the Trump Administration made him ineligible under the Public Charge Rule. The rule has been in place since the late 1800s and had for purpose to keep out immigrants who arguably wouldn't contribute to society. Undocumented immigrants and most of the green card holders are ineligible for public benefits. Daniel's case is an exception. Even though he's undocumented, he was granted Medicaid because he is a PRUCOL immigrant and because he happens to be in New York. Under the new rules, people who have been recipients of public benefits or who are likely to receive public benefits in the future are ineligible for green cards.
This wouldn't affect only people like Daniel but others. The immigration officer needs to weight a list of factors to evaluate if the beneficiary is going to use public benefits in the future.  Those factors are age, disability, lack of English proficiency, health insurance, health conditions and others. If a person is petitioning for his father, who is older than sixty-five years old, the immigration officer processing the application is to weight the age and financial resources to evaluate if the father is going to get the Medicaid in the future. Under Trump's rule, if you're petitioning for your five-year old son, it's more likely that your petition would be denied because according to the government, "A child cannot work." And if you're petitioning for your wife better that she's not pregnant, or doesn't diabetes, or arthritis, and she would have a good command of English, of course. Maybe she needs to be a Superwoman, from England or Canada.
Immigration attorneys usually ask their clients for a Letter of Sponsorship.  Latino-Americans, for example,  looked for a close friend who had a good job and can support the beneficiary of a green card financially. I can imagine what people say to their friends, "My son he's going to school first and after graduation, he's going to be an engineer and get lots of money. Don't worry; he will never need to apply for welfare."
The sponsor needs to have an income of 125% of the Federal Poverty Guidelines. But under Trump, they ask not only for a sponsor but also that the applicant would have an income of 125% of the Federal Poverty Guidelines. This is $41,150 for a couple with no children and $73,550 for a couple with three children. Technically, the government is excluding the majority of non-skilled workers coming from Center-America, Mexico, China, South-America, and Africa. Obviously, there is no problem if a doctor or engineer who is asking for grandpa. Norway citizens would have a free pass because their gross national income (GNI) is USD 103,000. But what would happen to other immigrants who come from Honduras where GNI is USD 4,410?
The Boundless Blog reports the following impact:
The new measure has been put in halt by the legal challenges of thirteen states in Federal Courts, but even though the rule cannot be applied, Trump has already terrorized the immigrant communities. On a Texas Tribune's article, Alicia Coronado tells the story of an Indian woman who after suffering domestic violence from her American husband, escaped along with her daughter who needs permanent medical attention. The woman is fearful that Medicaid benefits for her daughter would cause her deportation. She had decided to return to her abusive husband because "If I don't have insurance, how will I take care of my daughter?" she says. (Source: The Texas Tribune )
In her case, she wouldn't have any problem because she is already a green card holder, and the rule wouldn't apply retroactively. Besides, she would except of the Public Charge Rule if the application is done in favor of children, pregnant women, and women who suffered from domestic violence and human trafficking.
Still, people are afraid, and they don't want to jeopardize their legal status in the United States.
In the same article, Alicia Coronado tell us the story of a woman who refused to take a kidney stone surgery because this would affect her daughter's petition for her and for her husband.
The rule also is applicable to a permanent resident who can be deported if they are a public charge within the five years after becoming a green cardholder. One of my friends is blind and he said to me the other day, "I'm glad I hadn't applied for Medicaid because this could affect my citizenship application."
Immigration had explained that the rule wouldn't be applicable to the permanent residents, but the fear and misinformation are good enough to prevent people from getting the medical attention they need and have the right to it.
The chilling effect could cause the disenrollment of 1.7 million children from Medicaid according to a study by California Health Care Foundation. Please be advised that those children are legally eligible to the Medicaid benefits. Noncitizen and families with a non-citizen member account for 68 billion for Medicaid services and according to MANATT, of which 17 billions are in risk due to the rule.
This actually also means that the painter who is painting your house maybe affected. According to New American Economy, 540,000 people would affected by the rule in the construction industry.
Ask yourself if the waiter at your restaurant may have Medicaid, or if his children see the doctor, or if his wife is pregnant. Well, the New American Economy reports that 525,000 people from the hospitality industry would be affected
Many people may think, 'It's a budget constrain. The hospital may lose some money for Medicaid disenrollment.' The Medicaid disenrollment actually means that the nurse, the doctor, or the receptionist at your local hospital may lose their jobs. According to the Geiger Gibson/RCHN Community Health Foundation, 6,100 medical jobs would be lost as direct consequence of the implementation of the rule.
This doesn't mean that if a child with cancer is not treated, the money is going to your pocket. More likely the money is going to be invested in bombs to attack Syria, Libya, or Yemen. The National Defense Authorization Act of 2018 increase the military budget in 18% comparing to previous years. So, if you like the rule, better you hate your doctor.
Fear is not the answer. We don't want families would live cramped in tiny, unsafe places because they are afraid to apply to public housing. We don't want a person to think that the treatment of a heart attack would cause him/ her deportation. We don't want pregnant women to refuse medical attention based on the false belief that pregnant immigrant women are not eligible for Medicaid.
This persecution will cause to all of us an economic hurdle. The non-treated medical problems would cause emergencies for which undocumented immigrants are eligible. Emergency rooms are much more expensive than ongoing treatment. How much would it cost to all the taxpayers the birth of a child with chronic health problems because he didn't have the treatment during her mother's pregnancy? How much money would it cost because many immigrants refuse to take the flu shot? How much money would it be for all us that people don't take their HIV preventive treatments? How much would it be the police force to control the focus of social unrest and frustration caused by the lack of adequate housing But beyond the concept of budget, we need to ask ourselves, if we really want a society where children and their families feel excluded from their surroundings, if we want a society where people feel fear, if I myself want to cause fear to my neighbor.
* Name change for privacy concerns
---
Jhon Sánchez: A native of Colombia, Mr. Sánchez arrived to the United States seeking political asylum. Currently, a New York attorney, he's a JD/MFA graduate. His most recent short stories published in 2018 are Pleasurable Death available on The Meadow, The I-V Therapy Coffee Shop of the 21st Century available on Bewildering Stories and "'My Love, Ana,'—Tommy" available on https://www.fictionontheweb.co.uk/