Inauguration of the counter-summit "G7 No! Let's defend our alternatives!"
This post is also available in: Spanish, French, Greek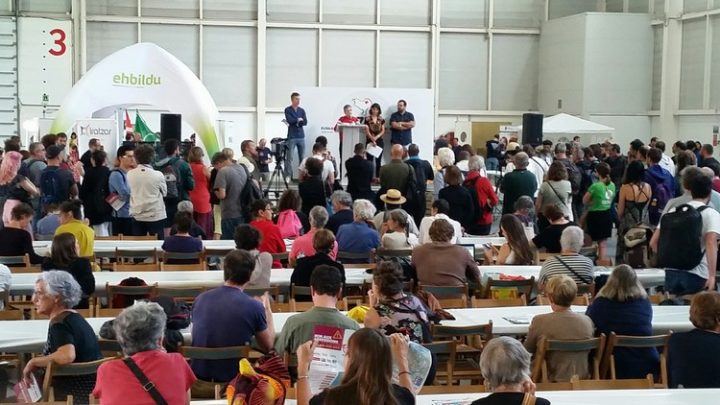 Pressenza participates in the Counter-summit of the G7EZ [NT G7EZ: No al G7, in Basque], which is held in Hendaye (France) and Irún (Spain), between 19 and 25 August.

On 21 August the G7 counter-summit and the village of alternatives was inaugurated at the Ficoba Congress Centre and in Hendaye, until 23 August. From 24 to 26 August, Macron will host the G7 in Biarritz.

Video / Photos: Xavier Foreau

Here is a video with an excerpt from the introduction:
Transcription of the video:
… This diversity is a renewal to face the challenges of tomorrow, of the future, the fight against inequalities, to make multinationals responsible for tax evasion, to reduce the ecological crisis, to fight against humanitarian crises, to show solidarity with migrants arriving in the Mediterranean, to fight against feminicide.
All these issues concern us and it is this diversity that will enable us to overcome them. And for that we will discuss, we will exchange, we will debate in our respective languages. Not only will we do it between experts and powerful people, as in Biarritz, we will do it from our experiences, we will continue with and for the majority that we represent, this famous 99%.
We will do it leaving space for all of us, those of us who are invisible in our daily lives, so we will not accept sexists, xenophobes or any other form of oppression or domination in our spaces. That's why we have a feminist protocol against sexual and gender aggression. In terms of responsibility, we call on victims and witnesses to feel confident in denouncing this violence as part of this counter-summit?
Video presentation of the programme (excerpt from the agenda)
Transcription of the video:
We are gathered in three important meetings: the conferences in Ficoba and the cinema of Hendaye; the Workshops and the welcoming space of the school of Hendaye; the intergalactic scene, between the 21st and the 23rd of August. The big demonstration will take place on Saturday, August 24, to show our name and strength, and the occupations of public squares on Sunday, August 25, to denounce the state of siege currently facing the place of the G7 and the right to demonstrate for everyone and for months. For all of this, an infrastructure has been created so that everyone can participate…..
Testimony of Ms Geneviève Legay, yellow vest
---
Translation from Spanish by Pressenza London