Colombia: a new blow to the Havana Accords
This post is also available in: Spanish, French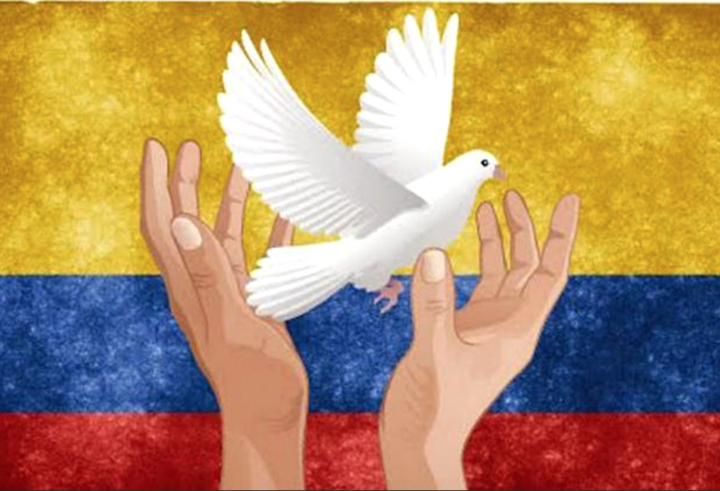 Through a video, apparently filmed in the area of Puerto Inírida, in the Colombian jungle, Iván Márquez, Jesús Santrich and El Paisa, the three former FARC combatants whose whereabouts were unknown and who did not keep their appointment to testify before the JEP (Special Justice for Peace), have announced the refoundation of a new guerrilla with the same name: Fuerzas Armadas Revolucionarias de Colombia (Revolutionary Armed Forces of Colombia). In the communiqué read by Márquez, they expressed that the State will know a new operational modality which they have called the second Marquetalia, the place where the first FARC were born, with the ideals of Manuel Marulanda Vélez (Tirofijo) and Bolívar.
The argument put forward is the systematic non-compliance of the State with the agreement signed in Havana (Cuba), which began at the end of the Santos government and became more evident with the arrival to power of the Democratic Center party, who had already announced to tear the agreement to shreds and have been doing so since Iván Duque assumed power. It is a decision that brings multiple consequences, not only for the process itself, but because it will intensify the country's dire panorama with the systematic assassination of social leaders, the threats to journalists, the orders issued by the Army to increase captures and deaths in combat, as happened with the false positives some years ago.
The only thing that Márquez, Santrich and El Paisa achieve is to benefit the discourse that has been destroying the process and give reason to the enemies of peace, who now announce, as Senator Álvaro Uribe Vélez did in his Twitter account: "to support the grassroots (ex-combatants) no agreements are needed," in a clear allusion to the campaign promise: destroy them. In other words, it is a decision that does the extreme right a favour. The regression has multiple faces and one of them is the situation of the 11,986 people committed to peace and following their processes through the JEP and the even greater risk in which the lives of ex-combatants and social leaders are found.
Reactions from the Common Revolutionary Alternative Force-FARC party, a political organisation that the party "does not share any of the terms of the speech (referring to the video). The Peace Accords embody the culmination of the Colombian people's longing to end the armed conflict…". The communiqué acknowledges the difficulties of implementing the agreements and the slow progress in this process, but ratifies the commitment to peace and calls on all sectors of the population and the international community to "protect the Havana Accords as never before" and their implementation.