Demonstration against Ramstein Air Base creates more and more awareness
This post is also available in: Spanish, French, German, Greek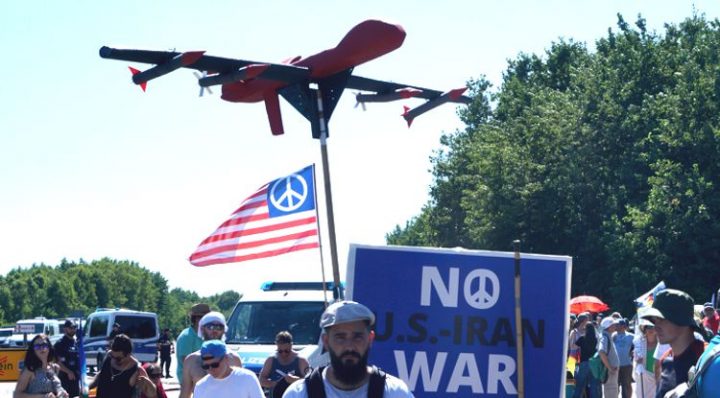 Under an oppressive heat, 5000 participants demonstrated in front of the Ramstein Air Base to rebel against the illegal drone war and the US war and their German support from this centre of US war policy.
"The airbase is the key to nuclear and conventional war. "Without it there would be no drone warfare," notes Pascal Luig. Its resolution remains the long-term goal of the campaign.
"The Air Base must be closed because it is waging current and future wars of the United States," argues Oskar Lafontaine. According to Andreas Hartenfels, member of the state parliament of ecologists in Rhineland-Palatinate: "The environmental impact of the Air Base through emissions, groundwater pollution and noise is increasingly intolerable.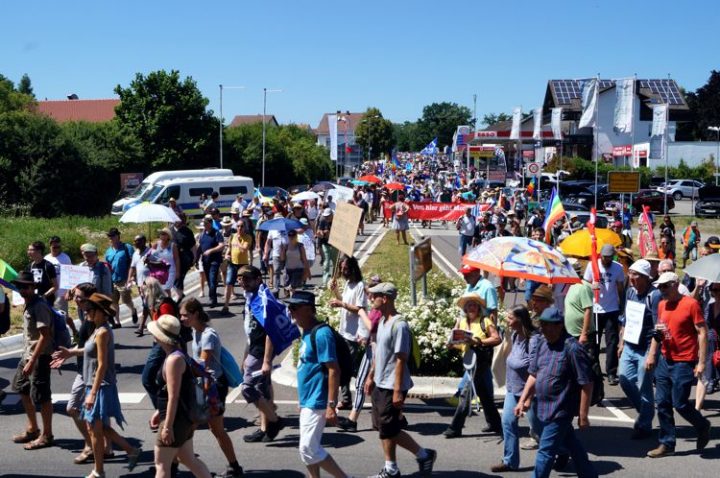 «Twice as many participants, mostly young and many new, are an impressive sign that the peace movement is growing again and is coming back with all its might against the Iran war and a possible deployment of more U.S. nuclear weapons," says Reiner Braun, of the campaign coordination circle at Stop Air Base in Ramstein.
The demonstration was the conclusion and high point of the week of protest against the Ramstein Air Base, which consisted of a peace camp attended by 800 people, an international congress, a public event with more than 650 participants and civil disobedience actions.
"We come with more people to the protests against the Ramstein Air Base again in 2020. We are also protesting against a possible war with Iran, which would start from this airbase and in which Germany would also be (indirectly) involved," said the voices of the thousands of participants. Right now we are turning against the meaningless, bureaucratic and undemocratic regulation of freedom of demonstration by the district administration in Kaiserslautern.
---
Translated from Spanish by Pressenza London