This post is also available in: Spanish, French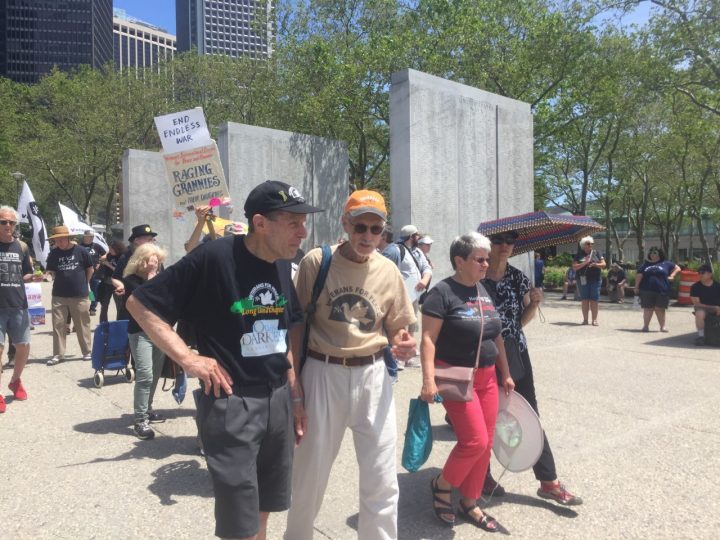 By Jhon Sánchez and Tim Kennedy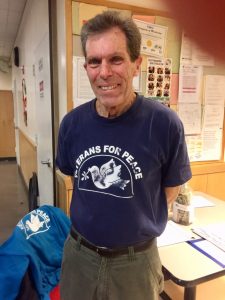 On May 26, at Battery Park, in observance of Memorial Day, Veterans For Peace – NYC Chapter 034 organized a rally. Pressenza walked along with protestors and at the end we heard various family members speak about their loved ones who fell in combat. We talked to Robert Keilbach, the Secretary of Veterans for Peace-NYC Chapter 034 about their activities
Can you tell me how this organization started?
Veterans For Peace (VFP) is a National Organization of veterans of all wars, committed to increasing public awareness of the causes and costs of war, and ending war as a means of conflict resolution. The National Organization began in 1985, in response to US overseas interventions, primarily in South and Central America at that time. Chapter 034 started in 1987; there are currently over 200 VFP chapters, including overseas in the UK, Vietnam, Japan, Ireland, Okinawa, Korea, etc.
How did you get involved with it and why?
After leaving active duty in 1965, I began to learn more about US intervention in Vietnam, and became opposed to that war. I joined Vietnam Veterans Against the War(VVAW) in 1968, and participated in peace demonstrations to end that conflict. I joined VFP in 1990, after meeting Chapter 34 founder and then President Mike Pahios at a peace demonstration in NYC.
What's the overarching mission of this organization? –
To promote peaceful solutions to world problems, and abolish War as a means of conflict resolution.
VFP Statement of Purpose:
To increase public awareness of the causes and costs of war
To restrain our governments from intervening, overtly and covertly, in the internal affairs of other nations
To end the arms race and to reduce and eventually eliminate nuclear weapons
To seek justice for veterans and victims of war
To abolish war as an instrument of national policy.
VFP Mission Statement: https://www.veteransforpeace.org/who-we-are/our-mission
What progress do you feel you have made in that endeavor? –
It is obviously very challenging under the current Administration's pro-war policies, but we have certainly stopped the rush to war in many places, including planned interventions in Syria, Venezuela, Iran, etc. A recent success is the unprecedented check on Presidential war-making power, when both the House and Senate passed the Yemen War Powers Resolution, the first application of the War Powers Act of 1973, ending U.S. support for the war in Yemen, and the world's worst humanitarian crisis. Trump vetoed the resolution, and the override vote was unsuccessful; however Congressional debate over Yemen has made clear how unpopular Trump's Yemen policies are, even among Republicans.
What future progress you hope to make? –
We will continue to support antiwar policies, diplomatic solutions, reduction in military spending, and converting budget priorities to human needs.
Can you share any plans you may have to reach those goals? –
VFP has national Projects and Working Groups, which address issues related to achieving our mission. We have an Annual Convention; this year August 15-18 in Spokane WA, where members of VFP convene to discuss and plan priorities and future actions.
Check out the VFP website: www.veteransforpeace.org