Simultaneous Notre Dame Cathedral and Al-Aqsa Mosque fires
This post is also available in: Spanish, French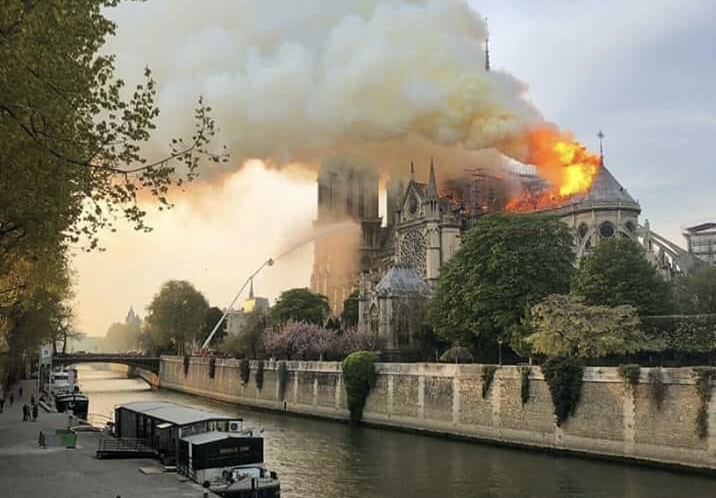 "A major fire has engulfed the medieval cathedral of Notre-Dame in Paris, one of France's most famous landmarks.
"The 850-year-old Gothic building's spire and roof have collapsed but the main structure, including the two bell towers, has been saved, officials say…
"Officials say it could be linked to the renovation work that began after cracks appeared in the stone, sparking fears the structure could become unstable.
Paris prosecutor's office said it had opened an inquiry into "accidental destruction by fire". A firefighter was seriously injured while tackling the blaze". (BBC)
"Paintings to be transferred to Louvre. The structure of Notre Dame is still "sound" while large paintings inside the cathedral are believed to have sustained some smoke damage but are largely intact, a press conference addressed by government officials has just been told.
"Ministers from the culture and interior ministry paid tribute to the courage of more than 500 fire fighters from Paris and surrounding regions who braved dangerous conditions to battle the blaze." The Guardian
Strange coincidence
According to RT "One of the structures in the Al-Aqsa Mosque in Jerusalem has caught fire on Monday night at the same time a massive blaze was ravaging Paris' Notre Dame Cathedral. The fire was put out quickly with no injuries reported.
"The fire broke out in the guard's room outside the roof of the Marwani Prayer Room," Wafa news agency said, noting that the "fire brigade of the Islamic Waqf handled the matter successfully."
"Footage posted on social media showed smoke rising from the top of the Marwani Prayer Room, also known as Solomon's Stables, as firefighters tried to extinguish the flames on top of the Temple Mount, the third holiest site in Islam that has been at the center of the ongoing Arab-Israeli conflict.
"While the cause of the incident has yet to be determined, Sheikh Azzam al-Khatib, director general of the Jerusalem Waqf and Al-Aqsa Mosque Affairs Department, hinted that the fire could have been started by children who were seen playing in the area."