More than a million people march in London to stop Brexit
This post is also available in: Spanish, French, Greek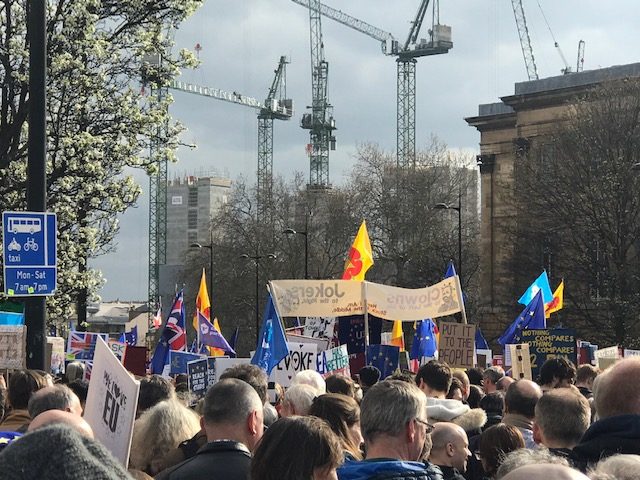 News in Pictures. Photographs by Anna Swinden for Pressenza.
Prime Minister Theresa May is under fire for the debacle and chaos created by her inability to establish effective Brexit negotiations, alienating in the process Parliament and a great part of the population. A cabal of right wing politicians within the Conservative Party, calling themselves the European Research Group are pushing the country into no-deal Brexit, leaving cold turkey, without any agreements, in order to force Britain to accept US trade rules including chlorinated chicken and hormone filled animals, that is, abandoning the much better food and environmental standards from the EU, as well as massive privatisation, including the NHS, much higher prices for medicines (announced by Trump) and losing the European markets that have been so important to maintain jobs and prosperity in Britain.
The mess only affects the "real economy" since unbeknown to most people the financial sector has made its own agreements with the EU to ensure it continues business as its profitable usual.
Today, more than a million people (the biggest march since the one to oppose the Iraq war in 2003) took to the streets of London and other cities as part of "People's Vote" demonstrations demanding a new referendum on whether or not the country should leave the European Union. At the same time a petition to revoke Article 50 to stop the Brexit process has attracted more than 4 million signatures.
Here are some of the images of the nonviolent demonstration.