Trump's announcement came just days before he is set to host Netanyahu at the White House during the annual conference of AIPAC—the American Israel Public Affairs Committee. The AIPAC event will include speeches from Vice President Mike Pence, House Speaker Nancy Pelosi and Senate Minority Leader Chuck Schumer, among others.
But a growing number of Democrats—including at least eight presidential candidates—have said they will be skipping the summit.
In a statement, the campaign of Vermont Senator Bernie Sanders wrote, "[Sen. Sanders] is concerned about the platform AIPAC is providing for leaders who have expressed bigotry and oppose a two-state solution." We'll have more on AIPAC and President Trump's recognition of Israeli sovereignty over the Golan Heights after headlines.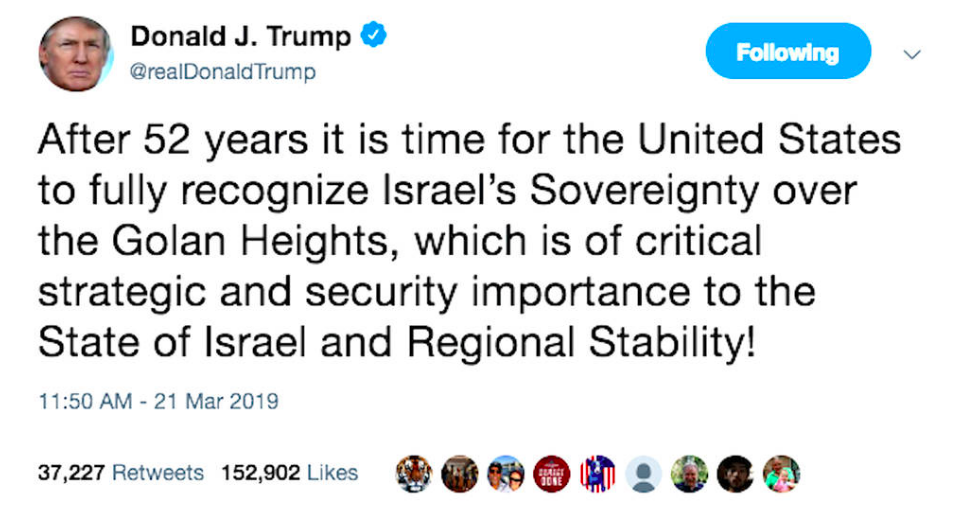 Prime Minister Benjamin Netanyahu: "President Trump has just made history. I called him. I thanked him on behalf of the people of Israel. He did it again."
Israel annexed the Golan Heights in 1981, though the international community does not recognize its sovereignty. The Syrian state news agency responded to Trump's vow to overturn decades of U.S. policy by saying it showed the "blind bias" of the U.S. toward Israel and that his comments had shown "contempt" for international law.
Originally posted here