In Tijuana, Mexico, U.S. border patrol officers fired tear gas Sunday into a crowd of desperate Central American asylum seekers as they tried to push their way through the heavily militarized border with the United States. Among those attacked were mothers and small children, who were left gagging and screaming as tear gas spread. Mexican federal police officers in riot gear moved in and arrested dozens of the migrants; Mexico's government says they'll be deported to Central America. The group had broken away from a peaceful protest of thousands of migrants demanding entry to the U.S. where they hoped to win asylum. The migrants are from Honduras, Guatemala and El Salvador, and are fleeing widespread violence, poverty and mass unemployment. This is 37-year-old Honduran asylum seeker Saúl Hernández.
Saúl Hernández: "My message to the United States president is not to scare people, because he's showing Mexico that he has the military power. He's also frightening Mexico. Please remove your troops."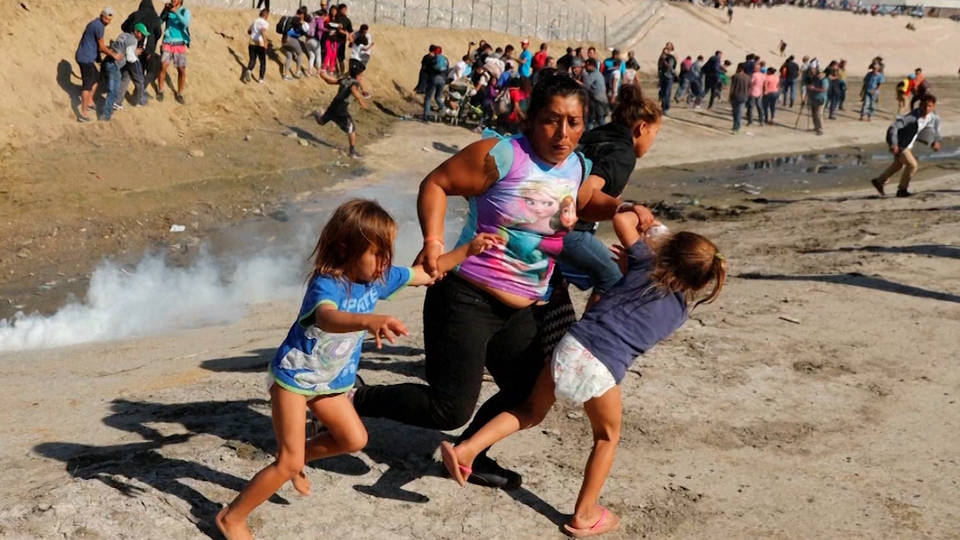 In response, the Trump administration temporarily closed the San Ysidro border crossing, one of the busiest ports of entry in the world, with more than 90,000 people crossing each day. Meanwhile, the administration of Mexican President-elect Andrés Manuel López Obrador denied it had made any deal with the Trump administration to force asylum seekers to remain in Mexico while their U.S. asylum claims are processed. The denial contradicts tweets by President Trump and a report in the Washington Post on Saturday.
On Monday, Trump tweeted "Mexico should move the flag waving Migrants, many of whom are stone cold criminals, back to their countries. Do it by plane, do it by bus, do it anyway you want, but they are NOT coming into the U.S.A. We will close the Border permanently if need be. Congress, fund the WALL!"
Mexico has asked the U.S. to investigate the use of tear gas on children. Speaking from Mississippi Monday, Trump defended the tear gassing for a second time and placed the blame on parents of migrant children, suggesting that some people with children aren't guardians but so-called "grabbers" who simply use the children to gain asylum.