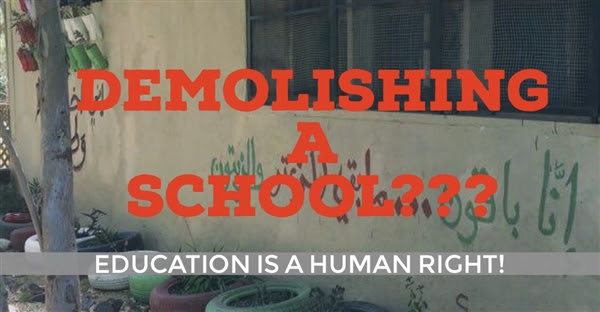 Israeli military forces have arrived at the Bedouin village of Khan al Ahmar (Westbank, between Jerusalem & Jericho) with bulldozers and heavy equipment prepared to demolish the village. For those of you who are unaware, Khan al Ahmar is home to a large number of Palestinians. These people, originally living in the Negev Desert were forced out by Israeli authorities in the 1950's to their current location and have been peacefully carrying out the routines of their daily lives since then. Recently an order has been passed by the Israeli government giving the military permission to destroy this village and again force the displacement of these people.
In part of their daily routine these locals have come together to build a school for the nearly 180 children of the village. In addition to these people's homes, the Israeli military intends to demolish this school which will prevent these children their RIGHT to education. These forced displacements often move nomadic Bedouins from rural regions in which they can maintain their livelihoods through herding lifestyles and places them in urban/semi-urban areas. These locations are unsuitable for maintaining their means of support and often cause separation among family members and have had great impacts on the social and labor efforts of the women of these communities.
Combatants for Peace is present in Khan Al Ahmar, day and night, to show solidarity with the people and to support, if the army starts the demolition. With a lot of media attention, nonviolent protest on the ground and international pressure, we may be able to stop the deconstruction and the loss of home for hundreds of people!
In this Blog, there are several ways to help: http://afcfp.org/press/blog/