International mobilization against Trump's immigration policy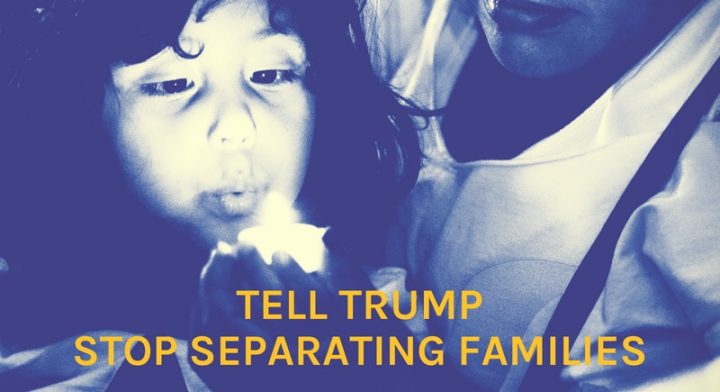 On 26 May, news broke out of the US on the Trump Administration's unprecedented "zero tolerance" policy, inhumanely detaining and separating immigrant children from their parents at the US border, sparking a wave of protests in at least 30 cities across the North American continent.
International protests and petitions quickly followed suit. Groups in Madrid, Barcelona, Milan and Lyon are taking swift action in solidarity with this movement. Spain was home to the first protests with overseas American citizens, holding two demonstrations on 27 May and 1 June in Plaça Catalunya, Barcelona.
This action triggered a wave of international support and petitions, with concerned US citizens in UK (DA-UK Global Women's Caucus), Italy (Women's March Milan + DA-Italy), France (DA-Lyon+Bordeaux+Toulouse), across Europe, and beyond.
On 5 June, the UN High Commissioner for Human Rights also condemned the United States: "Detention is never in the best interests of the child and always constitutes a child rights violation…The US should immediately halt this practice of separating families and stop criminalizing what should at most be an administrative offence."
Actions taken:
–A petition for US citizens in Spain or abroad, available in English, Spanish and Catalan
–A petition for US citizens in Italy
–A petition for US citizens in France
– A social media Action Toolkit for US Citizens Abroad
UPCOMING ACTIONS:
–Seminar: The US War on Immigrants. Prof. John Palmer. Free event, RSVP recommended. Barcelona, Pompeu Fabra University. 13 June. (15:00-16hr).
–Day of protests in solidarity with all 50 United States. Barcelona, Plaça Catalunya. 14 June.
–Protest at US Embassy organized by Eric Stevenson with Madrid Resistance. Madrid, US Embassy. 19 June (19:30).
More information:
Barcelona: Jessica Craig/DA-BCN: craig.jess@gmail.com , +34674324402
Madrid: Eric Stevenson/Madrid Resistance: ebsg227@gmail.com, +34677612060
Milan: Peter Luntz/Liane Arter/Women's March Milan: womens.march.milan@gmail.com, +393498378097
Families Belong: Anna Tarkov, media@familiesbelong.org, +1 773-844-6302