8 Students & 2 Teachers Killed in Shooting Rampage at Santa Fe, TX High School
This post is also available in: Italian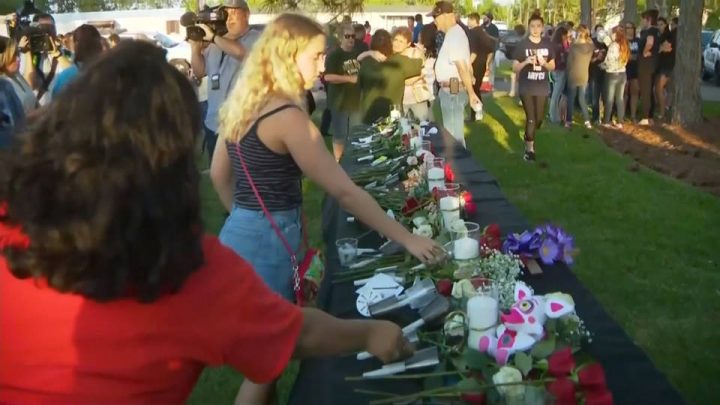 In Santa Fe, Texas, funerals have begun for the victims of Friday's school shooting massacre at Santa Fe High School, where eight students and two teachers were killed in the Friday morning rampage.
The killings began around 8 a.m., when 17-year-old Dimitrios Pagourtzis entered the school wearing a trench coat and armed with a shotgun and a .38 revolver and opened fire. Ahead of the attack, Pagourtzis posted on his Facebook page a T-shirt that read "Born to Kill" as well as images of his trench coat and an explanation of its decorations, noting that "Hammer and Sickle=Rebellion" and "Rising Sun=Kamikaze Tactics. Iron Cross=Bravery. Baphomet=Evil."
Students who survived the massacre say the first classroom the shooter entered was an art classroom, where he fatally shot students, including 16-year-old Shana Fisher. Her mother said her daughter had repeatedly turned down the shooter's advances in recent months. The Washington Post reports 2018 has been deadlier for school children than service members. This is in part because of the 17 people killed in February in the mass shooting at Marjory Stoneman Douglas High School in Parkland, Florida. March for Our Lives, the group founded by Parkland students who organized nationwide protests in March, tweeted support for the Santa Fe High School students, saying, "This is not the price of freedom. This is the most fatal shooting since the one at our school and tragedy like this will continue to happen unless action is taken."
The massacre has renewed calls for gun control, including from Houston Police Chief Art Acevedo.
Police Chief Art Acevedo: "I believe that anyone that owns a firearm that doesn't secure it properly, ends up in the wrong hands and used to kill innocent people, that that should carry some significant consequences. And we need to think about that on the national level across this country."
Meanwhile, on Sunday, the National Rifle Association's incoming president, Oliver North, blamed Ritalin for school shootings and some Texas officials responded to Friday's shooting with calls for prayers and blamed abortion and violent video games.