The second World March for Peace and Nonviolence, building the power of compassion
This post is also available in: Spanish, German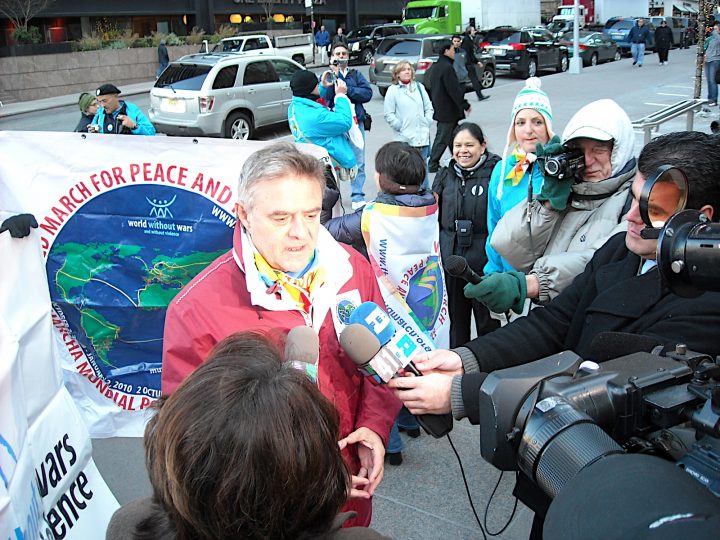 Rafael de la Rubia, founder of World without Wars and Violence, is visiting different countries and organisations to make the second World March for Peace and Nonviolence a massive event in order to create non-violent consciousness throughout the world. In his visit to India he was interviewed by 'The Hitavada' in which he stressed the need to increase the power of compassion:
"Q: Can you briefly describe about yourself and the experience you had as world peace activist?
A: As a world peace activist I have worked in more than 60 countries throughout America, Europe and Asia. As a founder of the international organisation 'World Without Wars' and the creator and spokesperson for the World March for Peace and Non-violence actively working in the field of non-violence for more than 35 years.
"Also serving as a President of the Humanist Forum of Educators, which seeks to develop methodologies of non-violence in education, and as Co-ordinator of the 'Forum for Nuclear Disarmament of the Mediterranean.' Were involved in international seminars to deepen the understanding, development and practice of new humanism which focuses on disarmament. Journey so far has been great involving lots of challenges. I have also written books including 'Introduction to a Universal Humanism' and 'Reconciliation for a World Without War'.
"Q: Is this your first visit to Madhya Pradesh? What is World Without Wars organisation working for?
A: World Without Wars and Violence is an international humanist organisation, part of the Humanist Movement. The organisation has special consultative status with the United Nations Economic and Social Council.
The organisation was founded in 1994 and we are active in 30 countries including India. 'World without Wars and Violence' is a social movement whose objective is the creation of a worldwide non-violent consciousness.
"In Madhya Pradesh this is my first visit and I find people very co-operative and energetic. The energy of the youth can be mobilised for the enhancing peace activities which is possible only by engaging their mind and deepening their understanding about power of peace to bring in change. Further, mentioning about reason of visit he said that the main objective is to chalk out strategy to mobilise youth and to identify pockets in different sectors where work with youth for humanitarian cause can be considered.
"A global peace march is organised from New Delhi which will start on October 2, 2018 and world without wars in collaboration with Ekta Parishad under the leadership of Gandhian activist Rajagopal PV will be launching this .
The march which will focus on empowerment and protect the rights of marginalised sectors will be culminated in Geneva at United nation headquarters.
"Q: What is the most striking feature you found in India and in Madhya Pradesh as such?
A: The adversities are the most striking feature. The language, culture, tradition all are different at different areas. But in this short visit it will be difficult to tell exactly about all the uniqueness of the region. Visits earlier were confided more in metro cities like Delhi and Mumbai.
"Q: In Spain, what is the general outlook among public about India?A: In Spain there's much respect for Gandhian values and in conflict zone areas in world as such especially leaders look up to India and Mahatma Gandhi's non-violence principle for solutions. The organisation has been promoting campaigns at an international level which includes Europe for Peace, Mediterranean without Nuclear Weapons, Latin America Free of Wars. In all these campaigns at international advocacy platforms Indian leaders like Mahatma Gandhi's Vision of peace is always discussed."
The second World March for Peace and Nonviolence is coming at a time when dehumanisation is being felt and denounced in every aspect of society, everywhere around the world. At the same time the voices of kindness and compassion seek to express themselves through every means possible, knowing full well that they come a distant second to violence and dehumanisation in media reporting. (An exception has been "The cult of being kind" by Eva Wiseman for The Guardian -https://www.theguardian.com/lifeandstyle/2018/apr/01/the-cult-of-being-kind?CMP=Share_iOSApp_Other). That is why it is so important that the World March will act as a resonance box for these voices, for a true revolution in society's values so that the human being rather than money becomes the central value.