Puigdemont: The denial of dialogue is not an option in democracy
This post is also available in: Spanish, Italian, German, Catalan, Greek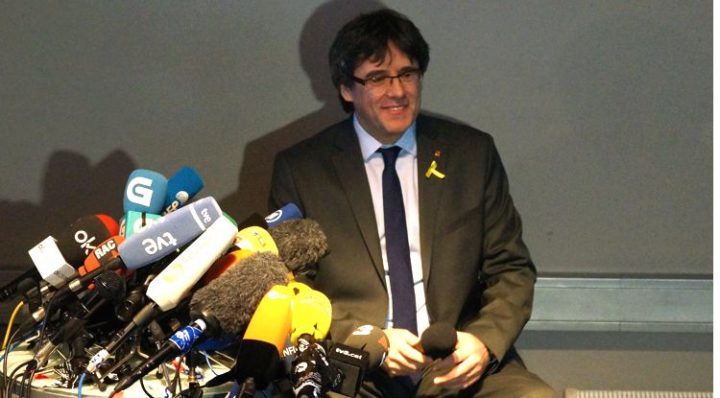 Carles Puigdemont, former president of the Generalitat [Goverment] of Catalonia, has appeared this afternoon to the press in Berlin for the first time since his release.
The overnight and apparently improvised press conference took place in Berlin-Kreuzberg, in a cultural space full of journalists and supporters.   Puigdemont gave a brief statement and then answered the numerous questions in Catalan, Spanish and English. He intends to fully comply with the conditions imposed by the German authorities and will remain in Berlin until the end of the process of possible extradition.
Berlin was not his choice, but was determined by the authorities. The Catalonian politician took the opportunity to ask again the Spanish Government to engage in a dialogue. Rejecting dialogue was not an option in a democracy and demanded respect for democracy. He has also stressed earlier that independence is not the only way. "Of course that is our proposal, but we are open to other proposals," he continued.
He wants to know what kind of project the Spanish central government has for Catalonia. "Is there any other proposal apart from more of the same?" When asked about the issue of violence, he said the accusations were ridiculous. "We all know that the only violence was by the Spanish police." He had no intention of being arrested in Germany. Part of his job was to take certain risks, so he had visited different countries in recent months. He had not speculated or expected to be arrested in Germany.