Germany's Refusal to Join the Latest US-Led Missile Strikes on Syria
This post is also available in: Italian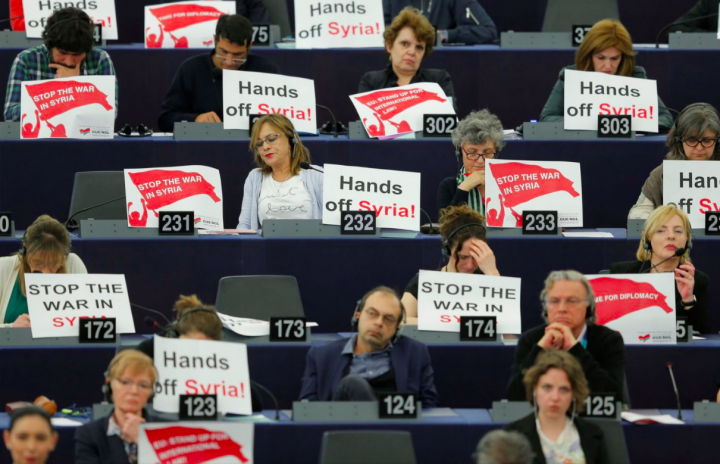 Germany did not join the US, UK, and France in the latest missile strikes in Syria despite President Trump's invitation. The next day Germany's Die Linke , aka the Left Party, released an unequivocal statement opposing the strikes:
"The US military escalation must be stopped immediately. Last night's US missile attack, which violated international law, puts Syria further away from a peaceful solution and has given the Islamic State cause for celebration.
"Instead of reflexively getting behind Trump, the German government should do everything in its power to stabilize relations between Russia and the US. The current situation is extremely dangerous and could get out of control at any time."
Die Linke also requested the opinion of the German Parliament's legal experts, who concluded that the US-led missile strikes violated international law. The World Socialist Website , however, says that Die Linke is just posing as antiwar "to capture the growing anti-war sentiment of broad sections of the population and prevent a powerful anti-war movement from developing."
German government should do everything in its power to stabilize relations between Russia and the US.
The Die Linke logo is its name with a red flag dotting the "i' in "Linke." Identifying as Democratic Socialist, it allies with the European Left Party in Europe and the European United Left–Nordic Green Left in the European Parliament. In 2013, it won 8.6% of the vote and 64 of 630 seats in parliament and became the leading party of the opposition. In 2016, it increased its percentage of the vote to 9.2% and its parliamentary seats to 69, but the Alternative for Germany (AfD) surged to became the new leader of the opposition with 12.6% of the vote and 94 seats. Alternative for Germany is commonly described as right-wing populist, best known for its anti-immigrant and Islamophobic stance. Its leaders bemoan the open door policy, which has brought more than half a million Syrian refugees to Germany, and accuse the government—now a fragile Christian Democrat/Social Democrat alliance—of extending them generous welfare benefits at the expense of impoverished Germans. Anton Friesen, one of AfD's parliamentarians and a member of the parliamentary foreign affairs committee, told Sputnik News that Alternative for Germany opposed the US-led missile strikes and supported Syrian sovereignty:
"Unlike in Afghanistan, Germany in Syria is not following the United States… That is, undoubtedly, a positive fact. But the refusal to follow still does not mean that Germany has its own position aimed at pursuing its national interests. From AfD's point of view, Germany must hold talks with the legitimate Syrian government as well as support international formats. One can find settlement of the Syrian issue only through such measures."
Together, Die Linke and the Alternative for Germany represent 21.8% of the vote and 161 of 690 seats. Not a majority, but a significant minority.
The German Greens won 8.6% of the vote and 67 seats in 2017, but if they took a position on the latest US-led missile strikes, it wasn't reported and there's no sight of one on their website. The website confirms many reports that the German Greens have become exceedingly bland and far more conservative than their founders. Their spare statement on foreign policy calls for reform of the UN Security Council to eliminate the veto power of the five permanent members, and says that they endorse the "responsibility to protect" doctrine, which is used to argue for humanitarian "intervention."
Widespread German skepticism about chemical attacks
University of Illinois Law Professor Francis Boyle said that he and Sam Husseini put out a press release that received more coverage in the German press than any of their statements have ever received here in the US:
"Sam Husseini and I put out an Institute for Public Accuracy press release saying that the US-led missile strikes would be an act of aggression violating international law codified in the UN Charter. And it turned out that a translation of our press release was all over the mainstream media in Germany; you could find it by searching the Web in German. Chancellor Merkel wanted to get involved in a military strike, but apparently there was so much opposition that she couldn't.
"In the end, Merkel said that she supported the missile strikes, but Trump had asked Germany to join in militarily. She's got a very shaky coalition government over there, and she had to abstain. Her government would not go along with it."
"Merkel wanted to get involved in a military strike, but apparently there was so much opposition that she couldn't."
Veteran European political reporter Diana Johnstone, in personal correspondence, said that many Germans already agreed with Boyle and Husseini's statement, but that it may have helped their credibility to cite an American.
"In Germany there are reports on the ground from Karin Leukefeld, the German equivalent of Eva Bartlett and Vanessa Beeley. But disbelief of official statements about Syria is much more widespread in Germany than in France, much less Britain."
Germany's largest public TV news broadcaster had a senior correspondent, Uli Glak, on the ground in Syria, where he reported, "The Douma chemical attack was most likely staged; a great many people here seem very convinced."
Ursula von der Leyen, another #MeTooforWar woman
Diana Johnstone also said that German defense minister Ursula von der Leyen shared Angela Merkel's disappointment:
"Ursula von der Leyen (another #MeTooforWar woman) wanted to take part in the attack on Syria as a way to promote Germany's demand for a UN Security Council seat. She boasted that Germany could have done as well as Britain. These ambitious women always excel in reciting their lesson. Von der Leyen called for a common EU foreign policy, with majority decision-making. In Germany as elsewhere, the worst people rise to the top."
Ann Garrison is an independent journalist living in the San Francisco Bay Area. In 2014, she received the Victoire Ingabire Umuhoza Democracy and Peace Prize for her reporting on conflict in the African Great Lakes Region.