Arrest, Deportation of Sister Patricia Fox and International Support Groups Worries Social Development and Advocacy Networks
This post is also available in: Spanish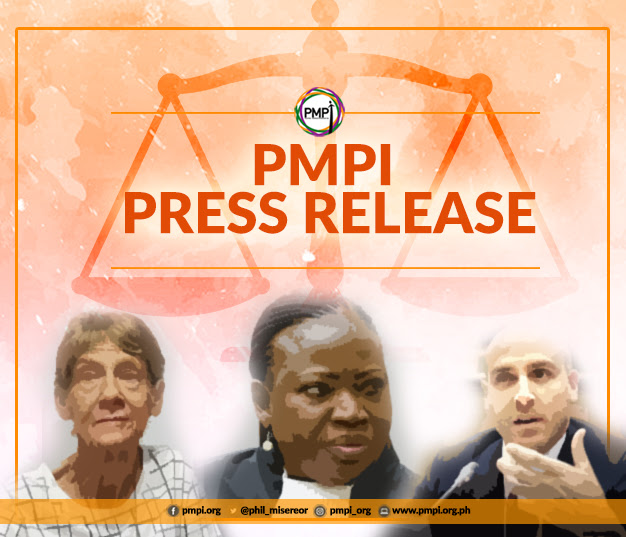 The Philippine Misereor Partnership, Inc. (PMPI), a social development and advocacy network pushing for peace and development, expresses concern over the series of arrests aimed at limiting the engagement of international partners and solidarity groups with the Filipino community.
April 16, Sister Pat Fox, 71, an Australian missionary living in the Philippines for 27 years was arrested for her so-called "illegal political activities." She came to the country as a lay missionary of the Congregation of Our Lady of Sion. As a foreign missionary, she has devoted her life working with the peasants and the most vulnerable sectors to help improve their lives.
The day before, April 15, Giacomo Filibeck, Deputy Secretary-General of the Party of European Socialists, was refused entry to the Philippines due to his supposed engagement in illegal political activities. He was invited to speak at an Akbayan Party-list Congress but was stopped at Cebu Airport on his way to the Congress.
"We are very much worried about these developments that seemingly target foreign partners of civil society organizations. These unfortunate incidents further bolstered our previous fears and anxieties as President Duterte has constantly been insolent towards various international rights groups and international development organizations," Yoly Esguerra PMPI National Coordinator said.
The week before, President Duterte also warned Chief Prosecutor Fatou Bensouda of the International Criminal Court from entering the country, stating that he will make sure that the Prosecutor will be arrested immediately if she sets foot in the Philippines.
"International human rights groups and development organizations are committed partners in the civil society organization's efforts of helping poor communities make their economic lives better by training and empowering them to access and claim their rights especially from corrupt government officials. We are concerned that this will further signal an overstepping of the agreed upon boundaries on international relations and limit international support and solidarity actions for our communities. International support and solidarity both technical and logistical are keys in the success of many actions to fight poverty and achieve social justice," Esguerra added.
Bishop Broderick Pabillo, Manila Auxiliary Bishop and PMPI Bishop Convenor of the NCR Urban Cluster, on the one hand raised alarm and expressed dismay over the arrest of Sister Pat Fox. He said that he was able to contact Bureau of Immigration Commissioner Jaime H. Morente and pleaded to the Commissioner to allow the nun to go home for a night so she can take her proper medication for her ailment. The commissioner refused on the ground that she has committed immigration irregularities and would not accept Sr. Pat's alibi that her passport is with her travel agents currently processing her trip abroad.
"My heart bleeds while leaving the place as one of the companions of Sr. Pat called and said that they were sent to sleep in a room where there were no beds and were instructed just to lie down and sleep on cold cement floor," the Bishop said with a heavy heart.
"The grip is getting tighter; getting hard on people who manifest dissent against the abuses of the government. This is already happening without Martial Law. What would it be if there was Martial Law, which hangs heavy in the air! The victim can even be a woman, an elderly, and a religious. Before, they were the poor, the young, and the gullible. Let us be wary. This government cannot take dissent. It uses the machineries of the state – and even the law – to bring down people, whoever and whatever their condition may be." Bishop Pabillo further emphasized.
Post Script:
Sister Patricia Fox was released a day after, her activities investigated and is currently ordered to leave the country within thirty days by the Bureau of Immigration. While President Duterte said that he ordered the investigation of Sister Fox's activities in the country, he maintained that he did not order her arrest. Nevertheless, the Bureau of Immigration deemed her participation in allegedly partisan political activities illegal and has ordered the cancellation of Sr. Patricia Fox missionary visa.
Nevertheless, the nun hopes that the Bureau will reconsider its decision. "I was surprised as I had thought the process was that I would have 10 days to put in a counter-affidavit to answer the charges," said Fox. "It was through the media that I heard of the decision as I or my legal counsel don't yet have a copy. I am very sad that the decision, at present, is that I leave the Philippines," She is grateful for her experience and learnings working with farmers, indigenous groups and urban poor in her decades of stay in the Philippines, particularly how lack of land ownership, illegal mining, and lack of job security have caused poverty among the Filipinos she has met. "It seems this is what has brought me into conflict with the Philippine government. I am still hoping for a chance to explain how I see my mission as a religious sister and maybe the decision can be reconsidered. I may lose my right to be in the Philippines but I can never lose the learnings and beautiful memories," she said.
The deportation of a nun who has been doing missionary work in the Philippines for decades has unleashed a barrage of criticism from human rights activists, NGOs and opposition politicians.
Karapatan Secretary-General Cristina Palabay said that Fox's expulsion was a result of Duterte's tirades against her. "The Duterte regime is paranoid and afraid of an elderly nun who has spent the last 27 years working for human rights and social justice for the poor. The expulsion of Sr. Pat is indeed despicable and utterly shameful," Palabay said.
Opposition Sen. Francis Pangilinan found the deportation "most deplorable." "Harassing human rights advocates and faith-based organizations and individuals may succeed in the short run but it will eventually fail," the Liberal Party president said.
On his end, Sen. Paolo Benigno "Bam" Aquino said he would file a resolution to investigate possible abuses in the deportation of foreigners. According to the Senator, "Now, more than ever, we need our laws to protect the rights of the people willing to stand up to power and speak out against injustices."
Activists surmise that President Duterte has turned his eye on the nun in particular, not just because she has been seen in rallies supporting peasants seeking redress from the government, but because she participated in a fact-finding mission on possible abuses in Mindanao which is under martial law. The said report is due to be released soon.
The President's anger against human rights activists, especially criticism coming from foreigners, is well documented. In this case, he berated Sr. Fox saying, "It's a violation of sovereignty. You do not have that right to criticize us. Do not insult my country. We never did that to Australia. We never did that to (a) European country. Why don't you criticize your own government, the way you handle the refugees, hungry and dying and you turn them back to the open sea."
Fox's case is still pending before the special prosecutor. Jobert Pahilga, her legal counsel said that they would file a motion for reconsideration before Immigration. Should it be denied, they would take the case to the Court of Appeals and, if need be, up the Supreme Court.