Armenia Today. Peaceful demonstrations during 12 days achieve their objective
This post is also available in: Spanish, French, Greek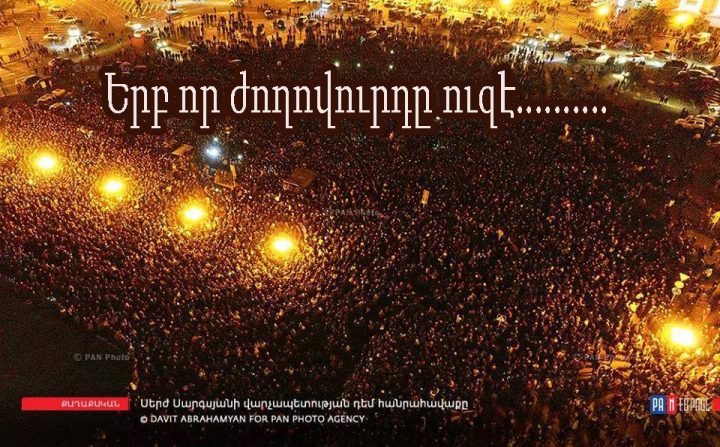 By Ana María Mahserd /
After 10 days of tension, peaceful popular demonstrations, arrests and violent police actions, the dissident representative Nikol Pashinian and his companions Sasun Mikaelian and Ararad Mirzoian were freed.
Historical Recount
In 2015, being president for 12 years, Serge Sargsyan decides to promote a constitutional change transforming the system to parliamentary and granting special powers to the figure of prime minister.
The vote, still under suspicion of having bribes in between, went in his favor, so at the end of his term, he was immediately proposed in parliament as a candidate for Prime Minister, proposal made by the legislators of his party, the Republican Party.
Two years after that fact, ten days ago a new president in Armenia, Armen Sargsyan (who is not related to the former presidency) and the parliament proposed the appointment as Prime Minister of the outgoing President Serge Sargsyan and the with support of the Federation Revolutionary Armenia (FRA * Tashnagtsutiun).
There was widespread disagreement of the people, who for 12 days and led by dissenting representatives Nikol Pashinian, took to the streets day and night in Yerevan and different cities of the interior of Armenia to the cry of "take the step, reject Sergig" (Serg diminutive).
The demonstrations were always peaceful on the part of the people, not on the side of the police that attacked without restraint,  military mobilizations appropriate for the defense of the National borders but incoherent for an absolutely peaceful demonstration were seen.
Last Saturday, after a meeting between Sargsian and Pashinian that was televised, during which Pashinian stood firm saying: "The only thing there is to negotiate is your resignation", the Prime Minister abruptly withdrew at the end of the meeting. A few hours later the dissidents were arrested.
Today, Monday, through the mediation of the deputy prime minister, the detainees were released and after 12 days of nonviolent, peaceful resistance, of the whole town, the prime minister resigned his position, acknowledging his error and accepting the success of the people and the fact that Nikol Pashinian was unable to resolve the issues that plague the country.
We hope and ask for a process of institutional reorganization in Armenia, where justice, coherence and attention to the priority needs of the people prevail.