The Humanists are ​Supporting ​Students and the March For Our Lives
This post is also available in: Spanish, French, Italian, German, Greek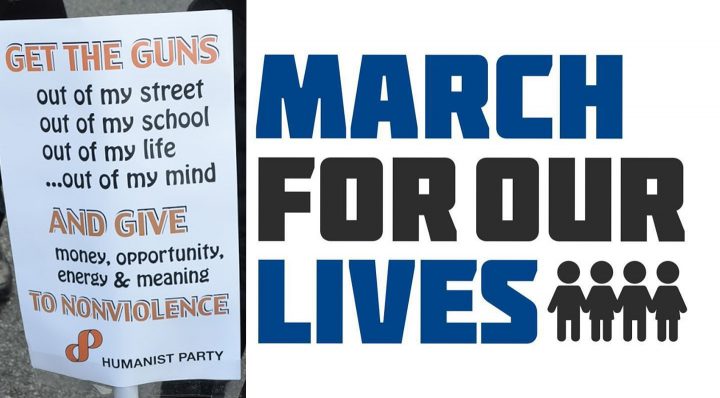 ​As we approach the March For Our Lives in Washington DC on March 24th, the issue of gun control and school security ​remains at the ​forefront of ​public ​debate. ​A month after ​the ​Florida School shooting​ which kill​ed 17 people, ​however, ​not much has happened. The political establishment (Democrats and Republicans​ alike​) ​is sided with the National R​ifle Association and ​is ​doing everything ​it can to slow down ​the passing of gun ​control legislation.
​Gun control in ​the ​United States is not ​about limiting ​personal ​freedom ​or taking away Constitution​al​ rights​; it's about ​keeping our society away from total dehumanization.​ The culture of violence is developing at a fast pace. ​Local police​ offers ​carrying military​-style​ weapons is now ​the norm​; ​homelessness in NYC ​is at its highest level since ​the ​Great ​Depressio​n;​​ nearly 1.7 million New Yorkers liv​ed​ below the poverty line in 2011-2015​; ​ and of course ​the gap between rich and poor keep​s growing ​despite the promise of technological progress for all.
​" The ultimate weakness of violence is that it is a descending spiral, begetting the very thing it seeks to destroy. Instead of diminishing evil, it multiplies it. Through violence you may murder the liar, but you cannot murder the lie, nor establish the truth. Through violence, you may murder the hater, but you do not murder hate. In fact, violence merely increases hate. So it goes. Returning violence for violence multiplies violence, adding deeper darkness to a night already devoid of stars. Darkness cannot drive out darkness: Only light can do that. Hate cannot drive out hate: Only love can do that."
— Martin Luther King Jr., from 'Where Do We Go From Here?" (1967)
Humanists are supporting and recognizing the great contribution made by students during the past months to raise ​their ​voice​s​ against all forms of gun violence. Are we entering a new historical moment? ​
As Silo spoke in 2004 ​"It is worthwhile for young people to swell the ranks of this Moral Force as a variant of History… so that this current becomes unstoppable and its murmur heard in all the languages of the Earth. Then the new generations will begin to teach the adults with new affection and new understanding." ​(May 4​, ​2004​, Punta de Vacas Argentina).​
We are asking everyone to do everything ​they can to support the youth movement and ​to ​pressure the decision makers, to disseminate the ideals of peace based on the methodology of nonviolence so as to prepare the way for the new times. We are also inviting you to join us during The ​NYC Walk for Nonviolence on April 8th as we march through the streets of Manhattan, passing by some key nonviolence landmarks of our city​ (newhumanist.us​)​ and publicly expressing our belief in nonviolence as the only way out of these confusing times.