"The South Korean envoys will have things to explain to Washington, but will Trump truly be able to understand?"
by Jessica Corbett, staff writer for Common Dreams
At an "openhearted talk" in Pyongyang, North Korea on Monday night, the nation's leader Kim Jong Un reportedly told a South Korea delegation that he is willing to halt nuclear and missile tests during diplomatic discussions with the United States, a move that may bring members of the Trump administration to the negotiating table.
"North Korea made clear its willingness to denuclearize the Korean peninsula and the fact there is no reason for it to have a nuclear program if military threats against the North are resolved and its regime is secure," Chung Eui-yong, the head of the delegation, told reporters.
"The North also said it can have frank talks with the United States on denuclearization and the normalization of ties between North Korea and the United States," Chung said.
North Korea's state news agency, KCNA, also reported Tuesday that at the Monday night meeting—the first that has included Kim since he came to power seven years ago—the nation's leader had "made a satisfactory agreement" regarding a summit proposed by South Korean President Moon Jae-in's delegation, and emphasized Kim's "firm will to vigorously advance" and "write a new history of national reunification."
U.K.-based Korean researcher Kevin Gray speculated that the developments came from the ongoing dialogue between the North and South, not the Trump administration's "maximum pressure campaign," which includes a recent round of economic sanctions that Vice President Mike Pence touted as the "most aggressive" ever imposed.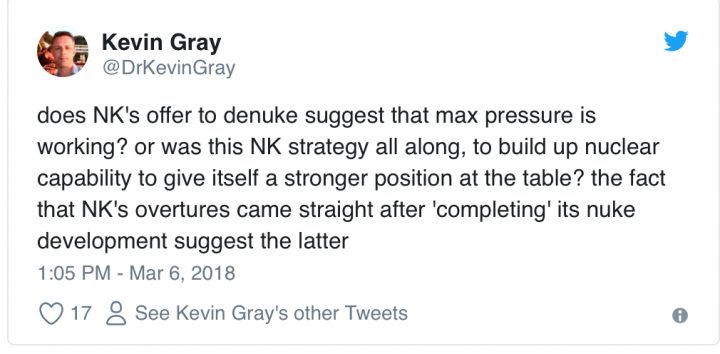 "This is what diplomacy looks like," said Kevin Martin, president of Peace Action, in reaction to the developments. "When countries talk to each other instead of lobbing threats, anything is possible."
Now, Martin continued, "it is time for the U.S. to pivot from maximum pressure on North Korea to maximum engagement in this peace process. A great first step would be to pull the plug on the massive U.S./South Korea war exercises, which had been originally scheduled for March but were postponed at Moon's request because of the Olympic Truce. Let's put them on hold indefinitely as a good faith gesture to support the flowering of peace and diplomacy."
Over the weekend, North Korea had raised concerns about plans by the U.S. and South Korea to conduct joint military drills in the region early next month. On Tuesday, Moon's office announced that the two nations plan to hold their first proper summit in more than a decade in late April, but did not offer an update on the status of the military exercises.
While the White House has maintained that North Korea's demonstrated commitment to denuclearization is a precondition for diplomatic meetings, Moon has facilitated talks between the North and South—which technically remain at war—for the past several weeks, including during the Olympic Winter Games in PyeongChang last month, where athletes from the Korean peninsula kicked off the competition by marching under one flag.
"Through this delegation visit, the South Korean government created a very important opportunity to manage North Korea's nuclear and missile threats, prevent war on the Korean peninsula, and create military trust going forward," Cheong Seong-chang, a senior research fellow at the Sejong Institute, told Reuters.

Trump, meanwhile, responded to a Drudge Report tweet about the Monday dinner and remained skeptical about the progress.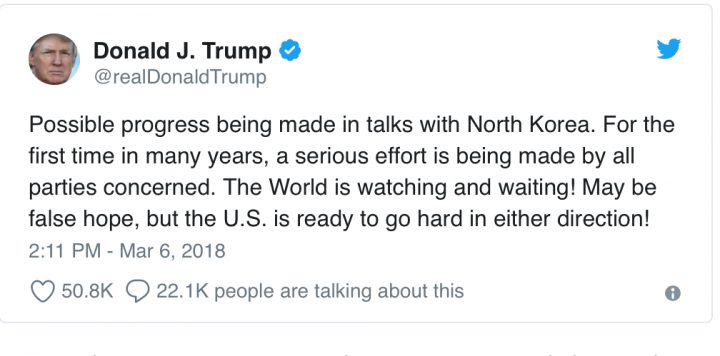 "It's now the United States' turn to assess the agreements made by North Korea," Kim Dong-yub, a professor and a military expert at Kyungnam University's Institute of Far Eastern Studies in Seoul, told Reuters. "The South Korean envoys will have things to explain to Washington, but will Trump truly be able to understand?"
This post was updated to include reactions from Peace Action and Christine Ahn.