Not guilty verdict for 4 campaigners against the London Arms Fair Sep 2017
This post is also available in: Spanish, French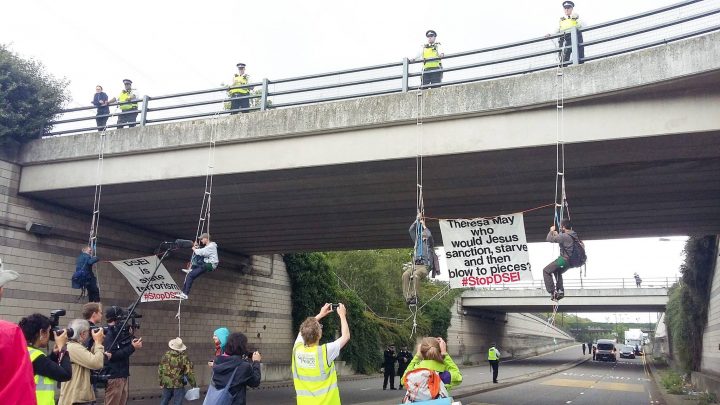 According to the Newham Recorder four anti-DSEI (Arms Fair) campaigners have been found not guilty by a Magistrates Court.
The newspaper article states that "District Judge Hamilton today dismissed the case against the three women and one man accused of wilfully obstructing the highway ahead of the Defence and Security Equipment International (DSEI) gun show….[they] were among more than 100 people arrested for blocking weapons arriving at the ExCeL for the fair last September. All four defendants accepted they had "locked on", a peaceful technique making it hard for them to be removed, in the road leading to the exhibition centre, only to be arrested minutes later."
"On the day after the actions of the suffragettes were lauded, it is apt that today's generation of direct action protesters do not have to wait 100 years to be vindicated," said lawyer Raj Chada, who represented one of the accused. "These defendants seek to bring to our attention to the evil of the arms trade – it is to that cause that we must focus."
The Campaign Against the Arms Trade Facebook page reports:
"More good news today as the 4 abseiling activists during #StopDSEI protests were all acquitted! They're another group who were arrested on the No Faith in War day of action, and the judge has again thrown out the charges under the grounds of their actions being 'reasonable'. If you're available to support the other #StopDSEI defendants in person, check out the other court dates: www.facebook.com/events/263815450809367/"
The UK is now the second largest arms exporter and it has been criticised for selling weapons to repressive regimes, in particularly Saudi Arabia over its actions in Yemen. Protesters have been opposing the Arms Fair for several years in order to prevent greater crimes, such as genocide and torture, as well as the promotion of banned weapons.