Frankenfacebook does it again
This post is also available in: Spanish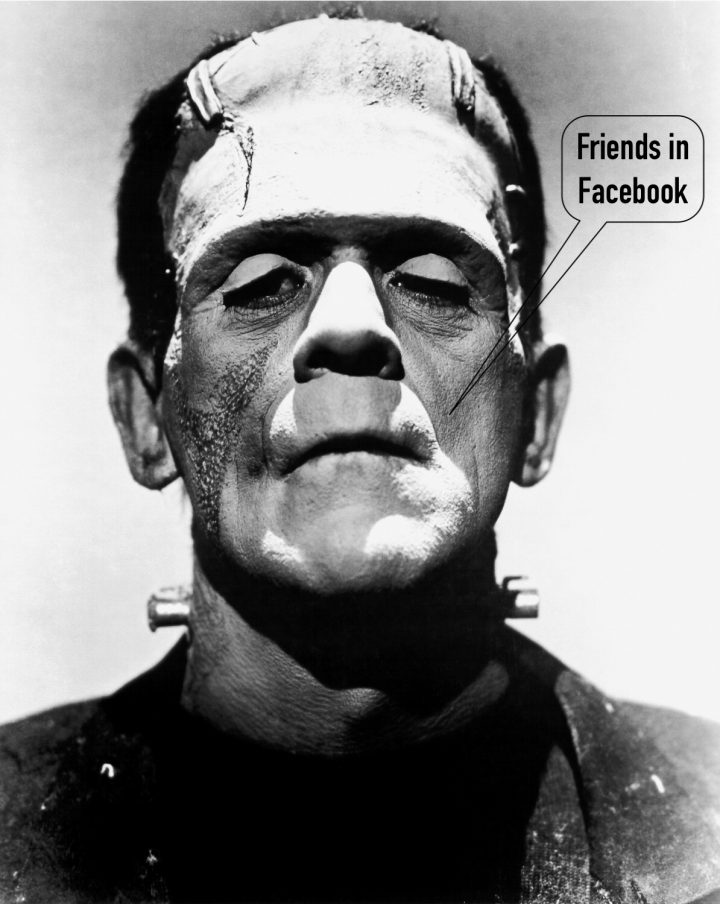 "Mark Zuckerberg sets toughest new year's goal yet: fixing Facebook: CEO reveals this year's 'personal challenge' as site faces relentless criticism over spreading of misinformation and damage to users' mental health… this "personal challenge" for 2018 will be "to focus on fixing these important issues"…The past year has seen the social media company try – and largely fail – to get a handle on the proliferation of misinformation on its platform; acknowledge that it enabled a Russian influence operation to influence the US presidential election; and concede that its products can damage users' mental health". The Guardian 
When Mary Shelley wrote in 1818 Frankenstein (yes, 200 this year), or The Modern Prometheus, she could hardly have known how much her warning about man playing God (or rather Titan, as Prometheus was a Titan that created humanity, and gave it the fire he had stolen from the gods) would become an allegory of our own times. And what better monster than Facebook, to show how things can get out of hand if they are developed without foresight and purely on the values of a system that puts money above all else? After many years of complaints about FB (too long to list here a small sample: 'cloistering users in filter bubbles, facilitating the proliferation of misinformation, allowing foreign interference in national elections, and exploiting human psychology for profit' the Guardian  or in Wikipedia.) its creator is acknowledging the shortcomings and promising to fix them. We would be very naive to believe he will, just like believing the deluge of misinformation it carries. And yet, a network that connects people throughout the world could be very useful, if it was based on the values of humanism and nonviolence.
Other monstrosities created by our society, the Frankenbanks, Frankenclimate, Frankenwars, Frankeninequality, Frankenabuse, and, alas, Frankentrump, they are all exploding in front of our eyes. Apple has been asked to do something about preventing addiction to smartphones in children. It is no longer possible to pretend the monsters can be "tamed", that the system only needs a little tweaking here and there and then business as usual.
The system will not be transformed by the people who benefit the most from it but we would be very wrong to believe that those "at the top" are actually happy. Simply because fear, emptiness and lack of meaning in life cannot be banished just by being rich. And the rich are often looking for ways to do charity, (be seen to) improve the lives of other people, feel a little better about themselves. What is not clearly understood is that decisions from "the top" about humanity's needs are contaminated by the belief system they regard as the basis for their success.
An interesting point that Mary Shelley makes about Frankenstein's monster is that once he is rejected by his creator because of his hideous appearance and forced to live a life of loneliness, the creature decides to take revenge on the one who gave him life. This he does by killing friends, girlfriend, anybody Dr F loves. And then he discovers (spoiler alert!) that in doing so he has not managed to mitigate his pain in the least, and abandons human society for the North Pole.
Revenge is, however, one of the things that "those at the top" fear the most when "the pitchforks start coming", that is, revenge by today's oppressed. This fear is a factor, although not the only one, in maintaining the status quo. Expressions of anger by the disenfranchised are read as threats (hardly idle during the Russian Revolution) leading the rich to invest not on social development but on the politics of paranoia: a police state, defence, nuclear weapons, keeping the neoliberal system allowing more and more concentration of wealth, etc. And Charity, which saves some lives, makes a lot of people feel the wonderful register of helping others, but ultimately keeps the system going as it is.
For the millions of people seriously considering how to transform the system we must understand that revenge is not what will make this world a happier one: solidarity, compassion, non discrimination, sharing, participation in decision-making, meaning in life, empowering and freedom from slave-work will. And we must apply these values and strategies in the struggle against the monsters. To humanise FB, the economic system, politics, the drive against climate change and health damaging pollution, and abandon the belief that individuals, no matter how rich and famous, can lift humanity out of its present predicament.
The quest begins in us, because the monsters live already in our consciousness. What makes social media monstrous is the venom poured into it by people (like us!) who are being seriously damaged by the violence and dehumanisation of the system. In a way it's good to know as when they were "the silent majority" there was no way to understand certain voting behaviours. But what's bad is that the venom is contagious. Campaigning for change like #MeToo, however, shows the potential of social media for change for the better and I welcome also the anti#MeToo unleashed because we need to know how deep the problem is, that the millennia of a culture of abuse has penetrated not only men's consciousness but also women's.
How can our own participation in this out of control social media begin to turn the tide towards a nonviolent world? We can respond with compassion, coherence and creative nonviolent strategies instead of retaliation, we can recommend inspiring readings, correct misinformation without insulting, we can share the pain without colluding with the violence. And, above all, we can reconnect with the people around us in direct communication rather than believing that 2000 "likes" from FB "friends" means that we have friends.
We can make everyone feel welcome to the Universal Human Nation.