The Right wins in Catalonia, but nationalists will form the government
This post is also available in: Spanish, Italian, Greek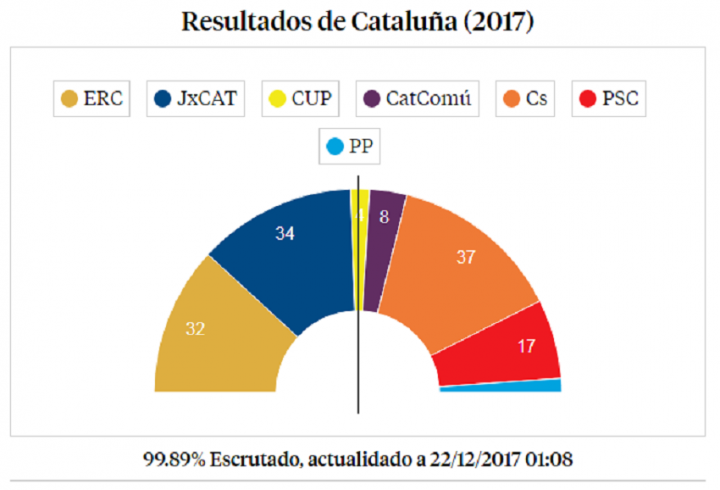 Franco's youth wing, Ciudadanos (Citizens), prevailed in the Catalan elections called after the Spanish government dissolved the autonomous government after its unilateral declaration of independence.
With a very high turnout of almost 82% of the electorate, Citizens obtained 25.48% of the votes, equivalent to 37 seats. Since to form a government, a majority of 68 seats in the chamber is required.
In 2015 Juntos por el Sí, (Together for Yes), won 62 seats and formed a government in partnership with the CUP (Popular Unity Candidacy), which contributed another 10 seats. The two parties that formed that alliance split this time and Together for Catalonia (Juntos por Cataluña) won 34 with ERC (Republican Left of Catalonia) getting 32, so they effectively have the number of seats they need to declare Carles Puigdemont president of Catalonia again.
Mariano Rajoy's People's Party suffered its worst ever election in Catalonia's history, barely exceeding 4% of the vote and scraping 3 seats, 8 fewer than in 2015. The political cost of the brutal repression ordered by the Spanish president was total.
The Socialist Party barely improved its numbers and achieved 14%, while the CUP lost 6 seats and will barely be able to contribute 4 if it once again allies itself with the nationalists.
Catalonia in Common (Cataluña en Común), the party of Barcelona mayor Ada Colau, and a partner of Spain's Podemos, lost about 40 thousand votes, but in terms of seats they have 3 less, deflating a grouping that was not defined either by Catalan independence or by Spanish unity, embodying the so-called constitutionalist bloc.