How do we deal with the diversity? When we do not respect diversity, we tend to claim that 'ours' is superior to 'theirs'. This stand fosters division among us and promotes bitterness. Each country, each culture, each family and even each individual is unique.
We can choose to view diversity in this way:
My country is better than yours
My culture is better than yours
My family is better than yours
I am better than you.
Or we can choose a view that respects human diversity:
I am proud of my country and I respect your country
I am proud of my culture and I respect your culture
I am proud of my family and I respect your family
I am proud of myself and I respect you.
The World Center for Humanist Studies, Mumbai Chapter, is organizing a National Talent Competition that is open to all schools. This year, the theme is Respecting Personal and Cultural Diversity. The objective is to sensitize young minds about the importance of respecting personal and cultural diversity for a more harmonious society. Each one is different in some way or other. When we do not respect diversity, we end up claiming that 'we' are superior then 'them'. This creates walls and promotes bitterness. We need to reinforce the appreciation of diversity and respect for all human beings.
The National Talent Competition is open to all schools for students from STD VIII to STD X in India or students from STD XI to STD XII, irrespective of nationality. Students can create a group of 2 to 5 members, pick a subject and present their thoughts, insights, and point of view in a skit, painting, song, poem, essay, video, powerpoint presentation etc, harnessing their talents and creativity to express their reflections and thoughts on the theme. Participants can choose one of the following topics: Recognizing Diversity, Equality of Opportunity, Social Inclusion, Conflict Resolution, Non-Discrimination; and, can use any language.
To participate, simply register your school for the competition and upload entries on the competition website. There will be prizes for the top three national winners and special certificates for the top three from each school. Certificates for all entries with acceptable quality will also be given and selected entries with be published on the website for worldwide access. The last date for submission is 10th January 2018. To register and for more details, go to the website: http://www.respecting-diversity.org/
For the last three years, The World Center for Humanist Studies, Mumbai chapter has been organizing such competitions to promote sensitivity towards the humanist attitude. A large number of schools had participated from all over India.
In 2015, it launched an Essay Competition on the theme Violence and Me. Highlights can be found at: https://violenceandme.org/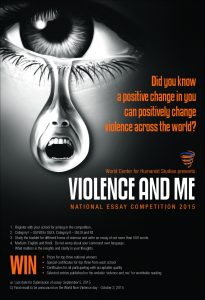 For 2016, a Skit Competition was held on the theme The Human Being as a Central Value. Selected entries can be viewed at http://human-inhuman.org/about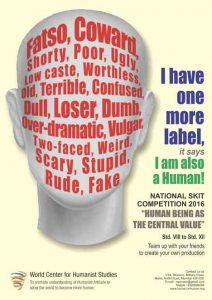 The World Center for Humanist Studies is an organism of the Humanist Movement, which is based on the current of thought known as New Humanism or Universalist Humanism. This current can be found expressed in Silo´s works and in those of diverse authors who are inspired by it. This Movement, which also implies a sentiment and a way of life, takes shape in multiple fields of human endeavor, giving rise to diverse organisms and action fronts. All of them are applied to their specific fields of activity with a common aim: to Humanize the Earth, thereby contributing to freedom and happiness in human beings. These organisms have in common the methodology of Active Nonviolence and the proposal for personal change as a function of social transformation.
The organism, World Center for Humanist Studies, was founded in the First World Humanist Forum in Moscow in October 1993. The Indian chapter's mission is to promote studies of this humanist attitude, inspired by the Humanist Movement which is driven globally by millions of men and women, volunteers who are concerned with building a better and more humane world. A world where the human being is the central value (and not profit and power as it is now) with dignity and growth opportunities in life for everyone and not just a few.
For more details, feel free to contact Parimal Merchant at merchantpr@gmail.com.
Or visit: http://www.respecting-diversity.org/
https://www.facebook.com/WCHSMumbai/