Chilean elections: On the "Freedom of Choice"
This post is also available in: Spanish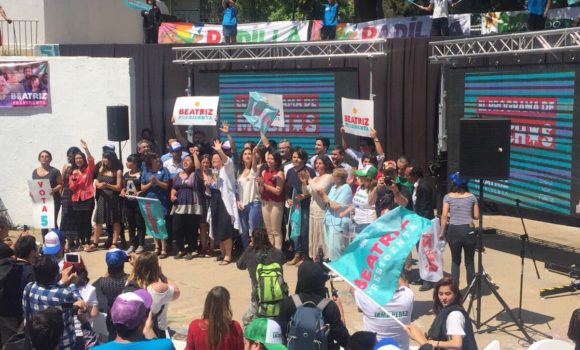 The run-off election to determine who will follow Michelle Bachelet as Chilean president is due to take place on the 17th of December.  In the first round, former president, Sebastian Piñera, candidate for the right wing grouping Chile Vamos, obtained around 36% of the vote, while Alejandro Guillier, the candidate from the centre ground New Majority (Bachelet's party), obtained 23% of the vote, with the left's Beatriz Sanchez from the Broad Front (Frente Amplio) coming in 3rd with 20%.
By José Gabriel Feres[i]
Many commentators have expressed an opinion about the Broad Front's stance concerning the Chilean Presidential run-off election.  Most have valued the Broad Front's analysis, its transparency, its position recognising the freedom of voters, its call for reflection and for everyone to take responsibility for their own decisions.  But there has been no lack of those who have tried to present this declaration as having a lack of definition, and one called it "unintelligible" and "babbling."
Regarding what to do in the run-off, the Broad Front says:
"As we have said, we are not the owners of people's votes, and nor do we feel like that, and that's why our first call is to each and every one of our voters to reflect and express themselves in the run-off election in accordance with their own convictions and analysis…"
Likewise, the Humanist Party said in its declaration:
"Every one of the 1.3 million people who cast their vote for Beatriz Sanchez will have to reflect on, and be aware of, their own decision, as no one owns another's vote, only their own.
"… We understand those who choose to leave the ballot paper blank or spoil it, and also those who vote against Piñera and the anti-humanist right that accompanies him.  This is the freedom of choice that we believe should be exercised today when facing the second round of the presidential election…"
"We understand that 'the freedom of human beings is first and foremost the capacity to determine their own conduct and decisions for themselves, without external pressures,' and also that, 'Choice is the human capacity to make free decisions with a knowledge of the circumstances, to set goals for action and appropriate means for achieving them. It reflects the level of freedom of human beings and of the society to which they belong.  Accordingly, it determines the authenticity or falseness of an action.  New Humanism contributes to the development of practical life habits that allow choices to be made and implemented in a conscious manner, independent of external pressures.'[ii]"
Without doubt this regard is very far away from the old political regard – both of leaders and the masses – and therefore it's understandable that it's difficult to comprehend through these kinds of "historical dinosaurs" who accommodate laws and manage the media in order to try to remain in place.  So, it's hard, not to say impossible, for them to comprehend that the Broad Front is putting their considerations at the service of Chileans, so that, respectful of the freedom that each one has (and is given to no one, rather it is something inherent within human beings) to reflect and make their decision responsibly.
Now is the time, not only for the old politicians go home, but also for those with antiquated opinions to join them…
We take this opportunity to insist that, even if the large majority of Chileans don't want Piñera back in power, it's not us, the Broad Front, who have the responsibility to avoid the New Majority handing it over.  Why aren't they asking themselves, having been in government for the last four years, why we are once more confronting this possibility?  We aren't hearing even a minimal self-criticism of themselves and they are even trying to present the situation as being everyone's problem.  They also have to consider that they have the greater part of the responsibility for the dissatisfaction with politics of a large sector of the population, expressed in a level of abstention over 50%.
The Broad Front's proposals for change were widely publicised and are known by all, therefore Guillier, as well as those in the New Majority, know what this 20.27% who voted for Beatriz Sanchez want.  If they want to count on this support they will have to reflect very well on what they say and do.  Here we aren't talking about a negotiation between leaderships but rather about responding to the demands expressed by millions of people in the recent elections and who have profound differences, not only with the specific measures, but rather with the horizon that they want for Chile.
We will not be their excuse in an eventual triumph by the caveman right.
[i] Vice President of the Humanist Party of Chile
[ii] From the Dictionary of New Humanism, Silo 1994.