Nuclear weapons transferred from New York to Old York for medical treatment
This post is also available in: Spanish, German, Greek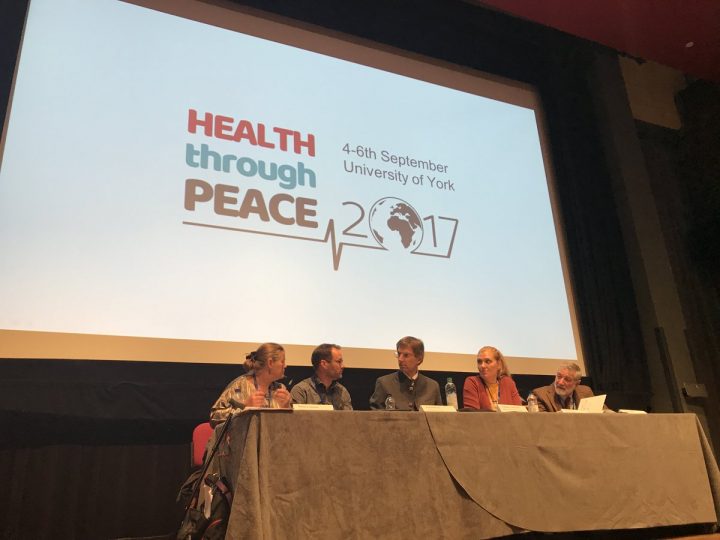 International Physicians for the Prevention of Nuclear War, the 1985 Nobel Peace Prize winning organisation, gathered around 400 delegates from around the world today, 4th of September, in the old city of York in the United Kingdom, to consider strategy and the way forward in the light of the Earth-moving progress made in nuclear disarmament in June this year with the new Treaty on the Prohibition of Nuclear Weapons approved in New York.
Professor Tilman Ruff, from the Nossal Institute for Global Health, Australia, opened the congress expressing grave concern about Sunday's Korean nuclear test and the escalation of tension with the USA, but reading from a prepared congress statement, he celebrated the new Ban Treaty and IPPNW's role in making it happen through the creation of an effective alliance with other civil society organisations and health care networks.
"The Ban Treaty exists today because of strategic partnerships among states, international organisations, and civil society groups determined to assert a new kind of leadership for nuclear disarmament.  The Medical Movement… must now focus on bringing the Treaty into force as soon as possible after it opens for signature at the UN on the 20th of September."
Referring to the challenges facing the planet, the statement highlighted the expanding trend towards weapon modernisation – "more than $100 billion every year in new and more accurate arsenals" – and the geopolitical conflict situations in different parts of the world – "The escalation of any of these conflicts could lead to the use of nuclear weapons against cities and their populations for the first time since Hiroshima and Nagasaki.  Should we cross that threshold, human extinction in a nuclear winter cannot be ruled out."
Branching out from the realm of nuclear weapons, the statement explained the importance of the stigmatisation of all weapons and IPPNW's support for efforts to ban landmines and cluster munitions and that placing strong restrictions on trafficking in small arms and light weapons has had a positive impact in saving lives and reducing the carnage from armed violence.  In this context, the Defence and Security Equipment International (DSEI), Arms Trade Fair, happening in London next week was condemned as a violation of both the spirit and the letter of the Arms Trade Treaty.
Concluding, "There is much more we need to do.  While nuclear war puts all of humanity at risk, armed violence in any form destroys countless lives every year, and undermines our efforts to provide for the health, well being, and security of people throughout the world.  At this York Congress, we pledge our continuing commitment to a world where peace and health are achieved for all, and nuclear weapons have been abolished for all time."
The congress continues with panels, workshops and plenary sessions until Wednesday 6th of September at York University.