Having lost her majority the UK Prime Minister went out to clutch at some straws in order to attain "stability". Who did she find? The DUP, the Democratic Unionist Party of Northern Ireland. So, who are the DUP? openDemocracy
The Democratic Unionist Party is the anti-abortion pro Brexit party of climate change deniers who don't believe in LGBT rights.
Having concocted stories about Jeremy Corbyn support to IRA terrorists (twisting and misrepresenting Corbyn's willingness to discuss and promote peace in Northern Ireland, moves that were later validated by the Good Friday Agreement), the Conservatives now depend on (and will have to make concessions to) a Party that has close historical links with Loyalist paramilitary groups who were also involved in acts of terrorism.
An article from The Irish Times: "What connects Brexit, the DUP, dark money and a Saudi prince?" also reveals a number of questions about convoluted funding being investigated by openDemocracy.
"To recap briefly: two days before the Brexit referendum last June, the Metro freesheet in London and other British cities came wrapped in a four-page glossy propaganda supplement urging readers to vote Leave. Bizarrely, it was paid for by the DUP, even though Metro does not circulate in Northern Ireland. At the time, the DUP refused to say what the ads cost or where the money came from.
"We've since learned that the Metro wraparound cost a staggering £282,000 (€330,000) – surely the biggest single campaign expense in the history of Irish politics. For context, the DUP had spent about £90,000 (€106,000) on its entire campaign for the previous month's assembly elections. But this was not all: the DUP eventually admitted that this spending came from a much larger donation of £425,622 (€530,000) from a mysterious organisation, the Constitutional Research Council."… "Northern Ireland is exempt from the UK's requirements for the sources of large donations to be declared."… A connection (although no clearly causal) was found to "Prince Nawwaf, who died in 2015, was no casual investor. He had been Saudi minister for finance, government spokesman and diplomatic fixer before becoming head of intelligence." The DUP has refused to clarify such links.
Perhaps the Channel 4 journalist Jon Snow is the one who best summarises the situation in his tweet: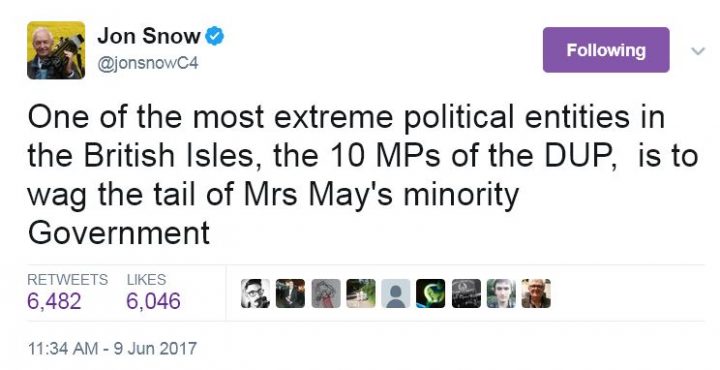 Fortunately the excellent Labour results, the mobilisation of young people and the positive manifesto are likely to create a movement (as is happening in the US with Bernie Sanders) capable of changing the outlook, the expectations and the actions of many who will not accept the Conservative wounded beast chosing the path of violence and destruction. The potential for a humanist moment is closer now than ever, and the signs are there.