DAPL, Open Letter to Deutsche Bank
This post is also available in: German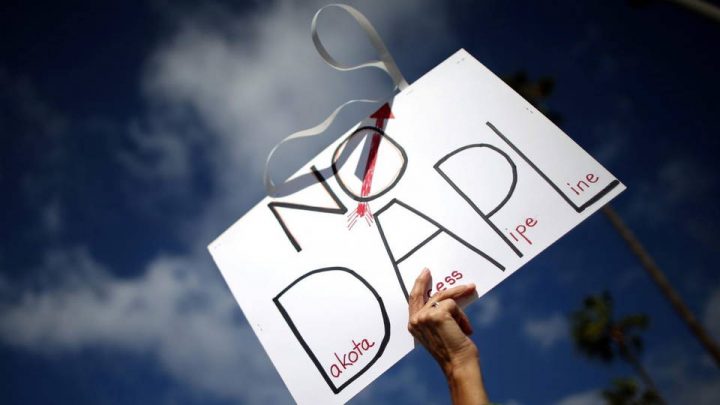 John Cryan
Chief Executive Officer
Deutsche Bank AG
March 22nd, 2017
Dear Mr. Cryan,
We are a group of organizations committed to fighting for racial and environmental justice in Germany and around the world. We are writing today to demand that Deutsche Bank completely withdraw its investments from the companies that are directly funding the Dakota Access Pipeline (DAPL).
The DAPL will move 570,000 barrels of crude oil a day across the Missouri River which is less than a mile upstream from Standing Rock Sioux territory. Pipelines are known to break, to leak, and to seep dangerous chemicals into the land and water that they are built on. Originally planned to run through North Dakota's capital city of Bismarck, the DAPL was rerouted away from this majority white city because of the untenable contamination risk that it posed to the municipal water supply, among other reasons. In violation of treaty rights, the DAPL now runs through Standing Rock Sioux tribal land where it compromises historic and sacred sites. Not only has Sioux sovereignty been disregarded in the construction of the DAPL, but the project has been continued despite overwhelming resistance from the Standing Rock Sioux tribe, hundreds of other Native nations in North America, as well as social and environmental justice organizations around the globe. This rerouting has shifted this risk directly onto the Indigenous communities. It will also endanger the drinking water of 18 million people and threaten one of the largest subterranean water tables in the world; the Ogallala Aquifer.
The construction of the DAPL is a gross injustice. It is an explicit act of environmental racism that demonstrates a disregard for treaty rights in a system of ongoing colonialism. It should be dismantled immediately.
Deutsche Bank has a role in the Dakota Access Pipeline. On the positions section of your website, Deutsche Bank's commitment to environmental sustainability and to the preservation of sensitive and protected sites is clearly stated. On that same page you state that Deutsche Bank is not involved in directly financing the DAPL, thereby publicly distancing yourself from the project that you implicitly treat as irresponsible. While it is true that Deutsche Bank it is not part the consortium of 17 organizations (soon to be 15 now that the German bank Bayern LB and the Dutch bank ING are divesting from the DAPL) that is directly financing the pipeline, it is financing that same consortium. In other words, Deutsche Bank is not a first tier funder, but it is a second tier one. This amounts to what is essentially a crime of accessory. Deutsche Bank has granted Sunoco Logistics Partners L.P. $100,000,000.00 in revolving credit and Energy Transfer Equity, L.P. $61,437,500.00 in revolving credit. Deutsche Bank is also a 3% stakeholder in Energy Transfer Partners, L.P. These are companies that are directly financing the DAPL. By profiting from the DAPL and simultaneously distancing itself from it in public, Deutsche Bank is getting to have its cake and eat it too.
For this reason, Mr. Cryan, we are calling on Deutsche Bank to take the following actions.
1) Join a host of other major international banks as well as cities, and immediately divest Deutsche Bank from the DAPL and any companies that are directly funding it.
2) Publicly and explicitly state Deutsche Bank's opposition to the DAPL immediately, which you have already implicitly done on the positions page of your website.
3) Conduct a comprehensive restructuring of Deutsche Bank's social and environmental risk framework within six months to include Indigenous sovereignty and treaty rights.
4) Give any profits from the investment so far from DAPL to the Standing Rock Sioux tribe.
Deutsche Bank has a history of reassessing irresponsible and unjust investments. We are calling on you to do this again; to be accountable as a financial institution in the eyes of the world, to take a stand against injustice alongside many other banks, cities, and tribes that have divested, and to meet your own responsibility standards.
Sincerely,
AEPC Global
Americans Resisting Overseas
Berlin Stands with Standing Rock
Ende Gelände
Fossil Free Deutschland
glokal e.V. – machtkritische Bildung und Beratung
Madrid Resistance
Matt Remle, www.LastRealIndians.com
Progessive American Action League Oslo
Red Haircrow
Resistance Events Italy
Thomas Mütze, Bündnis 90/die Grünen im Bayerischen Landtag
The Coalition
Wasser ist Leben Berlin
Women in Exile
Women's March Barcelona
350.org
Are you part of an organization or group that wants to see Deutsche Bank divest from the Dakota Access Pipeline? Sign the open letter and let them know!
Individuals can sign onto our petition here: https://goo.gl/ECG7Fa