Celebration. May 4th, Day of testimony.
This post is also available in: Spanish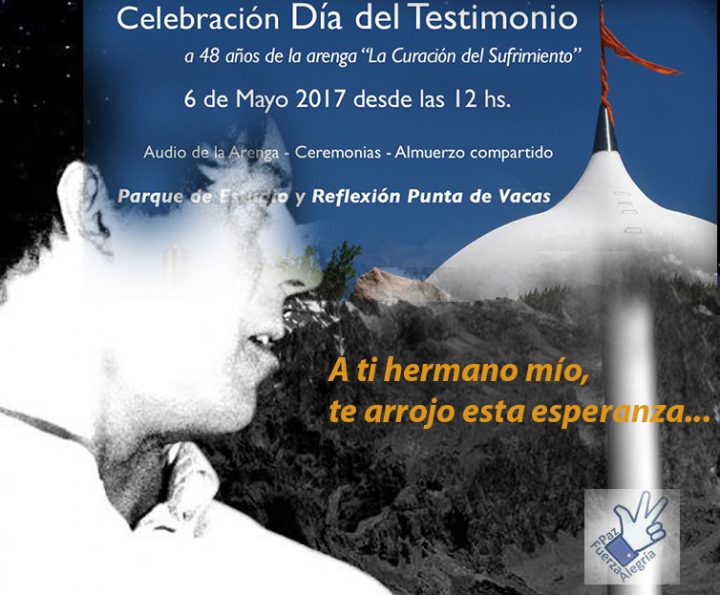 Note by Ernesto H de Casas. May 2017.
As usual this month, we celebrate the Day of the Testimony, referring to that May 4, 1969 in which Silo gave his first public speech, where he explicitly laid the foundations of his philosophy, his proposal and contribution. He did so as an ordinary, free man, who wants to express his views on life, the human being and the events of this world.
The task that had already begun earlier, stating the following: "The doomsayers of all tendencies and nations coincide in affirming that humanity is at its crucial moment. Whether out of fear of external ghosts or their personal ghosts, who has no doubts today about the possibilities of human survival? "[1]
Many are the phrases that come to us even today from this admirable speech, especially that of: "This world is on the verge of exploding with no way to end the violence! Do not choose false doors. There are no politics that can solve this mad urge for violence!"[2]
We observe this daily through the media, although personally we may not actually live in places where absurd wars and violent death have become natural occurrences. And that line of thought is what it's important to modify!
That was what Silo did, in that historic address, expressing himself emphatically on extremely relevant existential issues that are worth considering, such as the capital difference between desires and need. Because, learning to distinguish between the unnecessary and the necessary allows us to orient our existence in an ethically valid direction that enriches us with meaning and coherence. That's what Silo metaphorically expressed that day when he spoke of a traveller who, in order to continue his long journey, would have to let go of the cart of desire, its adornments and its wheels of pleasure and suffering, riding only on its horse called Necessity.
Further in time, in a talk with Messengers, Silo said: "There are many possibilities in people when they feel a real need for internal change"[3]. Words so true and important, but that can go unnoticed in front of the thunderous noise of the banal, the ephemeral, the showy, vacuous and transient things to which we are permanently exposed.
Thus, we value resolutely the proposals of Silo which take subjects that are crucial for the human being, such as to surpass violence and suffering attending to necessities, not only to the basic ones that persistently sting us, but to also those other necessities like affection, reciprocity, participation or sincere communication. In addition to other more internal and valuable ones that are sometimes dismissed, such as those of life coherence, internal change, inner peace, good relationships and good humane treatment. To put these into practice, we count, undoubtedly, with numerous resources (in readings, ceremonies, reflections, interchanges).
Perhaps this is really what we need to take into account, and each celebration will help us to remember and reinforce the essential. That we will do, emulating, why not, the traveller with that of: "…he mounted the animal called Necessity and galloped on its back across the green fields until he reached his destiny".
All of this is what concerns us, and each celebration helps us remember and strengthen that purpose.
And we give thanks, indeed, for the last words of that beautiful day: "My brother, my sister—if you look back in history, you will see the human being bearing the face of suffering. Remember, even as you gaze at that suffering face, that it is necessary to move forward, and it is necessary to learn to laugh, and it is necessary to learn to love.
To you, my brother and sister, I cast this hope—this hope of joy, this hope of love—so that you elevate your heart and elevate your spirit, and so that you do not forget to elevate your body".
[1] The declaration. Jujuy, Argentina 1967
[2] The healing of suffering, in www.silo.net
[3] Silo's chat with Messenger. Recompilation 2002-20010. Pub. The Message of Silo.