Opposition lawmakers in Poland block parliament to protest media rules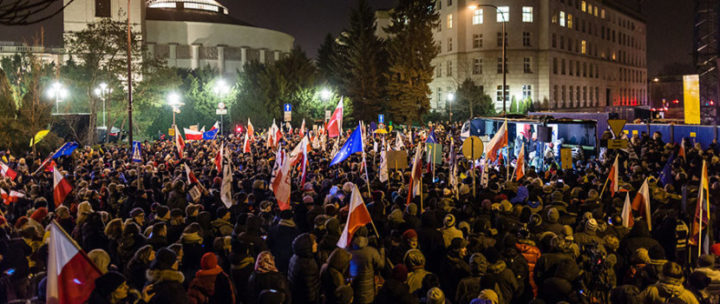 CPF 17/12/2016  Opposition lawmakers in Poland sang the national anthem and chanted 'Free media' in protest at planned limits on journalists. Work on the state budget was blocked for several hours.
The protest was the first of its kind in the parliamentary chamber in a decade. It began as a single opposition MP, Michal Szczerba, walked to the parliamentary podium holding a placard with the words "free media." Other opposition members joined him chanting "no censorship."
Their action stopped proceedings in the chamber and forced the postponement of a budget vote on Friday.
As the occupation continued, the leader of the ruling Law and Justice (PiS) party Jaroslaw Kaczynski told reporters that those taking part would face consequences. "We will not be terrorized. With utmost certainty we will pass the budget," said Kaczynski, as he called the protest "hooliganism."
The new media rules, set to take effect on January 1, 2017 would allow only five, selected TV stations to record parliamentary sessions. The number of journalists allowed in the parliamentary building would also be restricted and journalists would be obliged to work in a separate building.
Private television station TVN24 broadcast the protest with the message: "We will not be able to show this" after January 1.
Kaczynski defended the media rules saying they were no different to those in many other European countries. While journalists have for the 27 years of post-Soviet government been banned from the main assembly room, they can meet and interview politicians in the halls.
Tightening controls
Since coming to power in October 2015, the PiS has tightened its control over public news media and the state prosecution. It has also moved to weaken Poland's highest court.
The country's human rights commissioner, Adam Bodnar, also criticized the new rules, saying the constitution guaranteed the public access to information and that journalists provided that to Poland's citizens.
The European Union has been scrutinizing Poland's policies which have been deemed anti-democratic by opponents.