Protests Continue Across Charlotte for Sixth Straight Day
This post is also available in: Italian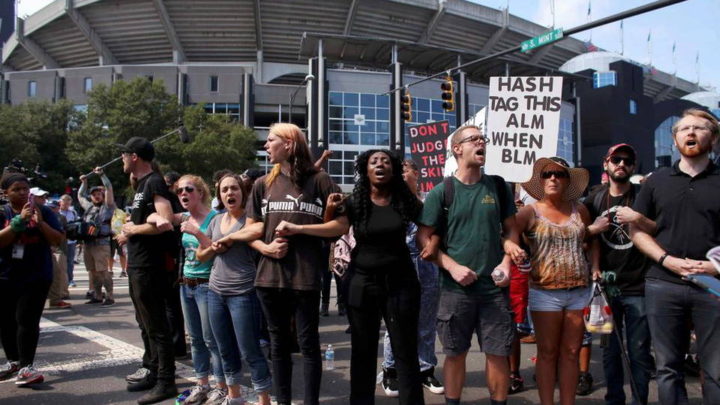 Hundreds continued to protest for a sixth straight day in Charlotte. Uniformed National Guard soldiers carrying rifles were deployed outside a Carolina Panthers football game, while police in riot gear surrounded about 100 demonstrators who were chanting "Black Lives Matter." On Sunday evening, Charlotte Mayor Jennifer Roberts lifted the curfew that had been in place since Thursday.
Meanwhile in Tulsa, Oklahoma, hundreds packed the Antioch Baptist Church on Saturday for the funeral of Terence Crutcher, a 40-year-old African-American man who was shot dead by a police officer on September 16. Crutcher was remembered by his cousin, Shea Seals.
Shea Seals: "Terence's death is being mourned by an entire city. He was that special. The irony here is that Terence loved everyone. He had the incredible gift of putting others before himself."
Police video showed Crutcher being shot while his hands were in the air. His family says his SUV stalled as he was driving home from a music appreciation class. The killing sparked protests across the country. Officer Betty Shelby was booked and released last week on felony manslaughter charges for Crutcher's death. If convicted, Shelby faces between four years and life in prison.