Peace Boat to Visit New York City: October 20-21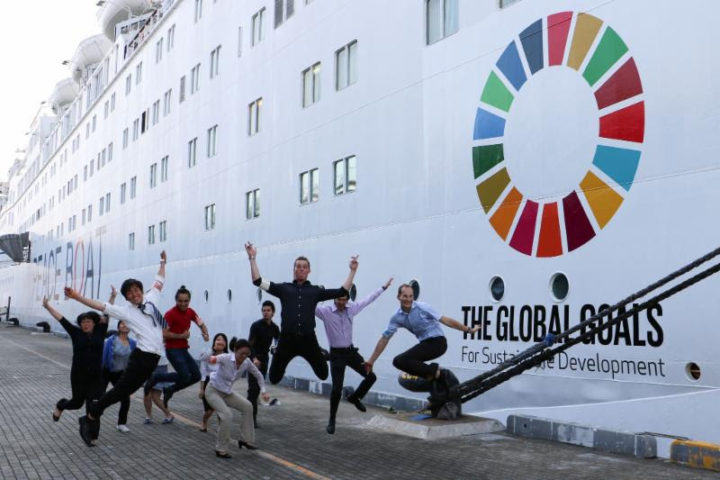 This fall, the world's largest passenger ship sailing around the world for peace, sustainability and innovation is coming to New York City for two days as part of Peace Boat's 92nd Global Voyage for Peace. An award-winning international non-profit organization, Peace Boat is currently developing an "Ecoship"- the world's first ecologically sustainable passenger ship. On October 20th, Peace Boat will host a public event onboard, inviting the New York City community to learn more about Peace Boat's Ecoship, its initiatives for the 
United Nations' Sustainable Development Goals (SDGs), and its three decades of innovative voyages and programs.
Peace Boat's current voyage departed from Japan on August 18th with 1,000 participants and will 
visit 21 countries around the world over 104 days. While visiting New York City, Peace Boat will host a number of activities in support of the SDGs, including an onboard event co-hosted with United Nations agencies. The SDGs aim to end global poverty, fight inequality, and tackle climate change by 2030. As an NGO in Special Consultative Status with the Economic and Social Council of the United Nations, Peace Boat is an official campaigner for the SDGs and is working to inspire each country visited during the voyage to engage in reaching the goals. As a symbol of its support for the 17 goals, the official UN SDGs logo was recently painted on the side of the ship.
Visitors can also learn how Peace Boat's future Ecoship will not only radically contribute to clean technology in shipping and beyond, but will also sail the globe as an inspirational flagship and tool for climate action and the fulfilment of the SDGs. In the lead-up to Peace Boat's visit, the Ecoship Project will be presented during the upcoming UN Climate Week in New York on September 19-25. Among other activities, the Ecoship team will attend the Sustainable Investment Forum as one of the official sponsors of the event. 
Peace Boat's visit to New York City also coincides with the United Nations First Committee on Disarmament and International Security. As part of Peace Boat's commitment to creating a nuclear-free world, five atomic bomb survivors from Hiroshima and Nagasaki will travel with the ship from Japan and share their testimonies at the United Nations in order to further raise awareness about the humanitarian impact of nuclear weapons. The survivors will also participate in the onboard event on October 20th.
Details about the event and how to register will be announced soon. Please contact us if you have any questions or would like to RSVP:
info@peaceboat-us.org
For more information about Peace Boat: