Not bad but lets make it better – Bangladesh's Youth Policy 2016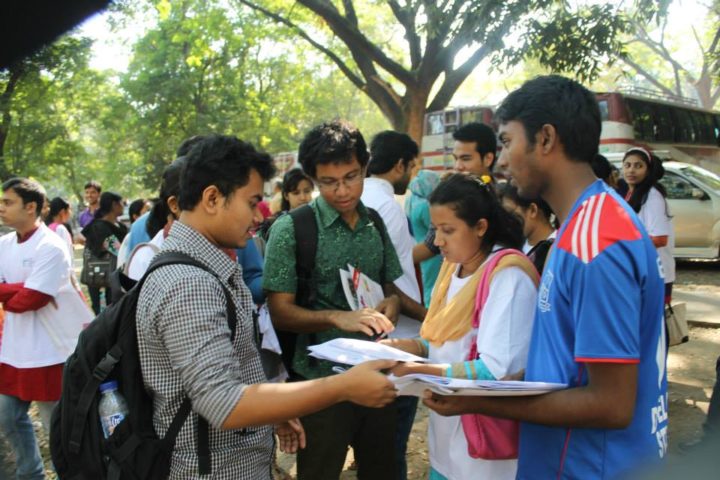 Youth, a critical juncture of a human life, where the transition from childhood to adulthood hopefully takes place. This means going beyond mere physical transformation to entail biological, psychological, socio-cultural and political adaptations. Yet, age is the only parameter to define youth, and there is no universal definition of 'youth'.
By Arup Barua*
The definition of youth varies from individual country's national law to international conventions. The United Nations defines youth as the age group between 15 and 24 years, where the Commonwealth's definition is the range from 15 to 29 years of age. The Government of Bangladesh defines youth in the age bracket 18 to 35 years. Albeit there are discrepancies in different definitions of youth, this particular group delivers the next wave of the community, national and even global leaders.
According to the Bangladesh Bureau of Statistics (BBS), the current youth population of Bangladesh is about 52 million and more than 33% of the total population. Consequently, the integrated development is of grave concern and is to be addressed prudently in policy. While a window of opportunity is open in our country, for strategic and visionary policy development, implementation is instrumental to reap the demographic dividend to lead Bangladesh to become a developed country.
Bangladesh formulated its first national youth policy in 2003. With the passage of time that policy had not proven responsive to youth needs or priorities. A revision of the youth policy was expected, to meet the needs of present times.
A draft of the national youth policy was published by the Department of Youth Development (DYD) under the Ministry of Youth and Sports for public consultation opinion in April 2015. The first draft of the policy was developed by Bangladesh Youth Leadership Center (BYLC), which was fully funded by the Commonwealth Foundation. Later in 2015, DYD organized several divisional and central level consultations with different key stakeholders of the country. Following a series of consultations and an online call for feedback by DYD, recommendations and feedback was shared by different organizations within the Department of Youth Development, CRI and UNFPA.
.
At the end of 2015, government's think tank Center for Research and Information (CRI) joined hands with DYD through a blurred process that depleted executive-legislative authority. In the latest phase, CRI published a revised draft of its findings after incorporating some feedback from different forums including two ministries. A national level workshop titled – Finalization of National Youth Policy was then jointly organized in July 2016 by the various institutions.
The draft developed into an unwieldy document of 19 pages, which did cover all issues. That policy is illustrated in 17 clauses and entails vision, mission, values, objectives, definition, prioritized themes etc. Due to broad activity type language though, the draft policy is deemed lax. Many of the activity level terms would yield complications in developing the plan of action. Ideally, a policy should be an indicative document which can be translated in detail while formulating strategy or action plans to be aligned with the policy. Yet, the inclusion of different stakeholders' feedback has significantly improved the revised draft policy in 2016. The main recommendations have been taken into account, as shared by Ministry of Education, Ministry of Foreign Affairs, and the United Nations Theme Group on Adolescents and Youth.
The policy offers a preamble which delineates the background independence of Bangladesh and tells of the glorious sacrifices of youth during the independence war and in other influential movements. It attempts to establish a nexus between the national development and youth empowerment by referring to several articles of the Constitution. Some other substantial issues including demographic dividends, visions for 2021 and 2041 and some sustainable development goals are broadly extended.
As this policy will have a series of policy implications in future, therefore it is most useful to deconstruct the policy with critical understanding before it gets finalized. At the onset, it should be admitted that key issues and challenges of youth are well articulated in general, despite diversity across the country.
It is noteworthy that comparing the first draft with the revised draft, the gender sensitiveness has been reflected significantly. The first draft ratifies the needs of transgender youth, while most other parts suggest gender equality between men and women. The revised draft promotes gender equality and empowerment of all human beings irrespective of their sex, race, class, caste etc. From a human rights approach, the revised draft is much more inclusive than the previous draft.
The promotion of youth engagement in environmental education and protection, ICT development, green technology, good governance, sustainable development, volunteerism, youth work has been widely adapted. Furthermore, the draft policy recognizes the rights of youth, which requires a multisectoral coordination mechanism to ensure those rights of youth. Needs of a diverse youth group, are not identical across the country, especially disadvantaged, marginalized, vulnerable youth are in need of different interventions. This policy has laudably identified a number of disadvantaged, marginalized youth.
Although the policy defines youth aged between 18 years to 35 years. But policy interventions are not reaching equitably to the entire group. It would be an inhumane decision by the state when someone of 31 years of age is called a youth but cannot apply for a government job. While youth employment rate is much higher than the national unemployment rate. According to the latest Labor Force Survey (LFS), youth (15-29) unemployment rate is 8.1% whereas national unemployment rate is 4.3%. Youth must be given that right to apply for a government job up to that age without any discrimination, which is the upper limit of youth definition, adopted in the policy.
The well being of educated youth is to some extent missing in the policy. While LFS shows that employed persons aged 15-29 with a university degree have the highest rate of youth unemployment, at 16.4%. Even female unemployment rate of this group is much higher, that is, 23.5%. In order to encourage youth entrepreneurship, the policy should advocate for a reform in the existing policies to ensure the hassle-free access of youth entrepreneurs to financial institutions and services rather than establishing a 'youth bank'. Considering the bulk of youth population and their needs at home; there are very limited opportunities for youth skills development in fostering professional growth. Perhaps, the quality of education and personal development are myriad challenges, which should be addressed effectively to captivate global job market. Simultaneously, sexual and reproductive health education and services, healthy life style education should be ensured for all youth.
Under the prioritized areas, 'empowerment' has been sectioned in education, training, employment and self-entrepreneurship, plus ICT. The political empowerment of youth and their participation in decision-making are somehow ignored. It is inevitably that political empowerment of youth will be a multiplier factor in ensuring good governance and building a just society. Till now, the policy is confined to the civic participation of youth within good governance. Whether secondary level students elect their representative through an institutionalized mechanism in Bangladesh is questionable, the tertiary level educational institutes present a dysfunctional students' council. A youth cabinet or council at the national and divisional level could be established and made functional without delay.
The draft policy has incorporated a contested issue like genetically modified crops, which should be proscribed from the policy.
Ministry of Foreign Affairs has proposed to incorporate International Humanitarian Law (IHL), which is not applicable for youth in general. As IHL, also known as Laws of Armed Conflict, promoted by International Committee of the Red Cross, is much more devised for military personnel to follow certain norms during an international armed conflict. Rather attention should be given to train youth on the promotion of universal human rights, existing national laws of the country, prevention of cyber crimes, international crimes.
The policy promotes youth exchanges among different countries but these exchanges should not be limited to international exchange. An exchange between rural and urban youth could be encouraged to promote national solidarity, brotherhood, cultural integration and social cohesion. The implementation of such policy would be challenging as it will require a huge investment from the government and private sector. Perhaps, so far the engagement of the private sector is somewhat invisible, separate allocation for youth development to be launched aside from the national budget. The inter-ministerial coordination, support, and good governance are instrumental in facilitating any ambitious odyssey of youth development.
To sum up, youth population as a target group should be entitled to get special attention and priority from the different ministries; Ministry of Youth and Sports cannot alone assure an integrated youth development. Ministry of Planning and Ministry of Finance will have to play a proactive role in introducing reforms for comprehensive youth development. In addition, effective engagement of and effective partnership with private sector, youth community, civil society organizations, and media are inevitable to sustain the process of youth development.
*Arup Barua – a Young Professional in the Development Sector and Independent Writer
Graduated from Development Studies and a Post Graduate Diploma in Genocide Studies, University of Dhaka, Bangladesh. Trained at: Global Platform Nepal.
Arup_dds@hotmail.com
Cell: +8801912738591