Defying diktat north-east India celebrates Independence Day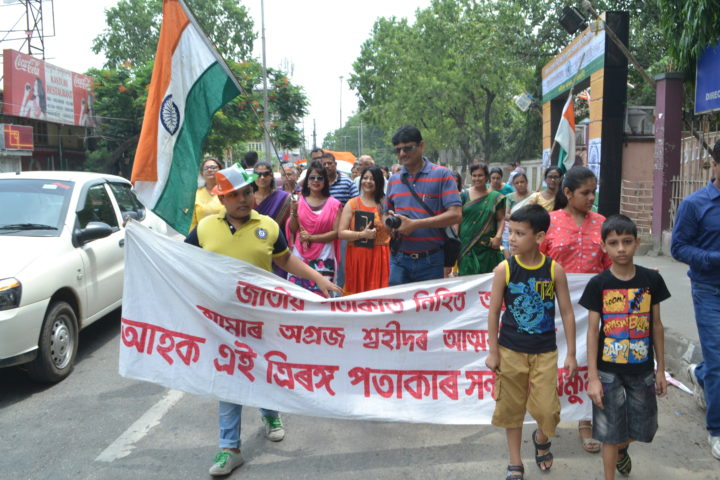 By Nava J Thakuria
The people of India, except in Kashmir valley and parts of Manipur, celebrated 70th Independence Day on 15 August with great enthusiasm.
Braving the odd, when the country witnessed violent acts in  Jammu & Kashmir, Manipur and also in Assam, patriotic citizens came in large number to assemble in both government and community level celebrations of the auspicious day.
It may be mentioned that a section banned armed outfits including United Liberal Front of Assam (Independent), National Democratic Front of Bodoland (IK Songbijit faction),  Garo National Liberation Army with few others called for a shutdown on 15 August. However ridiculing the diktat of the separatist militants for their call of total shutdown on the cherished day, the Journalists' Forum Assam appealed to the people of northeast India in general and media fraternity in particular to hoist the national flag on the occasion of I-Day and pay homage to the martyrs of India's freedom movement.
The Assam based scribes, senior citizens and members of civil society celebrated 70th Independence Day at Guwahati Press Club (GPC).
Defying the diktat of separatist militants, they congregated enthusiastically on the press club campus and saluted the known and unknown martyrs of India's freedom movement.
Senior journalist Anup Sarma hoisted the national flag on the occasion, where senior member of GPC Rupam Barua spoke of the freedom movements that began earlier than the first nationalistic struggle of 1857, followed by the Mahatma Gandhi-led Non-Cooperation, Civil Disobedience and Quit India movements, Netaji led INA war and Navy Mutiny, all of which culminated in 1947 with India emerging as a free nation of immense promise.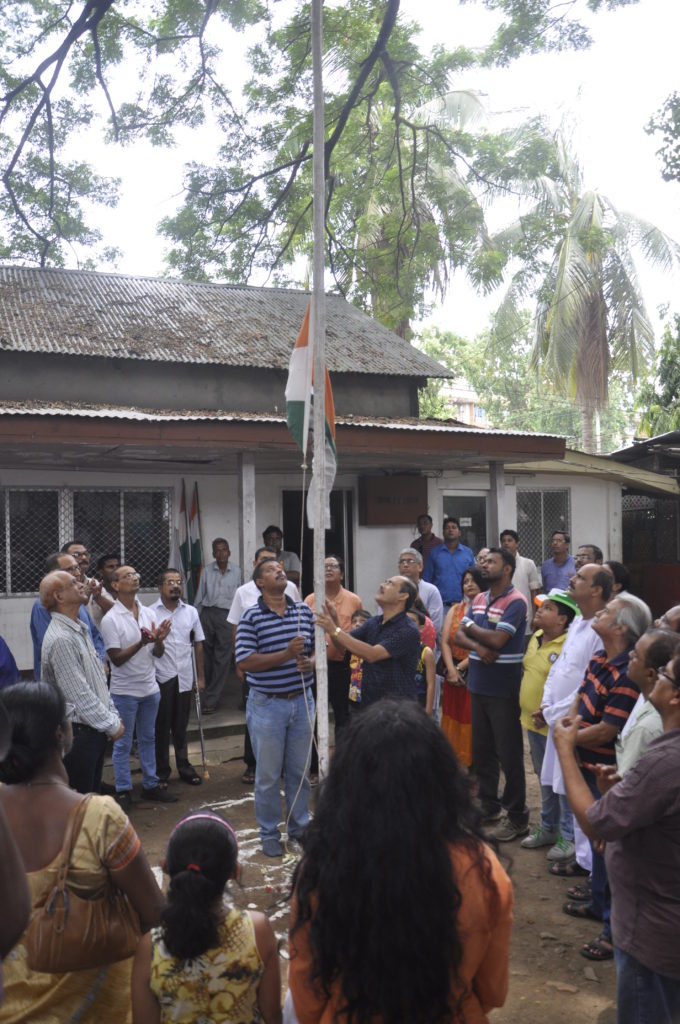 It may be recalled that in 1998, challenging the terrorist threats, a few journalists with the support of handful patriotic citizens hoisted the national flag in the press club. Since then, the flag hoisting ceremony has become regular events on 15 August and 26 January every year. These events encouraged the people with inspiration which has culminated in today's atmosphere of hoisting national flag without trepidation & fear.
"Our country's independence came about through the supreme sacrifices of countless patriots and martyrs. It is in their honour that we observe Independence Day. It is their contributions we need to remember gratefully when we bow our heads under the Tricolor," Barua said, adding that it is improper to raise demands or go on protest on such days when other days in the year are available. Veteran journalist Ranen Kumar Goswami then pointed out that these national celebrations are for every citizen, that it is wrong to label these as government organized jamborees.
Later, a doctors' chamber was opened at press club premises on the occasion. Inaugurated by young citizens Dhiman, Kristi, Shantanava, Arya, Shambhavi, Nistha and Arunava, the chamber has been reconstructed by the city-based Dispur Hospitals. A qualified doctor will be available every Saturday evening (5 to 8 pm) for free medical consultation with scribes and their close relatives.
"It is a dream comes true for the press club as we have seen journalists suffering from a host of ailments in the course of heir demanding work. Consultations with doctors will surely guide them about necessary preventive measures to stay healthy and fit," said GPC secretary Nava Thakuria.
Dropping in at the press club on a goodwill visit, Guwahati Mayor Mrigen Sarania interacted with scribes and guests, with issues plaguing the city figuring in their freewheeling discussion. Among those graced the occasion included Dr Jagadindra Raichaudhury, Col.Ranjan Dutta, Apurba Sarma, Girindra Karji, Pradip Thakuria, Kailash Sarma, Raman Bora, Pramod Kalita, Kishor Giri, Manoj Agasti, Pulin Kalita, Bipul Sarma, Bikash Singh, Nayan Pratim Kumar, Rajeev Bhattacharyya, Chinmoi Roy, Bhaskar Medhi, Ravi Ajitacharya, Baldev Pandey, Dilwar Hussain, Ujjal Saikia, Mrinal Ali Hazarika, Rupen Sarma, Purabi Baruah, Mamata Mishra, Anita Kalita Goswami, Akshyamala Bora, Anjali Kumar, Namrata Dutta, Sewali Kalita, Tarali Chakravarty, Nabanita Mazumdar, Azlina Khanam etc.
The Sentinel, a popular English daily editorialized the issue saying that this time 'there was spontaneous and lively celebration of Independence Day after many years'. Mentioning about the threats spread by terrorist groups systematically in the last three decades to boycott the I-Day and Republic Day, the editorial also pointed out that militant outfits even did not hesitate to shoot down participating women and children in the programs.
"As a consequence, for decades, people in Assam had given up hoisting the national Tricolour at their homes on I-Day and R-Day. Not surprisingly, even the official celebrations of these two historic and cherished days had got confined to government officers who were far better guarded than ordinary citizens from untoward happenings," said the editorial.
It also added that for years, the north-eastern people went without celebrating both the auspicious days. But this time, the local people seemed to have celebrated I-Day with great enthusiasm because they wanted to and not because it was a ritual to be observed somehow. What we would like to celebrate is the return of a trend of celebrations that should never have been neglected even under the gravest of threats, concluded the piece.