'I respect the historic fact' says Taiwan's new President Tsai Ing-wen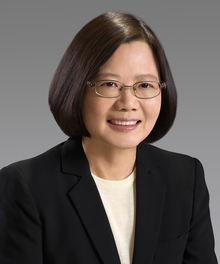 With that seemingly innocuous announcement the new president shows she is cautiously striking a balance between asserting the island's independence and giving a bow to the Beijing government's stand on the One China issue, which is, there is only one China!
This was on day one of her presidential tenure, commenting on the 1992 consensus between the two places, making it a key note in her  inauguration speech on May 20, 2016. Tsai, by avoiding explicit mention of 'consensus' acknowledged Beijing and Taipei reached common understanding in the meeting that year. Beijing has said that common understanding is vital for future cross-strait interactions.
Ms. Tsai was elected by a large margin in January and is Taiwan's first woman president. A former law professor and trade negotiator, she won top office without the benefit of a politically powerful male relative, unlike most other Asian female leaders.
She assured everyone that her government would conduct cross-strait affairs in accordance with the constitution of the Republic of China – Taiwan's official name – which includes the "one China" concept.
That 1992 consensus referred to the deal struck between unofficial representatives of Beijing and Taipei that indeed there is only "one China" but that each party could have its own interpretation of what constitutes "China". In effect leaving the matter pragmatically 'up in the air'.
"Based on such existing realities and political foundations, the stable and peaceful development of the cross-strait relationship must be continuously promoted," she said. Her party is nominally in favor of independence from China.
Past over-reliance on China as a single market was mentioned as a problem and Tsai floated the idea of expanding trade across the board to the rest of Asia and beyond.
Ms. Tsai's predecessor, Ma Ying-jeou, achieved economic and political advances in his eight years in office, though the public did not appreciate the price paid for those benefits that came with certain ties.
China has not ruled out the use of force against the island and held military exercises off its coast facing Taiwan during the final election week. Beijing has obstructed Taiwan's participation in international gatherings, stepped back from cooperating on cross-border criminal investigations and hinted at economic retaliation in recent months.
The new president also mentioned that a special truth-and-reconciliation commission would be set up "to address the historical past in the most sincere and cautious manner." This is seen as referring to the ideological base of Ms. Tsai's party and an ongoing effort to build up Taiwanese identity.
Though no explicit note was made it can be presumed the commission would closely examine the decades of authoritarian rule after Chiang Kai-shek's Nationalist government took control of the island to make their base following the triumph of Mao Zedong's communist revolution on the mainland. A sample of this might be taken as those inaugural events that referred to this part of history, with performers reenacting a massacre of Taiwanese by soldiers suppressing an anti-government uprising in 1947.
Her inaugural speech ended with: "Dear fellow citizens, dear 23 million people of Taiwan: the wait is over. Today is the day. Today, tomorrow, and on every day to come, we shall all vow to be a Taiwanese who safeguards democracy, freedom, and this country. Thank you."