Recall effort builds against Venezuelan president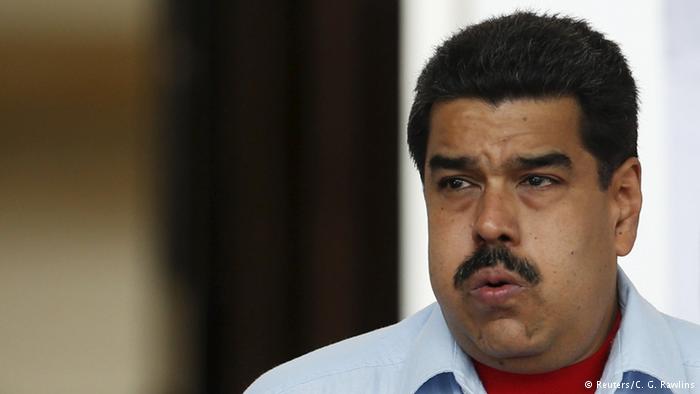 Venezuela's opposition has presented more than a million signatures to election authorities calling for a referendum to remove the country's president. Economic woes have eaten into the left-wing president's popularity.
Venezuela's unified opposition said Monday it had delivered petitions with some 1.8 million signatures of voters seeking President Nicolas Maduro's removal in a nationwide referendum.
The Democratic Unity coalition (MUD) gathered far more than the required 1 percent of voters' signatures, or nearly 200,000, needed to trigger the next phase of a recall referendum.
"With this successful strategy, the MUD has progressed in achieving urgent political change via impeccably peaceful and constitutional measures," coalition chief Jesus Torrealba said in a statement.
Many Venezuelans struggle with food shortages, soaring inflation and now a paralyzing electricity crunch stemming from the rock-bottom price of oil that's affected the country's oil-dependent economy.
On Sunday, the country set its clocks forward half-an-hour to curb evening electricity demand.
Nationalization threat over disrupted industries
In another symptom of economic difficulties facing the nation, the country's largest beer-maker, Polar, halted production at four breweries last weekend over barley shortages.
But Maduro vowed Sunday to order the state takeover of any companies that halt production over what he insists are trumped-up shortages invented by wealthy elites plotting against him.
The electoral body must now validate the signatures before the opposition can collect another 20 percent, or around 4 million signatures. Only then could a vote finally be held over whether to remove the president.
Maduro has denounced attempts to force him out before his term expires in 2019 and accuses the opposition of seeking a coup against him to destroy the socialist legacy of his late predecessor, Hugo Chavez.
The government-leaning Supreme Court and electoral board have stymied recent attempts by the opposition-led National Assembly.
Maduro's overall approval rating has plummeted as economic woes take their toll, with recent opinion polls suggesting as many as two-thirds of Venezuelans want him out.