Memorial Day – Palestinian-Israeli ceremony
This post is also available in: Spanish, German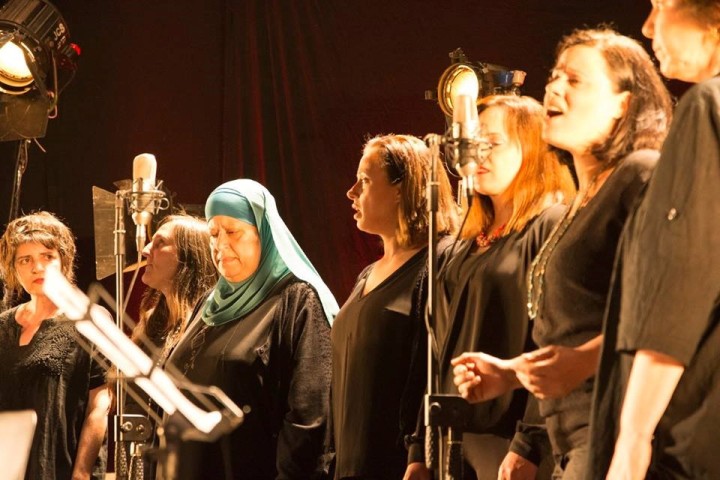 Text and images by Aaron Elberg
On Memorial Day Israelis remember those fallen for their country. However, in the
eleventh consecutive ceremony, thousands of people came yesterday, Tuesday, 10, to commemorate in a ceremony different from the ones that are usually carried out, those who have fallen on both sides of the Palestinian-Israeli conflict. Year after year the organisers must find a bigger space, since the number of participants grows with each event.
During the ceremony, convened under the theme "sharing the pain, building hope", relatives of victims of the conflict involved in different structures spoke promoting dialogue, reconciliation and non-violence. Israeli and Palestinian artists also participated in the same way. The event was organised by the organisations "Combatants for Peace" and "The Parents Circle, a Forum of relatives of victims of the conflict".
The event organisers declared: "In this difficult year, in which we witness increasing hatred and violence, the escalating tension in Gaza and long months of the "intifada of individuals"; the leadership vacuum, where no solution is being proposed, it is important for us, Israelis and Palestinians, to assume the responsibility and in this difficult day propose a different way, stop living with sword in hand. In this shared ceremony we identify with our own and the other's pain.
We recognise the price that all of us – families and the whole society – are paying. We are not willing to let this pain be used as a justification for increasing conflict and violence. To stop this pain, we choose to build together a different reality. This shared ceremony is a home for many families who find in it some relief for their pain and loss. Thousands of Israelis and Palestinians who suffer such death and loss come together, and they choose to turn that pain into hope."