Philippines: economic outlook and election special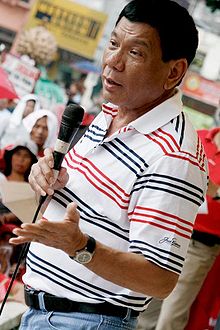 In a story by Norman P Aquino that appeared the November 2015 issue of Bloomberg Markets it was noted that the Philippines has notched the fastest growth since the 1970s and avoided the emerging-markets meltdown. Can the next president keep the momentum going, he questioned? As a background to the Philippine presidential and vice presidential election of 2016, scheduled on Monday, May 9, 2016 the Bloomberg story can be useful. Extracts tell that…
"By many measures, Aquino has delivered. Once Asia's 'sick man', the Philippines earned World Bank commendation as the continent's 'rising tiger' in 2013, three years into his tenure. The nation of 108 million has posted 6.6 percent average annual growth since 2012, its best pace since the 1970s. Aquino has shrunk the deficit too. It stood at 73 billion pesos at the end of 2014, equivalent to 0.6 percent of GDP. In March 2013, Fitch Ratings elevated Philippine debt to investment grade for the first time ever.
"China's slowdown, gyrating stock markets, and currency devaluations from Kazakhstan to Vietnam add to investor unease. 'Despite improved fundamentals and the stamp of assurance from credit-rating agencies, contagion among emerging-markets economies will ensue,' says Emilio Neri, an economist at Bank of the Philippine Islands in Manila.
"The Philippines has a few things going for it to fight the contagion. So far, the consumption-based economy has made the country more resilient as demand from trading partners has slowed. Steady dollar inflows from Filipinos working overseas mean greater ability to buy imports and pay the nation's debt. And relatively low levels of foreign investment in Philippine bonds and stocks are shielding the country from an intensifying selloff. The Philippine Stock Exchange Index returned 144 percent from July 1, 2010, through Oct. 6, including reinvested dividends. 'We can expect economic performance that is still strong, albeit more modest than the government's full-year target,' Amando Tetangco, governor of the central bank, said in late August.
Bloomberg continues to say that the biggest wild card in the Philippines is May's presidential election. Aquino, only 55, can't run again because of the nation's six-year term limit. …Roxas, a member of the ruling Liberal Party, has pledged to continue Aquino's anti-poverty, anti-corruption agenda and announced in October 2015 that Aquino's party had chosen Leni Robredo, a first-term lawmaker and widow of a former interior secretary, as candidate for the vice presidency.
However, Binay argues against the claims of sufficiency of the Aquinos from the vantage point of his United Nationalist Alliance saying that growth has benefitted only a few, that a quarter of the Filipino population remain poor.
Today's president, Benigno Aquino, is the son of pro-democracy politicians, and that has helped lift this nation weighed down by military rule, widespread corruption, and domination by the landed elite, the big families of which the Aquino family is one. A differentiating moment was that his mother Corazon Aquino led the opposition to dictator Ferdinand Marcos after the 1983 assassination of her own husband, former senator Benigno Aquino [Jr]. She went on to become president in 1986. During Aquino III's term, former President Gloria Arroyo and three senators were arrested and imprisoned for graft.
It is known that Aquino has recouped unpaid taxes and used the money to fund roads and schools. "Internal revenue collection in 2012 exceeded 1 trillion pesos for the first time, a 14 percent increase from the previous year. Net foreign direct investment reached a high of $6.2 billion last year, almost four times the level in 2010. This year, outflows have increased, however, with overseas investors withdrawing a net $1.24 billion from Philippine shares from April through August, a five-month record," reports Bloomberg.
Further, "To help rural residents, Aquino has allocated 339 billion pesos for agriculture in the five years through 2015, about as much as the three previous administrations spent in 17 years. Funds for education increased 23 percent in 2013, a sum that let the government eliminate a backlog of 66,800 classrooms and 146,000 teachers."
To maintain this positive momentum and keep the Philippine economy growing, the next president will have to revamp Manila's clogged infrastructure, as on most days, the metro areas are jammed with traffic. Commuters must line up to board aging elevated trains that continue to stall.
There is high under-employment with about 18 percent of workers with advanced education degrees working in low-skill areas and millions of the rural poor have yet to see prosperity 'trickle down'.
In a two-edged sword problem, Aquino's government has failed to stem the migration of Filipinos overseas, and Aquino's successor must try to re-stimulate the manufacturing sector and bring something new into agriculture while devising a better anti-poverty strategy to get them to return. And, despite the rosy side of the Philippine's economic state as reported by Bloomberg, fact is, whatever positive economic growth is spoken about isn't what is experienced by a majority of the citizens. Plus, regarding the elections the general sentiment is that there is really no real choice given the candidates today and it is a question of trying to choose among  lesser evils. 

That's the other sharp edge; once having travelled and lived abroad in situations of security both physically and economically, how to bring back those talents into the Philippines, why not just stay where you are and enjoy life? Indeed, this is a burning question for many overseas Filipinos. This new understanding of 'how things could be' will make their overseas vote an important one!
Stability top priority in voter choice for next president
For Filipino Janette Toral* the vice president position is a critical factor in this election. "I think what makes this election interesting is most of the presidential candidates have issues that may either lead to impeachment, disqualification or health problems." Thus, who takes over is important.
Despite his cowboy style gun-toting image, Davao City's mayor Rodrigo Duterte is favoured by Janette because he looks like someone who will get things done but still she questions… 'Does he have a past that will likely come out to hound him and affect his integrity as president? Will he honour his promise of resigning after 6 months if he fails to eradicate crime and corruption? (This is a joint commitment with his VP tandem.) Does he have a health concern that may aggravate in the next 6 years?" [he is just over 70], Janette asks on her blog/Facebook page. See: DigitalFilipino.com
Unphased by Duterte's 'my rules' persona, – see the daring (the reporter Steve Chau delved deep into Mindanao's Moro territory) coverage by Al Jazeera: "Rodrigo Duterte – Guns, goons and the presidency coverage":
Janette continues with a list of other contenders for the post of president.
"Grace Poe – Will another disqualification protest be filed against her when she wins as President? Will it succeed or not? How dependent or independent she will be in making decisions? Will she become another PGMA [President Gloria Macapagal Arroyo] who will put ex-military on the frontline to guide or protect her?
"Jejomar Binay – Can he really walk away or bury all the corruption controversies that hounds him?
If all will went well then the above scenarios can just be dismissed. But if you are thinking about the worst case scenario, the person who will win as vice president will be critical.
"BongBong Marcos and Chiz Escudero are one way or another presidential aspirants. If they are not politically aligned to any of the presidential candidates above, they are unlikely to take part in any cover-up or deviate from rule of law.
"Leni Robredo is the dark horse – needed to neutralize or challenge Marcos and Escudero. Will her growing popularity be strong enough to get the Vice President spot? We will see.
"As Marcos is also likely to win based on polls, wow, he might just become president. As I grew up in a pro-Marcos clan, the idea was just a 'wow' to me. I did not see it coming this soon and almost real. Neither am I that "informed" to judge him especially in this election season since the "truth" can be shaped by the storyteller.
"Who will you choose to run the country? – I hope that from now till election day, choosing your president and vice president is not just about the most optimistic scenario. What will it look like when things fall apart? When the elected popular presidential candidate has no choice but to resign due to disqualification or unacceptable scandal or unable to fulfil a campaign promise or have poor health. The next in line will take over. I pray Filipinos will choose with the country's stability in mind."
Read  full post on Linkedin: https://www.linkedin.com/pulse/dark-horse-duterte-marcos-janette-toral
Note*: Janette Cheng Toral started DigitalFilipino.com as a blog back in September 1999. "I never thought that it will become part of my growth as an e-commerce advocate. Hence, I advise those who are just starting out in building their online presence and personal brand, think long term and be intentional in discovering (pursuing) your life's purpose." Janette was included in the Commission on Women in their Women's Month campaign.
Tony Henderson, Asia Editor Pressenza, met Janette Tolay at IT conferences during the booming years prior to year 2,000 dotcom meltdown and follows her success with interest.
Editors end note:
This interest in Rodrigo Duterte brings out the old question of strong man vs democratic rule… People quote Singapore's Lee Kwan Yiu and a success story as an example but Rodrigo Duterte sees ex-President Marcos in the same light as Lee is seen. It's so easy to want someone else to come and solve all your problems but there is a great danger there. It is hard to judge Rodrigo Duterte as many of his ideas are sound – a federated and properly autonomous Moro region would fulfill a long (withheld) promise, continuously reneged on and could well be a stand for fair peace in the region, that is one such, decriminalising prostitution is another; but gun squads filling in for police action and due process casts doubts. Next question is, can you teach an old dog new tricks and reform Rodrigo Duterte!