International organization criticizes Macedonia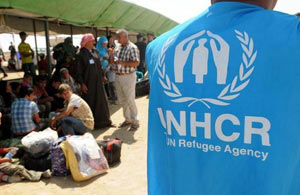 Geneva, Apr 11 (Prensa Latina) The Office of the High Commisionner of the United Nations for Refugees (UNHCR) issued a communique Monday, in which it criticized the violence by the Macedonian police against migrants and refugees in the mutual border with Greece.
Adrian Edwards, a spokesman for the UNHCR, said Monday that there is a serious concern by UNHCR because of the use of tear gas and rubber bullets by Macedonian police officers to repress hundreds of people in a point of the region close to a camp for refugees called Idomeni.
Although in these moments, the attention is centered on the application of an agreement between the European Union and Turkey to deport the migrants who reached Greece starting March 20, attention should be paid to the 46,000 who reached Greece before the pact was signed.
The official pointed out that in Idomeni alone, remain 11,000 refugees who, he said, have been sleeping outdoors for weeks in dismal conditions that encourage despair, and announced that the UNCHR is prepared to support the transfer of these to places that have the necessary services.
The spokesman recalled that for months it was agreed to resettle asylum seekers who qualify for such protection in other European countries, but it is necessary to move from words to action and added that the UNHCR considers that "violence is wrong regardless of the circumstances".
For its part, the Greek Government also today condemned the brutal repression of police forces in Macedonia against refugees who approached the border fence, where hundreds were injured by rubber bullets, and affected by gases which led to the hospitalization of seven of them.
The organization Doctors without Borders reported that three children received impacts of shells on the head and more than 30 patients were left in a state of shock.
Yorgos Kyritsis, representative of the Coordinating Committee for the refugees from Greece, accused Macedonian authorities of unbridled violence used and become even more difficult and dangerous the situation of migrants.