Deal with root causes of problems to break cycle of violence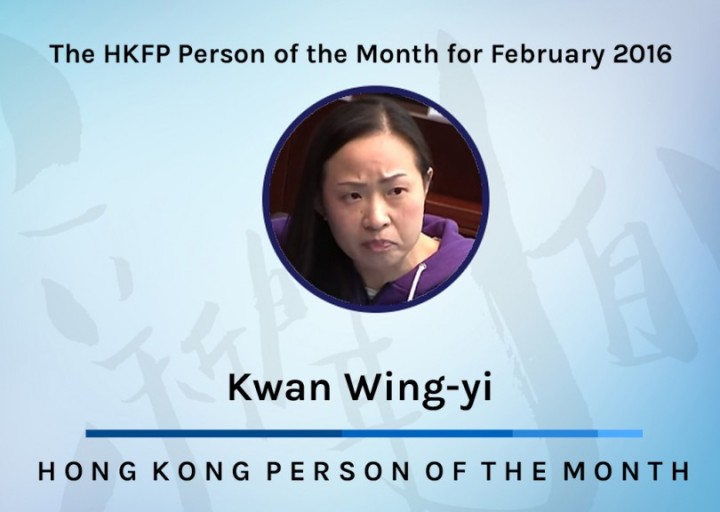 Hong Kong citizen Kwan Wing-yi made an impassioned speech at a special Legislative Council meeting late February 2016 that was held to discuss retirement protection, as reported by Jason Y Ng writing for the South China Morning Post. The activist's words went viral as social media users hailed her for voicing Hongkongers' frustrations. To break the cycle of violence – speaking of protests that got out of hand – Hong Kong must deal with the root causes of society's problems, Kwan insists.
The anti-government tirade by Kwan Wing-yi, [definitely] a concerned citizen, resulted in a video, reportedly receiving 300,000 views on YouTube in just 48 hours. "Netizens have added English subtitles, turned her words into a rap song and even called on her to run for Legco in the September election," says Jason Ng, who kindly gave a rundown of the Kwan Wing-yi video's content.
"Your so-called 'universal' retirement plan puts an HK$80,000 asset limit on applicants but only offers them a paltry payment of HK$3,230 per month. Are you kidding me? There is so much government-business collusion and inflation these days that we can't even buy a catty of contaminated vegetables for HK$30!"
"Chief Secretary Carrie Lam rejected the university admissions policy – in which applicants are judged solely on their own merits, irrespective of their ability to pay for tuition though this typre of scheme was favoured by the public – because she claimed it would lead to a government deficit. What she said made me laugh out loud! The government spends hundreds of billions of taxpayers' dollars on white elephant projects like the Hong Kong-Zhuhai-Macau bridge and the high-speed rail link, only to nickel and dime the poor on social programmes. How dare she mention the word deficit."
On law and order:
"What happened after Chief Executive Leung Chun-ying was accused of accepting HK$50 million in secret payments? Nothing. What happened to the pro-Beijing camp after it blatantly rigged the district elections? Nothing. In our topsy-turvy city, firing shots into the air is considered compliant with police protocol. [a recent incident]. The ethical standards for the government and the police are as "flexible" as the arm of the officer who hit passers-by with his baton and called it an "extension of his arm". Lawmakers are permitted to spread unfounded rumours in Legco, like the one about one of the abducted booksellers taking a speedboat to China to procure prostitution [unfounded libelous accusation that was never followed up]."
"To be honest, I am worried that after making this speech today I, too, may disappear and "go to the mainland using my own methods".[Kwan was again referring to the missing booksellers who had presumably entered mainland China without proper documentation]. Why bother with retirement protection when our personal security is unprotected?"
On the chief executive and his cabinet:
"I want to offer Leung, his senior staff and the Hong Kong police a piece of advice: there is something called karma in this world. There isn't much we can do to stop you now, but future generations of Hongkongers will be watching you. Your karma will catch up with you one day!"
Jason Ng also notes that as soon as Kwan's speaking time was up, the meeting's chairman, lawmaker Cheung Kwok-che, switched off her microphone to stop her from 'spewing more anti-government venom'. But the damage was already done. Her harangue was uploaded to YouTube within minutes and was held up in the echo chamber of the Internet as the ultimate indictment of chief executive CY Leung's "failed administration". Kwan became an overnight social media sensation, all for venting frustrations that so many others have failed to put into words.
"Netizens credited her success to her well-chosen tone. She delivered the sort of angry wife scolding based on logic understood by ordinary citizens, with none of the abstruse political speak preferred by the traditional pan democrtas. Even a C9 – an unsophisticated housewife in the local vernacular – is able to grasp the convoluted political issues covered in her speech.
"But perhaps it is who she is that has made her tongue-lashing so powerful. Kwan has no discernible political affiliation or agenda. She has no constituent to please or ideology to preach. She is, it seems, just a fed-up citizen who is tired of being a passive bystander and has to blurt out the truth, like the child in The Emperor's New Clothes. By calling out the government in a simple, relatable way, Kwan might have changed more minds in a few days than any of the slogan-shouting pan-democrtas or brick-throwing localists have in years.
Explains Jason Ng:
"Gong chu, which literally means a Hong Kong pig, is a popular Cantonese catchphrase to describe citizens who choose a steady livelihood over civil liberties, or those who are thankful for economic hand-outs from Beijing despite having their freedoms gradually taken away. Kwan's refusal to be a docile farm animal is a testament to the long-term impact of the Occupy movement, which put citizens through a kind of social awakening not experienced since the protests at Tiananmen Square in 1989."