The UK National Health Service is no more, says the WHO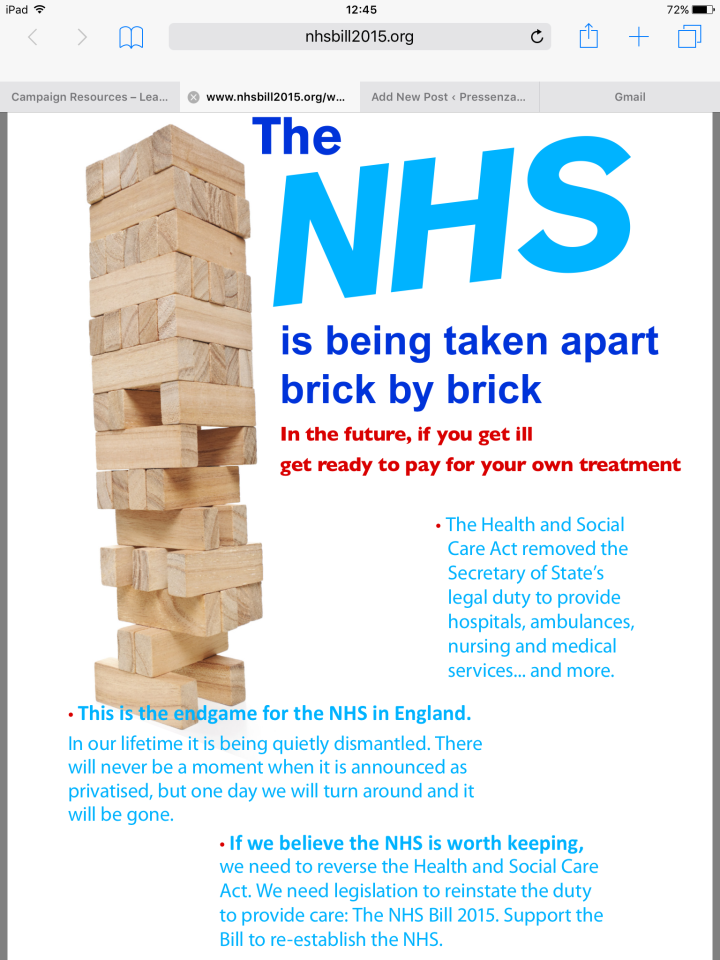 The Independent news headlines read: "Terrifyingly, according to the World Health Organisation definition the UK no longer has a NHS".
It explains that 34% of contracts are now going to the private sector: "It has opened up the NHS to unlimited privatisation. The government continues to deny that privatisation is taking place – of course they do. A simple rebuffal comes from the World Health Organisation definition of healthcare privatisation, which describes it as the increasing financing and/or provision of healthcare by non-governmental actors. And the NHS Support Federation has shown that £30 billion of NHS contracts have been tendered since the Act came into effect. £16 billion have been awarded with 34 per cent going to the private sector."
An initiative to save it, The NHS Reinstatement Bill, written by Professor Allyson Pollock and Peter Roderick and sponsored by Caroline Lucas MP and 77 MPs from different parties (but not Conservative ones) is being debated today in Parliament and although it would have no power to force the government to increase funding, in principle, it could 'renationalise' the NHS and restore it to its original remit. It would repeal the Health & Social Care Act 2012, protect the NHS from the Transatlantic Trade & Investment Partnership (TTIP) which is a prescription for privatisation driven by profit-hungry corporations.
The NHS Reinstatement site invites to join in their campaign:
"The NHS in England is being dismantled. Only a change to the law can stop the damage. Now more than ever.
"Thousands of us contacted candidates during the General Election to support the NHS Reinstatement Bill. This made a difference. So far 76 MPs support the Bill, and now we need to build support amongst MPs ahead of the scheduled second reading on 11 March 2016.
"The National Health Service has been one of the UK's greatest achievements. For 65 years it has provided a cost effective, universal health service, free at the point of need to all people irrespective of their background, circumstance or ability to pay.
"Yet over the last 25 years, this founding vision has been slowly but surely eroded. The final blow was the Health and Social Care Act 2012, forcing a commercialised model on the NHS in England.
"We believe that campaigning to reinstate the founding vision is critical."
Junior Doctors across the UK have just ended a 48hs strike over a contract that promotes unsafe practices and further damages the NHS. The purpose of the dispute and rigidity to negotiate on the part of the Health Secretary is clear: to scare the public into buying private health insurance.
The destruction of the UK NHS is a tragedy because it has been an example of good practice for the lowest possible cost, of solidarity and cooperation. It is not too late to save it, but it requires the help of the population it serves.