This post is also available in: Spanish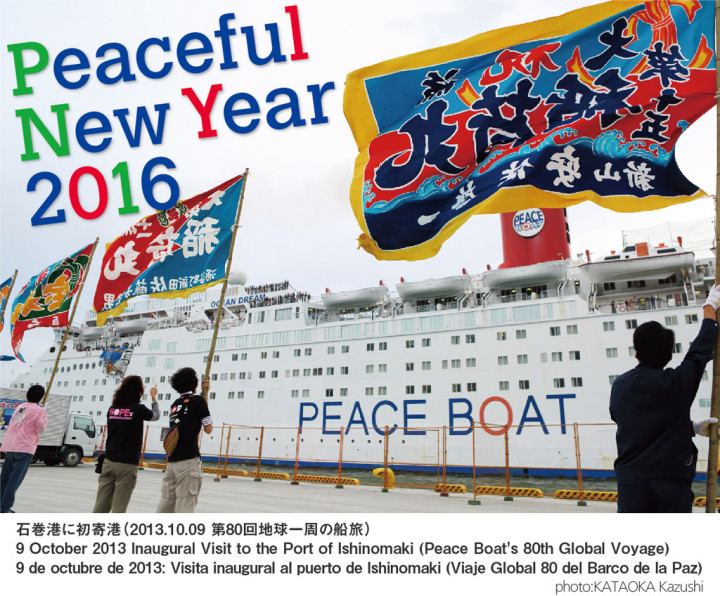 2016 marks five years since the Great East Japan Earthquake and Tsunami.
Peace Boat will continue to support recovery efforts in the region and sail for a nuclear free, sustainable future.
2015 was a historical year marking 70 years since the end of World War II and Japanese colonisation in Asia. Peace Boat focused its efforts on peacebuilding in the region including through the Global Partnership for the Prevention of Armed Conflict (GPPAC) in Northeast Asia and efforts to protect Article 9 of the Japanese constitution.
This was also the year in which the 70th anniversaries of the bombings of Hiroshima and Nagasaki were commemorated. Peace Boat held the 8th Global Hibakusha Project and "I Was Her Age" Project in collaboration with Mayors for Peace.
Thanks to the efforts of our partners around the world, survivors' testimonies were a key part of the commemorations. We will endeavour to honour their call for a nuclear free world as the momentum for a global ban on nuclear weapons grows.
Our educational and youth programmes continued with three global voyages and two regional voyages in 2015. We were delighted to embark on a collaboration with the World Alliance of YMCAs which we believe will help to empower youth and young leaders around the world.
Peace Boat continued its support of those affected by the 2011 earthquake, tsunami and nuclear disaster, including as an organiser of the civil society forum during the Third UN World Conference on Disaster Risk Reduction held in Japan this year. As 2016, marks 5 years since the disaster we will sail to a sustainable and nuclear free future. In this respect, we are proud that Peace Boat's Ecoship Project was officially launched at COP 21 in Paris in early December.
We thank you for your support and friendship in 2015 and look forward to working together for a peaceful 2016.