Pakistan Celebrates Indian Prime Minister's Visit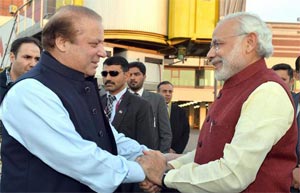 Islamabad, Dec 26 (Prensa Latina) Several Pakistanis parties and politicians are celebrating today the surprise visit of Indian Prime Minister Narendra Modi to meet with his counterpart, Nawaz Sharif, while they advocated dialogue.
The only solution to our nations' problems is constant communication and debate, said Bilawal Bhutto, head of the opposition Pakistan People's Party.
The leader of Pakistan Tehreek-e-Insaf, Imran Khan, considered that contacts between Modi and Sharif will have a positive impact on bilateral relations.
Improving ties between Pakistan and India is needed to achieve sustainable peace in the region, he said.
Senator Zahid Khan, from the Awami National Party, also spoke to that effect.
Meanwhile, former Foreign Minister Khursheed Mehmood Kasuri said that the two heads of government should solve problems through negotiations.
For his part, former Minister of Information Qamar Zaman Kaira welcomed Modi's brief visit to the northwestern city of Lahore, where he was received by Sharif.
It was a very positive gesture by the Indian prime minister, said Kaira, who pointed out that the meeting itself was a momentous event.
It is necessary to reduce bilateral tensions, this visit is aimed at that direction; that's why, it will be beneficial, said the human rights activist Asma Jehangir.
Modi arrived in Lahore from Afghanistan, where he discussed with authorities issues of economic and security cooperation, in addition to inaugurating the new headquarters of Parliament, funded by New Delhi.
I am going to drop by Lahore to congratulate Sharif on his birthday, tweeted Modi shortly before leaving Kabul.
During the meeting, both leaders reaffirmed the importance of promoting dialogue, the Pakistani secretary of Foreign Affairs, Aizaz Ahmed Chowdhury, who announced a meeting of foreign ministers next month, told reporters.