New York Says Welcome to Syrian Refugees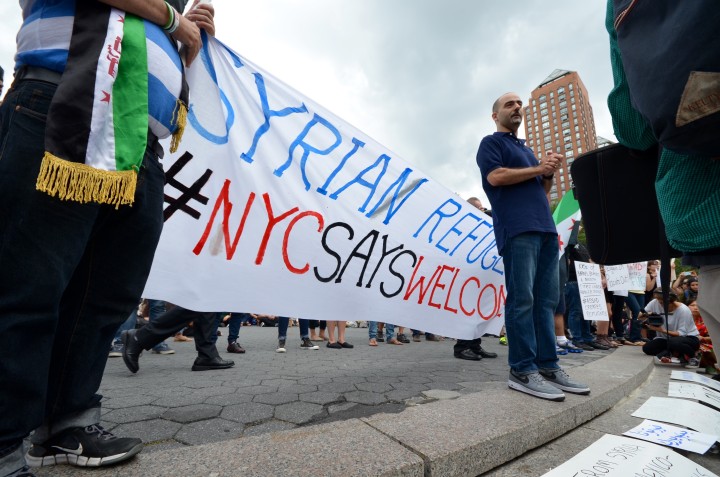 In solidarity with refugees trying to reach Europe, we call upon the European Union member states to open their borders unconditionally for asylum seekers, to allow free movement for refugees within the European Union to reach the country of their choice, and to halt the building of borders and fences that are being constructed for the sole purpose of keeping refugees out.
The rally in NYC at Union Square call upon the United States to take steps towards the alleviation of the refugee crisis. The International Rescue Committee has called upon the US to accept at least 65,000 refugees by 2016. We call upon the Obama Administration to pledge to accept at least 65,000 refugees from Syria for resettlement in the United States by 2016.
We know now that President Obama has decided that the United States should take in at least 10,000 refugees from Syria over the next year, White House officials said today.
Refugees who have escaped the brutalities of war in Syria deserve a life of safety and security. Unfortunately, this is not the case. In Hungary, refugees are being caged in "holding camps." In the Czech Republic, authorities are pulling refugees off trains and numbering them with markers. Thousands have drowned in the Mediterranean sea desperately trying to reach Europe in the only way they can: through dangerous smuggling networks. The photo of the Syrian child Aylan Kurdi washed up on the beach in Turkey shows us the result of these disastrous policies. Syrians who have lived through war do not deserve such a fate.
There are more than 4 million refugees that have fled the war in Syria. Lebanon, which has a population of 4 million people, currently has over 1 million Syrian refugees. Turkey also has over 1 million refugees. Germany estimates that it will have 800,000 refugee arrivals this year. The UN high commissioner for refugees has called upon industrialized countries, including the US, to accept 130,000 refugees in the next two years.