New leader of the UK Labour Party, Jeremy Corbyn: "We are one world"
This post is also available in: Spanish, German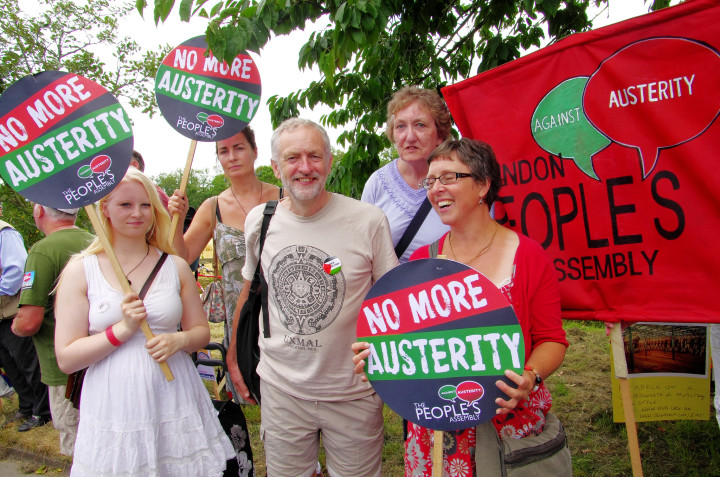 Winning in the first round of vote counting by a margin of 40% over the closest of the three rival candidates, Jeremy Corbyn, anti-war, anti-austerity and anti-nuclear weapons campaigner becomes the new leader of the UK Labour Party. Over 400,000 people took part in the election and the size of the victory gives Corbyn the biggest mandate as party leader in UK political history.
Speaking without notes in a conference hall with an atmosphere more like a rock concert, he immediately set about recognising the support he received from those suffering most at the hands of the neoliberal Conservative government currently in place with their agenda to cut back public services to pre-Second World War levels.
"During this amazing 3 months our party has changed. We've grown enormously because of the hopes of so many ordinary people for a different Britain, for a better Britain, a more equal Britain, a more decent Britain. They're fed up with the inequality, the injustice the unnecessary poverty."
He also commented on the extraordinary phenomenon which has seen young people energised by his progressive platform of policies. "Many of us didn't understand the views of many young people within our society. They've been written off as a non-political generation who were simply not interested hence the low turnout and registration of young people in the last election. They weren't. They're a very political generation turned off by the way politics was being conducted. We must change that."
Commenting on the refugee crisis currently affecting Europe, he said, to great applause:
"Many people face desperation in other parts of the world. I think it's quite incredible the way the mood in Europe has changed over the past few weeks, understanding that those fleeing from wars are the victims… They end up in desperation, in terrible places, trying to gain a place of safety, exercising their refugee rights. They are human beings just like you and just like me. Let's deal with the refugee crisis with humanity, with support, with help, with compassion to try to help people who are trying to get to a place of safety. Let's recognise that going to war creates a legacy of bitterness and problems. Let us be a force for change in the world, a force for humanity in the world, a force for peace in the world, a force that recognises that we can't go on like this with grotesque levels of global inequality, grotesque threats to our environment all around the world, without the rich and powerful governments stepping up to the plate to make sure our world becomes safer and better and those people don't end up in poverty in refugee camps wasting their lives away when they could be contributing so much to the good of all of us on this planet. We are one world. Let that message go out today from this conference centre here in London."
It is worth nothing that, in keeping with the coherent style of Corbyn's politics to support in person the campaigns close to his heart, the only other public event that Corbyn has on his agenda today is an appearance at the European Day of Support for Refugees event in London. After that he sets about putting together the team that he will work with to try to bring the Labour movement, including both the political party and the trade union movement, back into government and try to change the balance of power away from the forces of big capital and back to the forces of labour. He has a huge challenge on his hands.