Ontario's geriatric reactors at Darlington require major surgery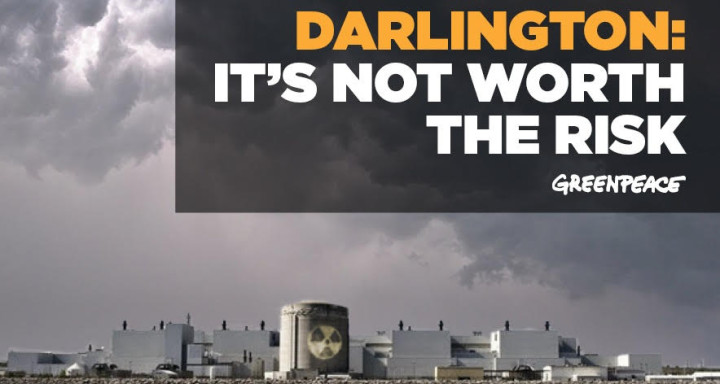 While Ontario Power Generation (OPG) plans to permanently shut down the eight nuclear reactors at Pickering by 2020 (two of them are already retired), OPG is seeking an unprecedented thirteen year operating licence for its four nuclear reactors at Darlington.  The Darlington reactors – the largest in Canada's nuclear fleet – are sited on the north shore of Lake Ontario, between Toronto and Port Hope.
The Darlington reactors are seriously degraded and will require extensive rebuilding of the core and primary heat transport system to continue operating — a dirty and dangerous operation euphemistically called "refurbishment" that will cost at least TEN BILLION dollars.   Thousands of highly radioactive pressure tubes and calandria tubes will have to be removed robotically and packaged for safe storage for a period of hundreds of thousands of years, along with tens of kilometres of radioactively contaminated "feeder pipes".  These dangerous radioactive wastes will be trucked north to the shore of Lake Huron near Kincardine to join the growing volumes of radioactive waste that are currently stored there.
Previous experience with refurbishment of CANDU reactors at other locations in Ontario and New Brunswick has been characterized by years of delay and billions of dollars in cost over-runs.  During a refurbishment operation at the Bruce site, on the shore of Lake Huron, over 500 workers were exposed to inhaling plutonium-contaminated airborne dust for over three weeks in 2009 due to the incompetence or disregard of overseers who neglected to provide the men with respirators, failed to heed a radiation alarm, ignored company records that plainly revealed the presence of such contamination in the pipes that were being removed and subjected to a grinding operation, and neglected to properly test the air for contamination.
Anyone can intervene in the November licensing hearings by sending in a letter or a brief, with the option of appearing in person at the hearings and making a 10-minute oral presentation.  It is even possible to testify by telephone using a tele-conferencing setup that the Commission has made available for intervenors; one only has to request it.
The Ontario Government, the sole owner of OPG, can decide not to refurbish the Darlington reactors by instead buying replacement power, investing in community-based energy conservation, and accelerating the installation of alternative energy sources such as solar, wind, and industrial cogeneration facilities.  The province of Quebec has a very large surplus of water-generated hydropower at the present time and for the foreseeable future, and calculations have shown that the entire output of the Darlington reactors could be replaced if Ontario purchased excess power from Quebec at a price that would be mutually advantageous to both provinces, and much less expensive than the Darlington refurbishment option.
Although the Canadian Nuclear Safety Commission staff promised to publish a report outlining the consequences of a severe nuclear accident at Darlington involving one, two, or all of the reactors there, they have instead produced a report that describes a release of radioactivity that is ridiculously low — at least  10 to 100 times less than what would be reasonably anticipated in the event of a severe nuclear accident.  By misrepresenting the amount of radioactivity that could be released in such circumstances, the CNSC staff is misleading the public and government authorities who are responsible for putting in place emergency planning measures needed to cope with the aftermath of such a severe nuclear accident.
The IAEA recently published a report on the Fukushima triple meltdown in Japan.  The following paragraph, taken from the first page of the IAEA report, is particularly applicable to the arrogant attitude of Canadian nuclear authorities who simply do not want to communicate to the public and to decision makers the results of their own internal calculations.
"A major factor that contributed to the accident was the widespread assumption in Japan that its nuclear power plants were so safe that an accident of this magnitude was simply unthinkable. This assumption was accepted by nuclear power plant operators and was not challenged by regulators or by the Government. As a result, Japan was not sufficiently prepared for a severe nuclear accident in March 2011."  [2015 Report of the IAEA, Foreword, written by the IAEA Director General,]
Gordon Edwards